Showing results for "Visteon"
Seamlessly integrated and optimised digital cockpit systems enable automakers to provide a comprehensive set of differ...
The combination of Visteon's SmartCore software and Snapdragon Cockpit Platforms to enable automakers to deliver advan...
Global tech major teams up with AWS to deliver the next generation of sustainable, intelligent, and connected vehicle ...
The global automotive technology company, which works with over 3,000 suppliers, recognising outstanding supplier part...
While 'Lightscape Panoramic Display' under a continuous glass lens provides high perceptual quality even in direct sun...
Sales of $1,026 million in Q3 are up 63% YoY and mark the 14th consecutive quarter of growth-over-market; 32 new produ...
Starts with first batch of Visteon's RISE early career program for young engineers; aims to strengthen operations in B...
The company's solution uses proprietary advanced algorithms to control the full array local dimming display.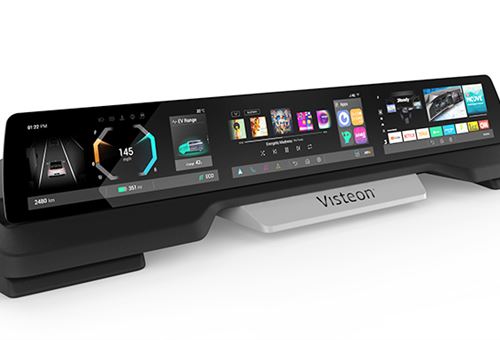 Sales of $848 million are up 42% in Q2 FY2022, its 13th consecutive quarter of growth-over-market; 27 new products lau...
The Scorpio-N leverages Visteon's SmartCore Cockpit Domain Controller based on the third-gen Snapdragon Cockpit Platfo...