Yuma Energy eyeing new 2- and 3W OEMs on its battery swap network
The company is in active conversations with two- and three-wheeler OEMs beyond Yulu to enable pay-as-go battery swapping on their vehicles.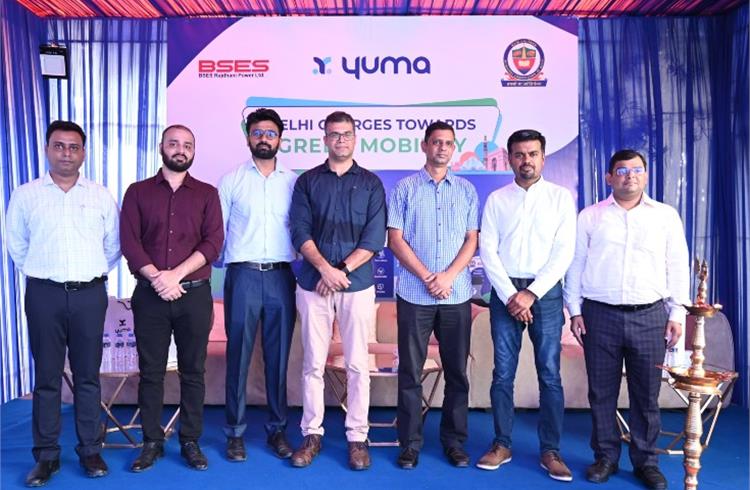 Yuma Energy, the energy-as-a-service provider, which is a joint venture between Magna and Yulu and started operations in February this year by setting up its battery swapping stations across Bengaluru, Mumbai and Delhi-NCR, is eyeing to serve more vehicles with its swapping solution.
The company which primarily caters to Yulu's low-speed electric two-wheelers forming its captive demand, is looking to on-board more OEMs, to enable the pay-as-go battery swapping on their vehicles. "We are in active conversations with OEMs and are looking to certainly on-board them in the next financial year," said Muthu Subramanian, Managing Director and General Manager, Yuma Energy.
Subramanian was in New Delhi to announce the company's collaboration with the Municipal Corporation of Delhi (MCD) and BSES Rajdhani Power, and commission two new swap stations, located at Siri Fort Auditorium and Moolchand in the national capital.
While it currently executes over 500,000 swaps monthly from its 120 touchpoints catering to 125,000 customers, primarily gig workers using the Yulu e-scooters for last-mile deliveries in these three metro cities, Yuma Energy is eyeing increased demand with more vehicles made by other OEMs coming on its platform. "We are looking at both two- and three-wheeler segments, and are talking to OEMs in these categories," Subramanian told a media roundtable on the sidelines of the inauguration event.
The company's partnership with the MCD and BSES Rajdhani Power will help it accelerate the deployment of its swap stations, which need demand-centric locations as well as power supply to install and run the swapping infrastructure.
As per Subramanian, the MCD is making an all-out effort to create an optimal e-mobility ecosystem in the national capital, while the efforts of BSES to augment the EV charging infrastructure in New Delhi is commendable, and their support will help it fast-track its network expansion.
"We are going after demand and strategically locating our swap stations to maximise asset utilisation. We will continue to pin our focus on battery swapping rather than looking at charging infrastructure," he said. The company is witnessing growing demand for its pay-as-go battery swapping solution in Mumbai and Delhi-NCR with demand ranging between 15,000-20,000 swaps every day. "Over the last six months, there has been a significant uptick in demand, with our monthly cumulative average growing five times over from 1 lakh to 5 lakh swaps across our network," Subramanian added.
While it had set a target of scaling to around 500 stations by end-2023, Yuma Energy is now focused on enhancing the number of swaps achieved and is considering this as its new metric for network expansion. The company is eyeing expansion into more Tier-2 and Tier-3 towns, and while it owns and operates the stations it currently has, it is exploring new options like a franchise model to follow demand and venture into more cities.
The company is locally assembling its LFP batteries in Pune, and envisions the demand from battery swapping to remain driven by the B2B fleet segments in the near term.
RELATED ARTICLES