Suzuki's new Z-Series engine to launch in 2024
Suzuki's new Z-Series engine to improve mileage, have lower emissions.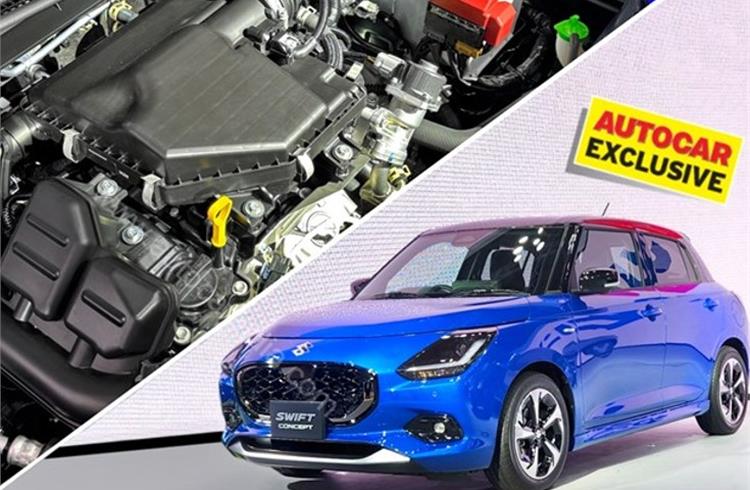 Suzuki's new Z-Series engine is all set to make its debut in 2024, under the hood of the fourth-gen Swift. Codenamed Z12, the new motor is a 1.2 litre, 3-cylinder, naturally aspirated unit that will replace the Swift's current K-series 1.2 litre, 4 cylinder powerplant.
Z-Series engine to improve mileage
Detailed specifications are yet to be released, but sources tell us that the company has set high fuel efficiency targets, and, while power output is likely to remain similar to the K12 unit, torque would be higher. 350cc to 400cc is considered the sweet spot for a cylinder's volumetric efficiency, and with each cylinder now at 400cc in capacity, the volumetric efficiency and torque could improve.
This is precisely what Suzuki has targeted with the new powerplant given that the Swift's usage is primarily in the city. Sources also tell us that the Z12 loses the K12's free-revving nature in favour of the stronger pulling power it develops at the bottom end.
Z-Series engine to have lower emissions
With ever tightening emissions norms, the new three-cylinder engine will not only emit less fumes but also target efficiency, thus helping Suzuki keep within its CAFE targets – something the brand does in India. To that end, the Swift shown at the Tokyo Motor Show also has hybrid tech, however, sources say that the production Swift in India will have a regular engine.
While the company has labelled the new Swift the Gen 4, we understand that it is a heavily updated version of the third-gen platform. Thus, the development of a brand new series of internal combustion engines is significant, especially with EVs looming on the horizon.
Suzuki is tight-lipped about the vehicles this engine would power for now, but it could find its way under the hood of models powered by the current K12 engine namely the Baleno, Fronx, Ignis and Eeco. In time, the Z-Series could also offer differing engine capacities, thereby replacing other K-Series powerplants that are currently in use.
Also see:
Tokyo Motor show 2023 comprehensive image gallery
Tokyo Motor Show preview: New Swift, Land Cruiser EV and more
RELATED ARTICLES