SUN Mobility partners with Bluwheelz for sustainable last-mile mobility solutions
Over the upcoming 12 months, the companies plan to roll out more than 15,000 electric two-wheelers and 1,000 electric three-wheelers across all metropolitan cities.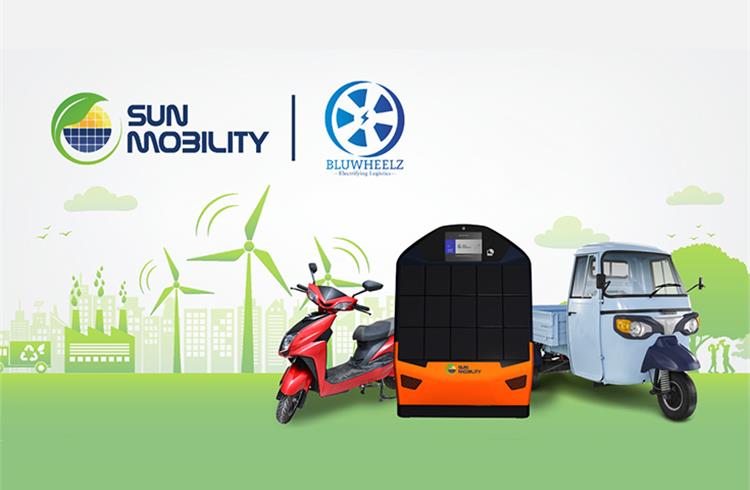 SUN Mobility has announced its partnership with Bluwheelz to advance the cause of clean and sustainable urban transportation. By integrating SUN Mobility's cutting-edge electric vehicle (EV) technology into Bluwheelz's fleet, the company can leverage SUN Mobility's battery swapping solution based on Battery-as-a-service and Mobility-as-a-service.
Through the next 12 months, the companies look at deploying over 15,000 electric two-wheeler vehicles and 1000 electric three-wheelers in all metropolitan cities. SUN Mobility also plans to retrofit Bluwheelz existing 4-wheeler loader fleet into electric; plans to retrofit 1000 over the next 12 months.
Deployment in Delhi has already started with almost 500 vehicles on Delhi roads, Bangalore and Hyderabad to follow shortly, the company stated. The goal is to reduce emissions, alleviate congestion, and enhance last-mile connectivity in urban areas.
SUN Mobility has a vast network of around 600 swap stations across the country and with this, Bluwheelz customers will benefit from a seamless and convenient battery swapping experience. This collaboration underscores both companies' commitment to delivering efficient and sustainable transportation solutions tailored to the evolving needs of modern cities, as stated by the companies.
Commenting on the partnership, Anant Badjatya, CEO, SUN Mobility, said, "We are now doing more than 1 million swaps every month and with partners like Bluwheelz we will empower more people to choose sustainable transportation options, making our cities cleaner and more liveable."
Sanjiv Gupta, Chairman of Bluwheelz, emphasised, "Bluwheelz is committed to delivering cutting-edge logistics solutions that prioritize both efficiency and environmental responsibility. Our collaboration with Sun Mobility perfectly resonates with our mission to pave the way for a more sustainable and eco-friendly future in the realm of mid-mile and last-mile logistics across the country.
RELATED ARTICLES