Royal Enfield reignites Bullet legacy, readies plan to protect turf
A fabled brand with chequered history and a bright future in domestic and global markets is what is keeping Chennai-based Royal Enfield busy with the models under the Bullet badging.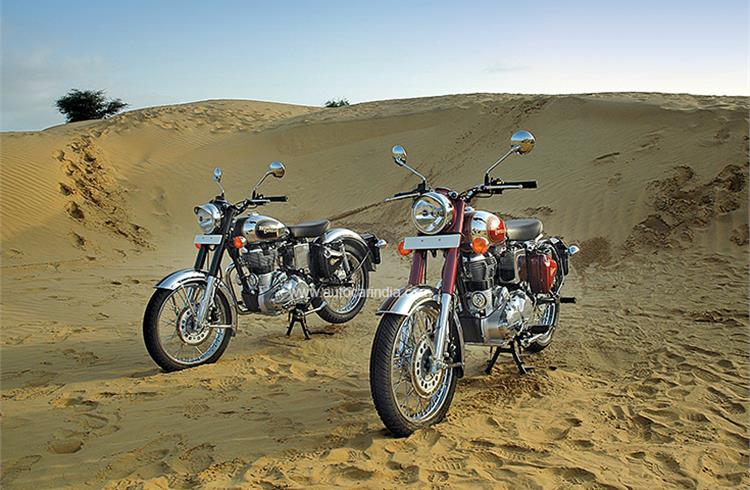 It is a well-known adage for anyone familiar with branding and marketing: Legacy can't be bought; it has to be earned and built over time.
Throughout its history and performance, iconic British motorcycle brand Royal Enfield that is now owned and managed by the Eicher Group has successfully created its own legacy in India and globally. Come September, the nearly hundred-year-old motorcycle will add another page to this heritage by reinventing itself.
Currently, the Royal Enfield Bullet, a model it makes, holds the distinction of being the longest selling series production motorcycle in the world. Later this year, this moniker will appear in a modern avatar. The lean and mean machine from Royal Enfield has caused the global marque brands Harley and Triumph to shed weight to take it on. Such is the stranglehold of Royal Enfield in the mid-size motorcycle that, both these globally established brands had to join hands with Indian partners to challenge the maker of Meteor and Classic and wean away buyers.
The all-new incoming Bullet is internally codenamed as the J1B and in a way completes the revamp of Royal Enfield's core platform with 350 cc engine.
Much like the earlier Classic model, the new Bullet is set to get a new heart and a body. Yet, it is going to retain its form factor and character to reinforce its place in the Royal Enfield portfolio that is witnessing a flurry of new competition. So far, the likes of Jawa, Yezdi and Honda could barely have an impact on Royal Enfield, which has only grown from strength to strength. And this competitive disruption comes at a time, when Royal Enfield is probably at its strongest ever.
Tightening the grip
Consider this. In the more than 125 cc motorcycle market, one in every three vehicles sold in FY23 was a Royal Enfield. Despite being new entrants in the premium motorcycle market the company increased its market share by 710 basis points to 32-33 percent.
Its latest entry level model, the Hunter has got off to a very good start and has brought in a lot of first time young and new buyers to the brand, even though the brand's core pillar of Classic has weakened a bit.
The Meteor, the Classic and the new Bullet will further reinforce its presence in the Rs 1.5 lakh to Rs 1.75 lakh segment to thwart new competition, as part of the pricing strategy. ICE premiumisation will continue till at least 2030. And it can grow at a pace of almost 6 to 8 percent and it is prepared to capture the growth.
Made like a Gun — Re-Igniting the Bullet legacy
With the new Bullet, the plan is to target the sons of the soil with an age bracket of 18-50 and the prospective buyers include everyone from a college student, a middle-income salaried individual, a trader and a businessman.
"The Bullet is not just owned, it is passed on to the next generations. It will retain its signature look, sound and character. It will be a nice mix of man and machine, rational, rugged, durable, rock solid and given the new architecture, the prices may marginally increase by Rs 10,000 to 12,000," said one of the seven people in the know with whom Autocar Professional spoke.
Siddharth Lal has been credited with modernising Royal Enfield to what it is today.
The new Bullet's architecture and design will be based on a new chassis that will house a new seat for comfort, wider front tyres and disc for stability and stopping power, a comprehensive readout digital instrument cluster, an updated aesthetic and a better fit and finish. The transition will be quite similar to the Classic motorcycle transition from old to new, sources said.
There are a lot of commonalities of parts to drive in the efficiencies and the scale of the 'J' platform, yet there will be an attempt to give it a differentiated character and persona. The bike will continue to have its traditional hand painted pinstripes on the fuel tank and panels.
The new Bullet's job description will be to reignite the tenets of authenticity, heritage, traditional masculinity and power and will aim to appeal to the Hindi heartland of North India especially UP and Punjab who value such features. The Southern states of Kerala and Karnataka, where the brand had a very strong following are also among the focused markets.
The North and Southern regions are likely to form almost 70-80 percent of the total sales at the company. "It is a true vintage; it is built to last. Simple yet rugged, built on a solid construction suitable for army and police — the motorcycles that can go across terrains at ease," added the person requesting anonymity.
Model onslaught to continue
Autocar Professional learns that Royal Enfield has over a dozen model interventions in its bike kitchen in India and UK ranging from a street bike to sports bike, cruiser to an adventurer tourer, scrambler to a bobber, roadster to a classic and form factors expands with the range of electric vehicles.
The company is working on half a dozen different powertrains internally coded as J (350cc), D (410-440), K (450 cc), P (650 cc), R (750 cc) and I (EV powertrains) respectively.
Even as new competition aims to target RE's core portfolio with 400-450 cc offering, the Eicher Motors backed two-wheeler major is already busy raising the bar to 750 cc with the R platform and a series of electric motorcycles under the L platform, which will be ready by 2025. The model excitement is set to continue. Post the Bullet, the company is ready to roll out the all-new Himalayan 450cc — to deliver a perfect adventure off-roading experience having integrated the feedback from experts, enthusiasts and customers alike.
The EV is likely to be showcased at the upcoming EICMA Motorcycle show in Milan and there are different ideas of bringing in the Bobber in 650 cc, Scram 440, and its most premium ICE motorcycle codenamed R2G with a 750cc engine being worked upon.

'We have a very strong lineup of motorcycles for the year 23-2024 and a robust plan of growth on the rebalance'- B Govindarajan, CEO of Royal Enfield.
"We have had a very great year, but I must tell you, we have an even better one planned. And we have a very strong lineup of motorcycles for the year 23-2024 and a robust plan of growth on the rebalance, which we have articulated," B Govindrajan – CEO of Royal Enfield told investors post FY23 earnings call.
Evolving with times
Over the years, the company has revamped its product development process by bringing in expats from Japan and Europe — that has enhanced the quality levels several notches higher — rivalling the best in the world.
Not surprisingly, Royal Enfield secured a position as the fourth strongest brand globally, as per the global auto report from the UK-based Brand Finance for 2023. Royal Enfield is the only motorcycle brand to feature amongst the top 10 global brands in this.
The new generation platforms and products are not only refined — glitch free — but they are increasingly becoming easier and fun to ride across age demographics or gender.
The perception that Royal Enfield motorcycles are heavy and hard to ride myth is being consistently challenged and it is increasingly being preferred by the younger audience, claimed a leading dealer from Western India.
The key attributes of weight distribution, improved suspension, ease of ride and superior quality has helped Royal Enfield keep the lead.
"The focus is on offering test rides and experience, increasingly the myth is broken and a newer customer base is coming onboard to Royal Enfield," added another dealer sales representative.
As against problems emerging within a month of a launch in the past, the new products have almost nil complaint rates now.
Along with the revamp in the product portfolio, sales and marketing processes have been streamlined. There is a sense of confidence at Royal Enfield channel partners, post the entry of Yadvinder Singh Guleria, an industry veteran, with decades of experience in the Indian two-wheeler market across brands. The effort at the distribution channel meant the company stood Number Two in Federation of Automotive Dealers Association's — Dealer Satisfaction Survey in FY23.
Stakeholder confidence
Will the entry of Harley or Triumph impact Royal Enfield? Here is what a dealer who has been with the company for over a decade said: "The iconic brand does bring in an initial excitement, but enthusiasm has to be backed by solid competitive offering that a discerning Indian buyer wants. If not, one has seen the fate of global brands like Mustang, Beetle, including Harley. It will be an interesting battle; we are confident of Royal Enfield's competitive strength."
Experts say that the current traction for Royal Enfield brand is very encouraging, however, it has not been able to get to the next level of volumes. The Hunter motorcycle has been a success, yet its new Classic under the J platform was not able to recreate magic. The biggest test for the company will be to hold on to its competitive pricing amid rising cost and new competition and yet create incremental demand or create a large customer base to extend lead.
Banking on riding culture
Riding is believing and the brand's endeavour to deepen rider engagement with the motorcycle models has resulted in growth in spares, accessories, lifestyle and safety apparels, with the company registering a 32 percent Y-o-Y growth in accessories business. The company generates about Rs 2,000 crore in revenues from non-motorcycle businesses.
This has also become a strong avenue for channel partners to capitalise on. The network strength is unparalleled at 2,100 outlets — which is a mix of lifesyle studio stores and numerous dealer partner outlets. Even if new rivals may compete well on products, to compete on the infrastructure and scale of Royal Enfield will be a massive task, say experts.
Ready to leap
FY23 was the company's best ever in terms of financial and business performance yet. Royal Enfield registered its highest ever sales at 8.34 lakh units. The company took a serious stride in the international markets with volumes crossing one lakh units in the overseas market, underscoring how the business is reaching a scale.
The company's Board approved a capital expenditure for Royal Enfield business at Rs 1,000 crore for FY23-24, which includes investment towards EV manufacturing, EV product development, and of course product development for our internal combustion engine portfolio. The large chunk of it is only for product development in both ICE and EV — underling the aggressive intent by the company to not only protect its turf, but spread wings globally.
Experts say the premiumisation story is very strong. It is the top end of the market, which has grown faster and Royal Enfield's portfolio is at the right sweet spot.
"Already there is a strong demand for Hunter and Super Meteor, with the new products lined up for this year and next, Royal Enfield expects strong traction in the marketplace," says Govindarajan.
The head of Royal Enfield brand, who has been with the company for over a decade, says the demand is 'very resilient' and it will be further aided by the new motorcycle launches. The CEO also known as BGR internally says the market is yet to get back to pre-pandemic level and it is on an upswing. "The sentiment is positive. Premiumisation in two-wheelers is accelerating. The discretionary spends are going up, all signs are positive for the market to grow. Our brand position is strongest and we feel there is a good potential for us to grow. Royal Enfield looks at actually developing the market rather than looking at only taking a pie out of it," he added.
Global plans
While the foreign competition enters the Indian market to grab a pie from Royal Enfield's plate, the British Motorcycle maker is entering the rivals' home turf of the US and the UK with its own range of products. Despite the macroeconomic backdrop, the retail growth in the international market ranges from 27 percent to 45 percent across various regions in the FY23. The company's market share in the middle weight segment across the markets has climbed, especially in Americas, about seven percent, and APAC is almost 8.9 percent, and EMEA is about 8.8 percent.
To build a competitive edge, the company already has four assembly bases around the world, Brazil, Argentina, Colombia and Thailand. It has recently started a CKD facility in Nepal, very soon it will add Bangladesh and the company is in fact taking over distribution and will manage it on its own.
Lal believes the international business is at an 'inflection point' and it is on the cusp of a takeoff with its product portfolio developed to cater to the global buyers.
Royal Enfield has about 1,150 retail outlets outside of India. The company has been able to grab 8-10 percent of the one million units global market. If one were to combine the global mid-size motorcycle market including India, Royal Enfield has over a 40 percent market share.
"The addressable market is huge. There is a lot of headroom for Royal Enfield to grow. We are getting our products right, with the CKD bases in some markets and right dealership footprint, we are on a strong growth path," added Govindarajan.
EVs — the emerging frontier
The company says transition to electric vehicles is a given, but it is the scooter segment which will take the lead; the motorcycles will come in later due to higher prices of batteries. Given the long-term vision, the company is readying a portfolio of EVs and has already set up a dedicated team, led by Umesh Krishnappa. He is defining a product roadmap wherein some half a dozen concepts and designs are being explored.
EV is a critical pillar for Royal Enfield's future and BGR says the development is in "top gear" and the intention there too is to create a differentiated offering with the strong Royal Enfield DNA.
Stark Motorcycle - the start-up in which Royal Enfield has invested is offering some critical design and development feedback, helping Royal Enfield to operate on a twin track.
"Currently, we have laid a robust long-term product and technology roadmap on the EV and towards developing the supplier ecosystem is what is the focus as of now," added Govindarajan to investors.
This feature was first published in Autocar Professional's July 1, 2023 issue.
RELATED ARTICLES