Ola reaches 1,00,000 scooters milestone
The milestone was achieved at its two million capacity all-women workforce assembly line at its Krishnagiri plant.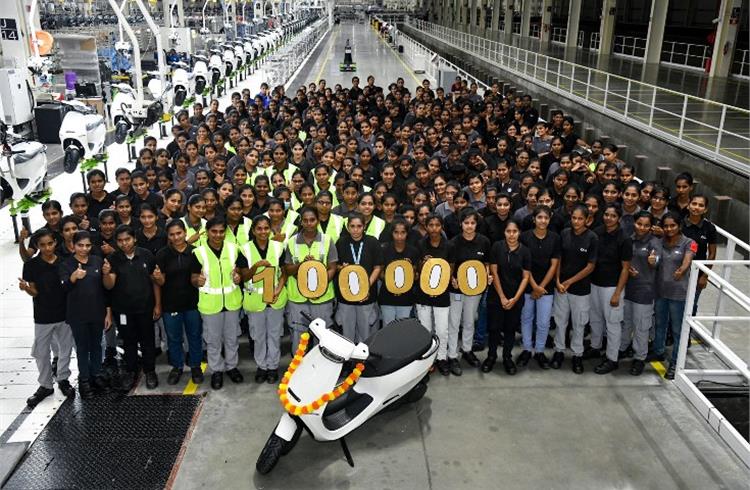 Ola Electric CEO and Founder Bhavish Aggarwal announced the rollout of its 1,00,000 vehicle from its two million capacity all-women workforce assembly line at its Krishnagiri plant near Bengaluru.

Sharing his excitement on Twitter regarding the development, Aggarwal said "The white Ola S1 rolls off the assembly line surrounded by an all-female workforce at the plant"

Ola has topped the charts for the last two months in a row. It had its highest 20,000 despatches in a single month for October.

The ride for Ola Electric in India's electric two-wheeler market has been quite a rollercoaster. The EV maker Ola Electric received over one lakh orders for the S1 e-scooter within 24 hours after bookings opened in July last year and within a span of a year its sales tanked due to customer service issues, production delays, and extended waiting periods.

The senior management which then deliberated on the challenges has done well to address the production issues. The turnaround time of customer complaints is now two days, it has opened 300 service stations and 50 customer experience zones.

"The next one lakh will be in half this time as the transition to EVs gathers even more pace. India is closer towards making Mission Electric a reality than ever before," Aggarwal said.

At the S1 Air launch last month, Bhavish Aggarwal said that the company has scaled up production and is manufacturing more than 1,000 vehicles a day.

The Ola Future Factory has an installed production capacity of two million units annually that can be scaled to up to 10 million units. The plant will produce its upcoming model line-up including the electric motorcycle and much-hyped Ola electric car that's set to arrive in 2024.

As part of boosting its charging infrastructure, Ola has introduced 50 hypercharges of which five such chargers are in Hyderabad, two in Bengaluru, and the rest across thirteen states and three union territories.
RELATED ARTICLES