Nissan reveals next-gen Micra EV concept
The concept was unveiled by company president and CEO Makoto Uchida in front of Nissan Design Europe's (NDE) headquarters.
Nissan has revealed an all-new city EV concept called the 20-23. This is essentially a preview of the next-gen Micra that's been created to celebrate the 20th anniversary of Nissan's European design centre in Paddington, London.
The carmaker says that the 20-23 concept celebrates Nissan's participation in the Formula E race series and the firm's "heritage of bold hatchbacks".
Race-spec hatchback for the city
The concept was unveiled by company president and CEO Makoto Uchida in front of Nissan Design Europe's (NDE) headquarters, with the central London venue chosen to emphasise the 20-23's billing as a "sporty urban" proposition. The NDE team's brief was to design a car "with no constraints", and the result is an overtly race-inspired design that has huge diffusers at the front and rear, a touring car-spec rear wing, outsized wheel arches and ultra-low-profile racing tyres.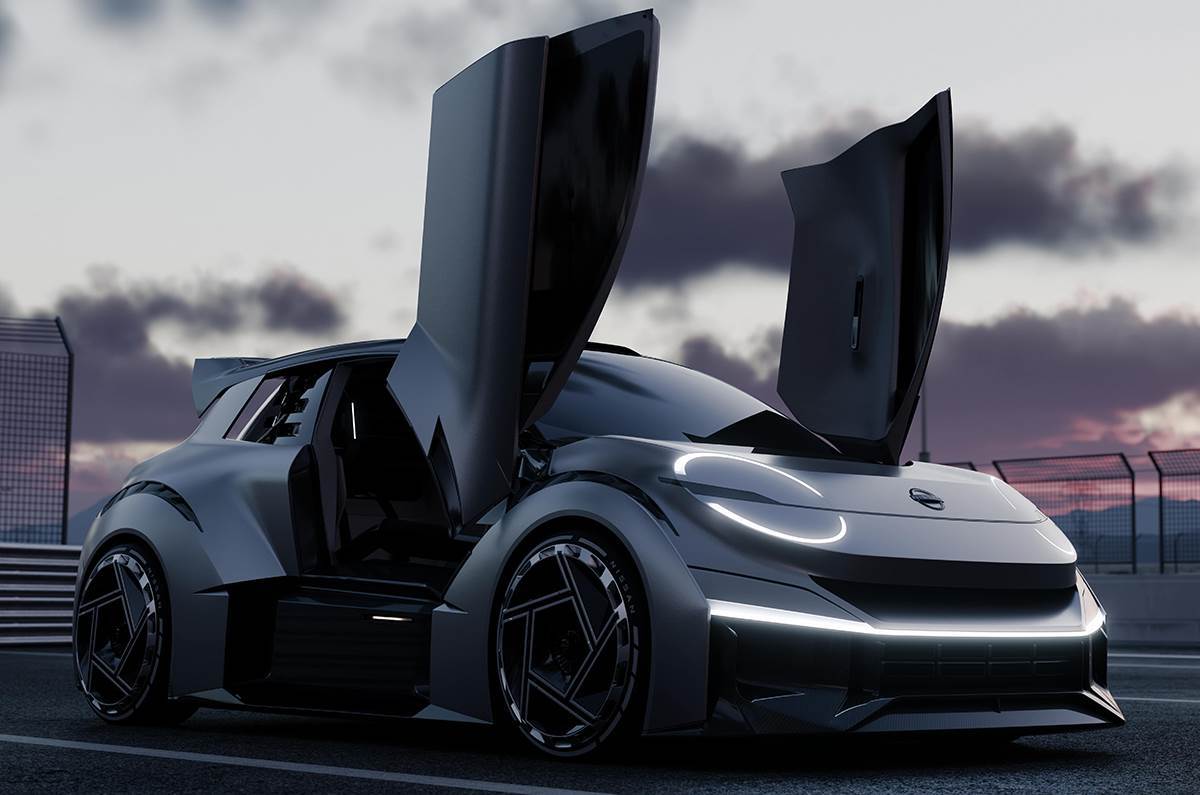 Other highly conceptual styling cues include the roof scoop, racing numbers, Lamborghini-style scissor doors and air-channeling louvers – features that the manufacturer says continue "Nissan's tradition of bringing eye-catching playfulness to the world of hatchbacks and city cars".
Design similar to Renault 5
Beneath the racy facade, the 20-23 gives the best look yet at Nissan's electric replacement for the Micra, due to enter production in 2026. It would be based on the CMF-BEV platform that Alliance partner Renault is using for its own Renault 5 and Alpine A290 hot hatchback.
Some of the cues visible in the side profile image, including the two-piece circular LED light clusters and black 'floating' roof, are carried over to this concept. The cars share their silhouette and proportions, despite the 20-23 concept forgoing the production car's rear doors.
The interior of the concept is far less likely to appear in the production version as its design is a "futuristic interpretation of a racing car's bare functionality".
The driver and passenger must climb over foam-covered brace bars to access their deep bucket seats and, in place of a steering wheel, the driver grips a yoke-style device hosting an array of switches and buttons, with paddles located behind it to adjust the performance of the electric motors and regenerative brakes.
Next-gen Micra production details
The all-electric Micra will be built alongside the Renault 5 at the French carmaker's ElectriCity production hub in northern France, and would have similar power and range figures – 134hp front-mounted motor and 400km range – as its sibling.
Nissan in India
Nissan did sell the Micra in India until a few years ago, but currently, it sells just the Magnite SUV in India that will soon get another powertrain option – an AMT-gearbox with the petrol engine.
RELATED ARTICLES