Mercedes-Benz India dealer Silver Arrows taps CRM software to double online sales conversions
One of India's top dealerships of the German luxury brand, Silver Arrows is leading the way in sales and marketing automation. Autocar Professional explores how the new processes have helped in this achievement.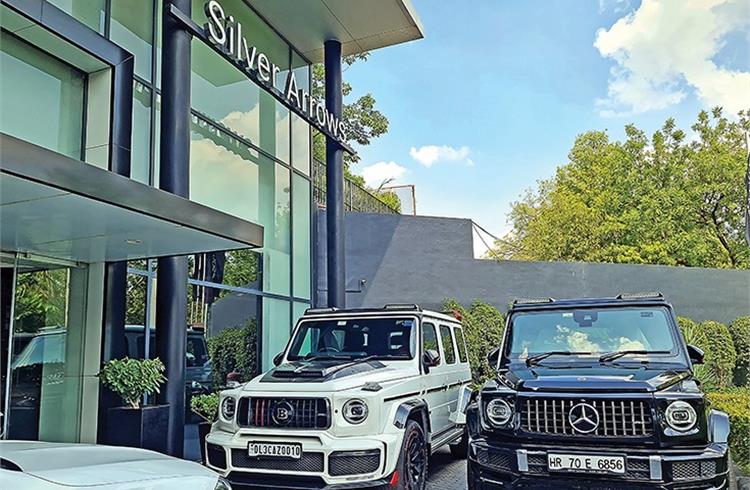 Even for high-end and expensive car models, the software has proven its worth.
'Salesforce is a 360-degree engagement tool that helps us create differentiated customer experiences at all touchpoints through the entire lifecycle': Tushar Kumar, MD and CEO, Mercedes-Benz Silver Arrows
'With more engaging interactions, our conversion rates have doubled from 6.5 percent to 13 percent': Reeti Nigam, AVP, CRM, Mercedes-Benz Silver Arrows
For over 75 years, the Mercedes-Benz Silver Arrows has represented a byword for remarkable technical feats and continuous success. In India, Mercedes-Benz retail partner Silver Arrows wants to replicate the same philosophy, albeit in its own way — to be more specific, in the domain of customer relationship management and business. And to do this it needs specialised help and that's where specialised software makers like Salesforce India come in.
The company is driving a new philosophy of customer engagement at OEMs across the globe and in India by empowering them to maintain constant communication with their customers, and become more agile by tapping into real-time data from the market.
The German luxury carmaker's retail and service partner has doubled its customer conversion rate to 13 percent by leveraging Salesforce's fully-integrated Sales Cloud into its customer relationship management (CRM) operations.
The experience of buying and owning a premium Mercedes-Benz model is a memorable one. Mercedes-Benz Silver Arrows, a leading franchise partner of the German luxury car brand in India, understands this and prides itself on delivering the kind of handcrafted, and personalised customer engagements that Mercedes-Benz buyers come to expect. Silver Arrows has been a franchise partner for Mercedes-Benz passenger cars in Delhi-NCR since 2012, and with its core values of innovation and customer-centricity, it has won several awards by the company over the years.
As a franchise, Silver Arrows' in-store environment and branding had to be like other Mercedes-Benz outlets. But, in a market where it was selling the same cars as its competitors, it realised that the real differentiator would be the experience that it offered.
"To pursue our goal of creating unique experiences, we knew that we had to attract and retain the best people, and then empower them with technology and real-time information to meaningfully engage with customers along the entire lifecycle," says Tushar Kumar, Managing Director and CEO, Mercedes-Benz Silver Arrows.
Silver Arrows has now automated and streamlined its sales processes end-to-end on the Salesforce Sales Cloud sofware.
Investing in a trusted customer engagement platform
Being a part of the Mercedes-Benz dealer ecosystem, Silver Arrows was already using Salesforce, but only a part of its sales processes sat on the solution. Without an end-to-end customer view across interactions, it was unable to nurture and re-market to prospects. Also, since after-sales processes were on disparate platforms, the team did not have access to a unified view that would help it provide a seamless customer experience throughout the customers' lifecycle.
Kumar, hence, decided to deploy a comprehensive, customised solution, one that would bring all of Silver Arrows' customer engagement processes onto a single platform – the 'Salesforce' platform."
As a part of the Mercedes-Benz ecosystem, Salesforce already met key requirements such as data security and integrability. It was also the only solution that was more than an IT system," explains Kumar. "Salesforce is a 360-degree engagement tool that helps us create differentiated customer experiences at all touchpoints through the entire lifecycle that is crucial to building customer loyalty in the luxury car segment," he adds.
Productivity enhancement with real-time information
Silver Arrows has now automated and streamlined its sales processes end-to-end on the Salesforce Sales Cloud. Leads from the Silver Arrows website, or Mercedes-Benz online portal, as well as that from SMS-based marketing campaigns and walk-ins, are all consolidated on the Sales Cloud, as are all customer interactions.
A mobile app helps the company's sales personnel directly log customer details from in-person interactions, while a telephony system integrated with the Sales Cloud captures all telephonic leads. This kind of visibility allows a sales executive to know exactly where to pick up a conversation from, even days or months later. Alerts remind managers to ensure activities and follow-ups happen on schedule.
"We now have detailed information at our fingertips for timely, personalised conversations with our prospective customers. With more engaging interactions, our conversion rates have doubled from 6.5 percent to 13 percent," says Reeti Nigam, AVP, Customer Relationship Management, Mercedes-Benz Silver Arrows.
With contextualisation, each interaction is more fruitful, and only one-and-a-half in-person customer meetings are now needed compared to the four required earlier. The company says that this frees up a sales executive to engage with more prospects, therefore, boosting their productivity from selling 2.5 cars to 4.5
cars per month.
Data-driven nurturing strategy to boost efficiency
However, in the high-end luxury car segment, decisions are not made overnight. A lead needs to be nurtured over many months. The Silver Arrows team has leveraged the Salesforce Marketing Cloud to get support on this front.
"Marketing Cloud helps us create smart marketing journeys across email, SMS and even WhatsApp, so we can nurture prospects in a customised manner," says Nigam. There are about 160 touchpoints in a customer's buying journey as defined under the three pillars of acquisition, retention, and reference, and the team speedily creates and delivers impactful marketing campaigns in each of these areas. Sales executives can also target customers at different milestones in their journey, making communications very granular and specific.
For its digital advertising, Silver Arrows uses Marketing Cloud Advertising suite to power one-on-one advertising campaigns across platforms. Social listening on Salesforce Social Studio helps the team to analyse industry trends and the competitive landscape. With access to the performance data in real-time, campaigns are constantly fine-tuned for maximum impact.
"Our re-marketing campaigns contribute almost 20 percent to fresh business every month," points out Nigam. Also, as per Silver Arrows, this data-driven targeting has lowered the incurred cost-per-conversion by nearly 33 percent, while bringing in revenue of about Rs 20 lakh every month through the re-marketing exercise.
Unifying verticals on a single platform
Post-sales interactions with customers who buy a high-end car play a significant role in gaining their loyalty. Earlier, post-sales, as well as ancillary products and services, such as finance, insurance, accessories, body repair, and servicing were all being managed outside of the Salesforce platform.
Since all the information along the lifecycle of the car was not available at a single place, each vertical had a piece-meal view of customer needs. A customer too, had to interact with multiple people at Silver Arrows for various requirements. However, with the new, customised solution, customer information across verticals throughout the customer lifecycle is consolidated in one place, and managed through a key account manager (KAM), assigned for every customer.
"The KAM uses the single customer view across all our verticals to anticipate and fulfil requirements, and to consistently enhance interactions," explains Kumar. The customer, in turn, has a single point of contact for all their needs, and enjoys a simplified and personalised experience.
"We are the first Mercedes-Benz franchise in the APAC region to have a KAM for every customer," Kumar states proudly. Silver Arrows credits its two implementation partners, CloudCentric Infotech and Mirum, which have worked intelligently to help innovate its two-decade-old business processes and make them compatible for a 360-degree customer view.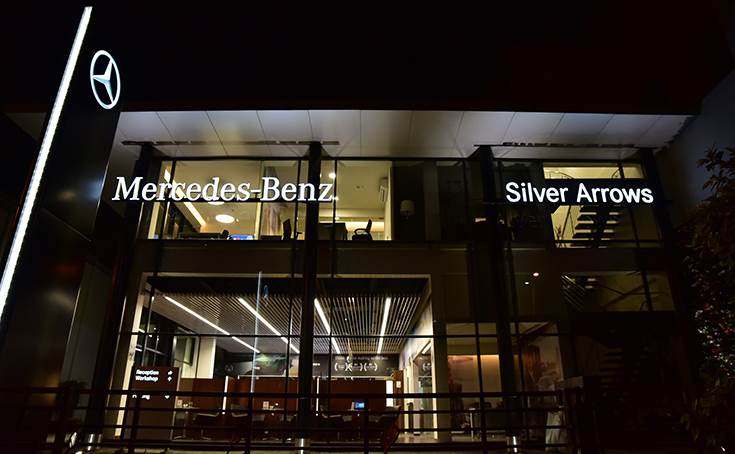 While it remains one of the top-performing Mercedes-Benz franchise partners in India, Silver Arrows is aiming to become No. 1 in both sales and service.
Aiming for the No. 1 spot
With extensive use of the highly-integrated Salesforce platform for timely, and personalised engagements with customers, Silver Arrows has delivered favourable results. As per Mercedes-Benz India's latest internal survey, the franchise has scored 4.84 out of 5 points, making it register one of the highest customer experience ratings for efficiency in the country.
The franchise has also seen national as well as global Mercedes-Benz marketing associates visit its Delhi-NCR outlets to study its processes. "Speedily leveraging customer information to personalise our engagements has boosted our call-back ratios, and being our biggest differentiator," says Kumar.
While it continues to remain one of the top-performing Mercedes-Benz franchise partners in India, Silver Arrows strives to become No. 1 in both sales and service. True to its ethos of handcrafting unique customer experiences, the KAM service, presently available to 150 customers, will be rolled out to all its 6,500 prestigious customers in near the future.
As Silver Arrows continues to maximise value and experience across the customer lifecycle, Kumar is confident that this will help it grab the top spot. "We are now equipped with the right talent as well as technology-backed innovative customer engagement processes to achieve our goal," he concludes.
ALSO READ:
Interview with Salesforce India's Rajkumar Ravuri: 'Our automotive cloud allows OEMs to quickly respond to market demand'
RELATED ARTICLES