Maruti Swift races past 2.5 million sales in India
Popular hatchback beats pandemic blues, maintains sales trajectory and crosses new milestone 16 years after launch.
Has the go to match the show. New Swift's DualJet engine gets 8.4% bump up in power to 90bhp and also better fuel economy, up by 2kpl to 23.2kpl for the 5-speed MT and 23.76kpl for the 5-speed AMT.
Maruti Swift races past 2.5 million sales in India
Maruti Swift races past 2.5 million sales in India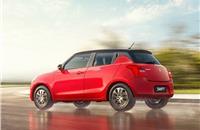 Zero to 2,500,000 has taken 16 years for this snazzy Maruti. Popular amongst youngsters and family car buyers alike, the Maruti Swift has crossed 2.5 million sales in India. It had driven past the 2.2 million mark in June 2020.
This sales milestone also means that the Swift has more or less maintained its sales growth trajectory despite the pandemic and despite Maruti moving out of the diesel car market in April 2020.
The Swift, which was first showcased in its concept form as the 'Concept S' at the Auto Expo 2004, was a breakthrough model for the Indian carmaker, marking its foray into the B+ hatchback segment which, at the time, had only the Hyundai Getz.
Today, the Swift and the Baleno are Maruti's best-selling hatchback models, clearly indicating a shift in the Indian car market where the entry-level preferences have moved towards slightly premium products. The Swift which, has seen three generational changes, has consistently been one of the top-selling passenger vehicles in India. It sold 172,671 buyers in FY2021, 187,916 in FY2020, 223,924 s in FY2019 and 175,928 units in FY2018. And in the first four months of FY2022, it has clocked sales of 61,482 units.
Maruti's Swift move pays dividends
With the Swift project, Maruti Suzuki also gained tremendously from this major opportunity when a team of around 20 engineers from India were closely involved in the entire development process of the global hatchback at the Suzuki headquarters in Hamamatsu, Japan.
The project enhanced Maruti's engineering capabilities to a great extent with the expats bringing back know-how as well as best practices to the company's local R&D centre.
The Swift can also be attributed to have introduced Indian motorists to a slew of modern-day features and sporty design language in cars. It pushed Maruti to move away from conventional tall-boy designs and launch a stylish hatchback that has appealed to a wide range of customers.
The car also revolutionised the typical Maruti variant line-up with a top-of-the-line 'ZXi' trim that came equipped with alloy wheels on the outside and loaded with features such as all-four power windows, automatic climate control, factory-fitted music system and electronically adjustable rear-view mirrors and even ABS, features which are today hygiene from a convenience and safety point of view.
At Auto Expo 2018, Maruti Suzuki launched the currently on sale third-generation version and has now democratised safety features such as dual airbags, ABS and EBD across all trims right from the entry-level LXi variant.
Commenting on the 2.5 million sales milestone, Shashank Srivastava, Executive Director (Marketing & Sales), Maruti Suzuki India, said: "With its launch in 2005, the Swift heralded the start of the premium hatchback segment in India. The Swift is not a car, it is a feeling, an emotion and a refreshing new thought process that challenged many notions around hatchbacks. With more than 52% customers below the age of 35 years, the Swift has been constantly refreshed to match the changing aspirations of its evolving young customers."
Key highlights are its bold and distinctive looks, aggressive front grille, cockpit-style interiors and strong performance. In line with this, the recently launched, Maruti Suzuki Swift 2021 is powered by the K-Series 1.2L Dual Jet Dual VVT engine. Available in both manual and Auto Gear Shift transmission, the Swift delivers fuel efficiency of 23.20kpl in MT and 23.76 km/l in AGS variants.
ALSO READ:
Made-in-India Suzuki Swift gets zero stars in Latin NCAP crash test
RELATED ARTICLES