India accounts for 60% of Suzuki Motor Corp's total production for the first time
Maruti Suzuki India's share in Suzuki Motor Corporation's revenues, volumes, profitability all inch higher in FY2023, helping the Japanese automaker revise its earning guidance upwards.
India continues to raise its stake in the global share of Suzuki Motor Corporation (SMC). For the first time ever, vehicle production at Maruti Suzuki India, in the first nine months of FY2023, accounted for 60% of the global car production for SMC.
A fast-growing domestic market and also the rising share of vehicle exports from the country has meant that India continues to have a strong impact on SMC's future. It is not only production but Maruti Suzuki's contribution across sales, revenues and profitability continues to rise year after year.
Between April and December 2022, the share of Maruti Suzuki's sales in SMC's global revenues was 55% compared to 50% for the same nine-month period in FY2022. Maruti Suzuki India's revenues now account for 41% of the Japanese parent's global revenues and 45% of its profitability – a year ago, these numbers were 33% and 15% respectively.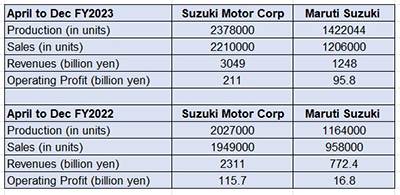 Proof of SMC's buillishness on India and Maruti Suzuki is that, despite the disruption in production due to parts shortage, the Japanese carmaker has revised its earnings forecast upwards on a strong 21% growth expected out of India and a favourable currency mix.
Aiming to accelerate vehicle exports from India
Underlining the importance of India, Toshihiro Suzuki, President of Suzuki Motor Corporation, on his recent visit during Auto Expo 2023, had said that India is significant for the Suzuki Motor Group, not only in terms of domestic sales but also as a global exporter. "The export has almost doubled in the last five years with a record high of over 230,000 units last fiscal year, this year too we are likely to set a new record for export. We are making various efforts to expand the export performance from India. India accounts for 50 percent of Suzuki Motors' global sales — the share of volumes from India is likely to increase in future thanks to the combined effort of both SMC and Maruti Suzuki," the president said.
As is known, India overtook Japan as the world's third largest light vehicle market in 2022. Commenting on this development, Toshihiro Suzuki had said that India has a potential to be the largest car market in the world in the coming years, albeit without sharing the specific timelines. He added that SMC would like to have a grip on the market and would like to capture the opportunity and develop technology for providing mobility solutions for this market.
In the first nine months of the ongoing fiscal, Maruti Suzuki sold a total of 14,51,237 units comprising 12,56,623 units in the domestic market and 1,94,614 units exports. The company had set itself an internal target of two million units for FY2023, but due to supply chain disruption, it may miss the target by a small margin.
Maruti Suzuki in its post-earnings call told analysts, "Fortunately, the demand scenario seems to be healthy as of now. And urban-rural mix is also the same, rural continues to be strong at about 44-45% and we are happy with the bookings of the Jimny and the Fronx. For next year, industry has not come out with a number, I think SIAM looking ahead to the conclave will be sometime next week. But what we are thinking is that we should grow faster than industry."
With new launches of the Jimny and the Fronx, Maruti Suzuki India has set itself a target of grabbing SUV market leadership in FY2024.
While the new launches will definitely bring in the incremental volumes, but apart from the volumes, the higher share of SUVs would mean a strong boost to its bottom-line, that in tandem with favourable currency movement both on imports and exports front has given confidence to Suzuki to revise its earnings guidance higher despite falling volumes in the other parts of the world — Europe and other parts of Asia.
ALSO READ: Maruti Suzuki Jimny gets over 15,000 bookings in three weeks
Maruti Suzuki ships 192,071 cars in first 9 months of FY2023, set to retain top exporter title
Maruti Suzuki clocks 25 million sales in India 40 years after Maruti 800 rollout
RELATED ARTICLES