Hyundai Motor India announces six airbags as standard for all models
Hyundai Motor India has also announced its voluntary participation in Bharat NCAP. It will begin with three models, with more to follow. 
Hyundai Motor India Limited has today announced six airbags as standard for all its models. This is one of the three announcements the company has made regarding its approach towards safer mobility.
The Verna has scored a five star rating in Adult and Child Occupant Protection by the Global NCAP, and Hyundai Motor India has also announced its voluntary participation in Bharat NCAP. It will begin with three models, with more to follow.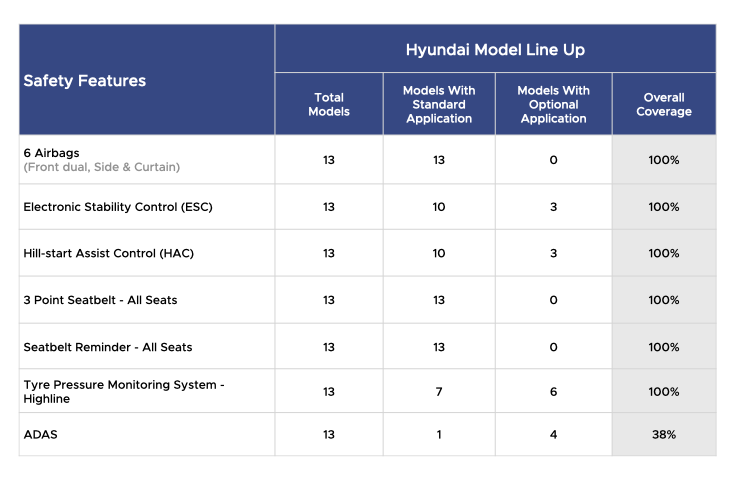 Commenting on the announcement, Unsoo Kim, MD and CEO said, "At Hyundai 'Safety-for-all' is our utmost priority and we have been benchmark creators in standardisation of vehicle safety features. We are not just a provider of smart mobility solutions, but also safer mobility solutions. HMIL will continue to spearhead efforts in raising vehicular safety standards in India, thus making Indian roads safer for all."
The Bharat New Car Assessment Programme or BNCAP safety regime came into effect in India starting October 1, 2023. The voluntary safety standard was launched on August 22, 2023, by the Union Minister for Road Transport and Highways (MoRTH) – Nitin Gadkari - at a mega event in New Delhi.
The new voluntary crash testing regime aims to award star ratings to cars based on their performance in crash testing, for which the standards have been taken from the Global New Car Assessment Programme (Global NCAP), which is a UK-based safety watchdog, and has taken a pioneering effort in elevating vehicle safety in India with its 'Safer Cars for India' programme, first initiated in 2013.
What started with the crash testing of the Tata Nano in 2013, so far Global NCAP has cumulatively tested 50 made-in-India cars for their crash worthiness and sparked a debate around the need to elevate vehicle safety, which, over the years, has gained tremendous weightage in the consumer's mind while purchasing a new car.
The constructive role played by Global NCAP over the years will now be taken forward by the Bharat NCAP regime, which has formulated a new standard – AIS 197 – that is in line with the revised (July 2022-December 2025) Global NCAP standards, and will impart individual star ratings on a scale of five, for both adult occupant protection (AOP) as well as child occupant protection (COP) offered by a car in a crash test assessment.
In line with the revised Global NCAP standard, the BNCAP or AIS-197 protocol will test cars for a frontal-offset crash test at a speed of 64kph (higher than the homologation requirement of 56kph), a side-impact test at a speed of 50kph, and specifically undertake a side-pole impact crash test at 29kph, particularly to impart a 3/4/5-star rating to cars.
As a result, the government, which had earlier proposed to make six airbags mandatory in all new cars in India from October 1, 2023, has dropped its plans as it now believes the new BNCAP regime will push OEMs to equip their cars with the highest levels of active- and passive-safety features to obtain a high star rating.
"We have introduced the BNCAP regime which demands six airbags for a 4- / 5-star rating. Therefore, there is no need to mandate six airbags in cars now. It will automatically push OEMs to offer them," Nitin Gadkari, recently said at a mega auto-industry event in the national capital. "Manufacturers who are offering six airbags are gaining more market share. The market has accepted this trend. Those who do not want to offer, are facing problems as far as their sales are concerned," he added.
While there is a marginal difference between the BNCAP and GNCAP test protocols, with the latter allocating two additional points for seat-belt reminders, OEMs in India are gung-ho about the new regime and are willing to get their latest offerings tested to get a safety validation and attract buyers.
The BNCAP regime, which will be anchored by the Pune-based Central Institute of Road Transport (CIRT), has already received request to test over 30 new car models. According to the government, the cost of a BNCAP crash test in India is estimated at Rs 60 lakh, which will be almost a fourth of what a vehicle manufacturer would pay to get their new model tested elswehere.
RELATED ARTICLES