Hero MotoCorp launches new Xoom, eyes higher market share in entry-level scooter market
Hero MotoCorp expands its scooter portfolio with 110cc Xoom which is targeted at young riders keen on a product with sporty styling and high on technology.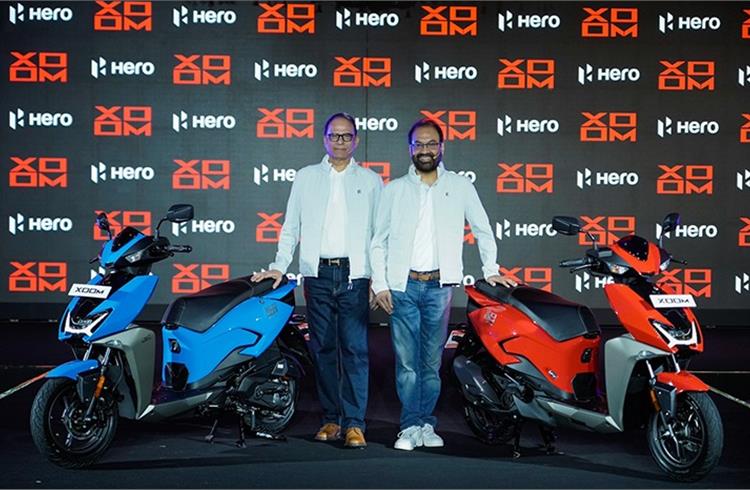 L-R: Hero MotoCorp's Chief Technology Officer, Dr. Arun Jaura and Chief Growth Officer, Ranjivjit Singh with the Hero Xoom.
With the new Xoom, Hero MotoCorp's scooter portfolio grows to four products.
The Xoom boasts high-on-technology features such as a full-digital, Bluetooth-enabled instrument cluster, 12-inch wheels and cornering lamp function for enhanced rider safety.
Hero MotoCorp's latest scooter Xooms in on young buyers.
India's largest two-wheeler maker Hero MotoCorp, which sold 282,169 scooters in the first nine months of FY2023 and has a 7.80% market share, is eyeing new growth opportunities in the entry-level 110cc scooter segment which forms the bulk of scooter volumes in India.
The company today launched the 110cc Xoom, a new tech-laden scooter, in three variants at an introductory ex-showroom Delhi price of Rs 68,599 (LX - sheet drum), Rs 71,799 (VX - cast drum) and Rs 76,699 (ZX - cast drum). With this, its scooter portfolio stands expanded to four products which includes the 110.9cc Maestro Edge and Pleasure Plus and the Destini 125.
As per the company management, Hero MotoCorp has recorded substantial growth in market share over the past three years in this entry-level segment, which commands a dominating 63% share of the Indian scooter market. However, over the past year or so, due to the fall in income at the bottom end of the pyramid, sales in the entry-level segment – across scooters, motorcycles and also cars – have been flagging.
Hero MotoCorp's best-selling scooter is the Pleasure which, in its current-generation avatar, is a unisex product versus the previous largely women-focused. This has helped it gain new traction and rewrite the growth story in this segment. Now, with the new Xoom, the company is eyeing untapped growth potential in this territory, which is ruled by market leader Honda Activa. TVS Motor Co's 110cc Jupiter has also captured a fair share of the entry level market. While Honda currently has a 47.51% share of the scooter market, second-placed TVS has a 23.48% share, with both these OEMs having increased their scooter market share in April-December 2022 period.
"Consumers across the country are getting enthusiastic and want to explore more. The mood has changed and adventure seeking is back in the core behaviour of the two-wheeler buyer. The 110cc scooter segment commands a lion's share of the Indian scooter market and that has given us reasons to explore it further as the young customers are looking for something different and exciting," said Ranjivjit Singh, Hero MotoCorp's chief growth officer, while unveiling the product in New Delhi.
Xoom-ing in on young buyers
The snazzy-looking Xoom which is also muscular with sharp lines in its styling is offered in five bright colour options aimed at drawing young collegians.
According to Singh, "Sportiness in the scooter's attributes makes it imperative that this segment needs to be in the front and centre of every new development at OEMs and we see a big opportunity in this style of scooters within the 110cc segment. This is a time for us to usher into a big change."
While the Xoom has a a striking resemblance to Hero MotorCorp's first electric scooter, the Vida V1, launched las October, the company however affirms that the Xoom is a complete ground-up developed new product. "We do have commonalities in terms of parts among different products for cost optimisation, but it is based on a different platform," company officials said.
The Xoom boasts high-on-technology features such as a full-digital, Bluetooth-enabled instrument cluster, 12-inch wheels and uniquely, a cornering lamp function for enhanced rider safety. The Xoom is powered by an alternator-starter generator-equipped 110cc, single-cylinder engine that produces 8.05hp and 8.7 Nm of torque. It is the same powerplant as in the Maestro Edge 110 and Pleasure+. All three Xoom variants are equipped with Hero's i3s start/stop technology, which can be turned off as well.
While the on-board diagnostics (OBD-II) emission regulations are set to come into force from April 2023, the Hero Xoom, for the time being, has been launched with an OBD-I system and will be duly upgraded with an OBD-II unit for compliance with the new on-board emission monitoring norms for two-wheelers.
Hero MotoCorp claims it has filed 25 patent applications for the new Xoom, which will be retailed from its 9,000-strong network across India. Does the Xoom have what it takes to draw buyers in the entry-level scooter market? "We are quite optimistic about the response expected from the scooter," Singh concluded.
RELATED ARTICLES