Analysing Toyota Hyryder's one-year performance
Over the past 12 months, the Hyryder sold an average of around 3,200 monthly units. 
The Toyota Urban Cruiser Hyryder, jointly developed with Maruti, was launched on September 9, 2022, in India. Its unique selling proposition is its strong-hybrid powertrain, which is meant to fill the void left by a lack of a diesel engine, as well as bridge the gap between petrol and electric vehicles. We look at the Hyryder's journey over the past 12 months and analyse this midsize SUV's impact on the market.
Toyota Urban Cruiser Hyryder price
Launched at an attractive starting price of Rs 10.48 lakh for the petrol and Rs 15.11 lakh for the hybrid, Toyota certainly turned the spotlight towards the Hyryder, but with limited production, Toyota didn't capitalise on the initial euphoria. Multiple price hikes thereafter have made the hybrid 5-9 percent pricier, while the petrol and CNG versions are 0.87-3.63 percent more expensive than their launch prices, as of today.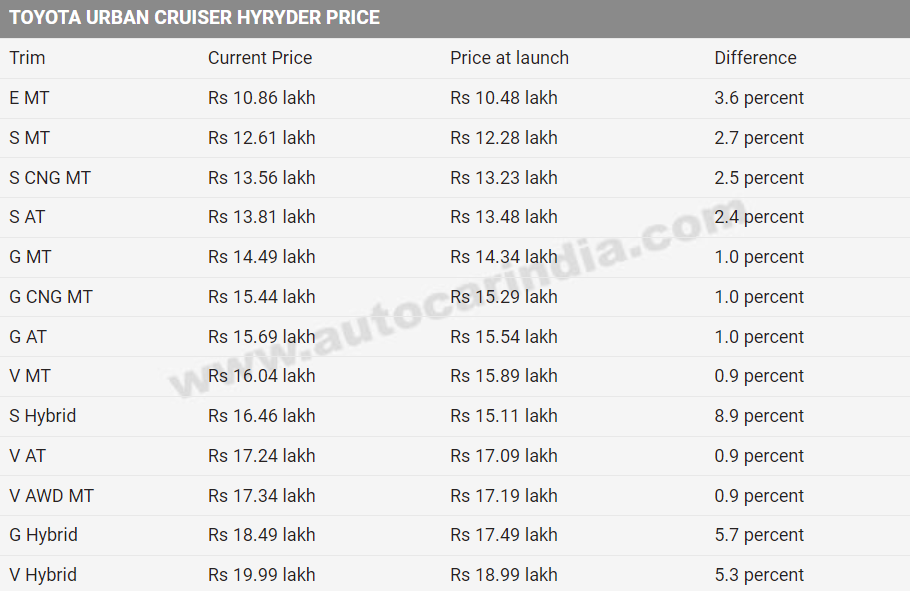 Toyota Urban Cruiser Hyryder sales
Over the past 12 months, the Hyryder sold an average of around 3,200 units per month. While this mid-size SUV certainly adds respectable numbers to Toyota's tally, some of its rivals however, outsell the Hyryder by a huge margin. To put things in perspective, its Maruti twin, the Grand Vitara, with a stronger network and a marginally lower price for its petrol variants, sells more than twice as much, and the segment best-selling Hyundai Creta averages nearly four times the Toyota's sales on a monthly basis.
What the Hyryder's sales numbers don't reflect, however, are the hurdles Toyota has faced to produce and deliver the car. These include some teething issues (in October-November 2022), due to which, new inventory dispatches were paused for over a month, which resulted in waiting periods going through the roof. In fact, till date, waiting periods in most places extend to months for its popular variants.
Toyota Urban Cruiser Hyryder: recalls
The Hyryder has been recalled thrice so far. The first was in December 2022, to replace a front seat belt shoulder height adjuster plate assembly, which impacted 994 cars. In January 2023, the company recalled a total of 1,390 Hyryders and Glanzas manufactured between December 8, 2022, and January 12, 2023 for a possible airbag defect. And later, the brand announced a third recall of 4,026 units, produced between August 8, 2022, and November 15, 2022, due to a faulty rear seat belt mounting bracket.
Also read
Toyota India enters CNG market with Glanza, Urban Cruiser Hyryder
Toyota launches Hyryder CNG at Rs 13.23 lakh
RELATED ARTICLES