Wardwizard sets up CoE for EV skill development of retired defence personnel
Electric two-wheeler OEM sets up EV Centre of Excellence at Dogra Regimental Centre, Ayodhya Cantt to facilitate skill development and create employment opportunities for retired army personnel
Electric two-wheeler manufacturer Wardwizard Innovations & Mobility, which retails the Joy e-bike brand in India, has signed a Memorandum of Understanding (MoU) with the Dogra Regiment and set up the Wardwizard's EV Centre of Excellence (CoE) at Dogra Regimental Centre, Ayodhya Cantt in Faizabad, Uttar Pradesh.
The strategic collaboration aims to provide specialised skill development and upskilling opportunities in the electric vehicle (EV) industry for 'Agniveers' and other retired army officers.
The MoU signing and inauguration ceremony was held in the presence of Deputy Commandant Colonel Saurabh Shah, Dogra Regimental Centre, Commandant Brigadier K Ranjeev Singh, Dogra Regimental Centre and Yatin Gupte, Chairman and Managing Director, Wardwizard Innovations & Mobility.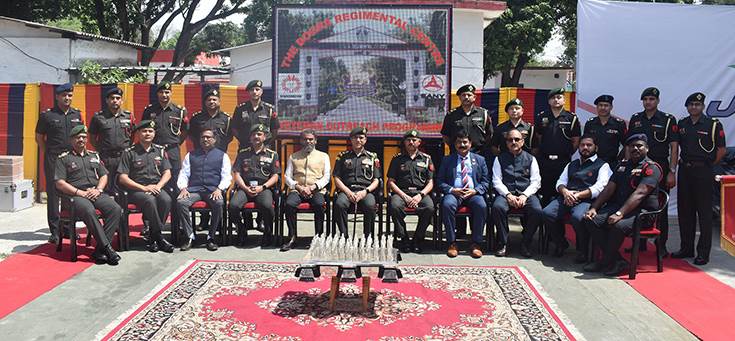 As part of the 'Enable to Empower' project, Wardwizard, in partnership with the Dogra Regiment, will conduct an immersive 5-6-day training workshop for selected retired officers/personnel. As per the EV OEM, the training programme is designed to equip participants with the necessary knowledge and expertise to thrive in the EV domain. The CoE has Joy e-bike vehicles and components for demonstration and hands-on learning. This initiative aims to facilitate skill development and create employment opportunities for retired army personnel associated with the Dogra Regiment.
Yatin Gupte, CMD, Wardwizard Innovations, commented, "Wardwizard Innovations acknowledges and celebrates the valour and dedication of 'Agniveers' and other retired army officers, and we are committed to empowering them with new possibilities. Through our comprehensive EV training program, we equip them with the skills to thrive in this transformative industry. Together, we forge a path towards a sustainable future, where their expertise and unwavering spirit make a profound impact. We are further committed to signing MoUs with different regiments in the near future."
The EV Centre of Excellence, which will provide practical training, lectures, and industry exposure in various areas of the EV industry, will organise Training of Teachers (ToT) programmes to ensure that faculty members stay updated with the latest developments in their respective fields. Equipped with the latest technical equipment, including part display tables, low-speed scooters, battery and charging facilities, chargers, and e-rickshaws, the centre aims to serve as a hub for immersive learning and hands-on experience.
Wardwizard Innovations & Mobility currently retails around 10 models in its portfolio in both high- and low-speed categories, and has a network presence in 55 major cities across India.
RELATED ARTICLES