Upcoming Toyota Innova Hycross to get hybrid powertrain
The soon-to-be-revealed Toyota Innova Hycross will be the first Innova to come with a hybrid powertrain; price announcement in January.
Upcoming Toyota Innova Hycross to get hybrid powertrain
Upcoming Toyota Innova Hycross to get hybrid powertrain
Upcoming Toyota Innova Hycross to get hybrid powertrain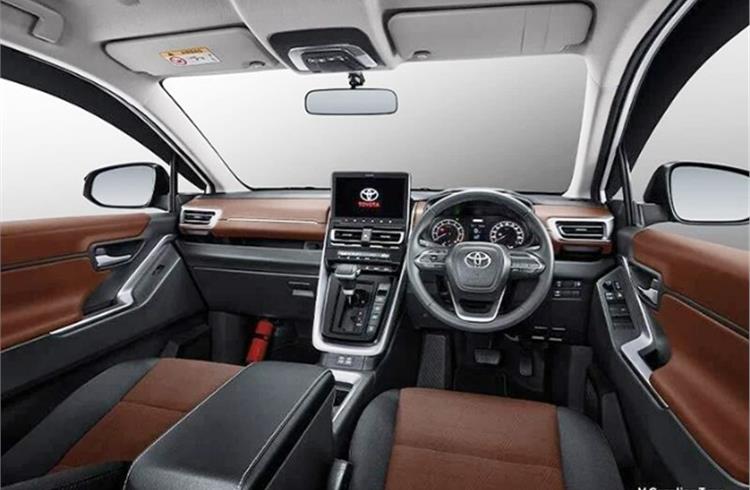 Upcoming Toyota Innova Hycross to get hybrid powertrain
Upcoming Toyota Innova Hycross to get hybrid powertrain
Upcoming Toyota Innova Hycross to get hybrid powertrain
Upcoming Toyota Innova Hycross to get hybrid powertrain
Ahead of its India-market reveal on November 25, Toyota Kirloskar Motor has confirmed that the new Innova – called Innova Hycross for the India market – will come with a hybrid powertrain option. The Innova Hycross will see a global reveal on November 21 in Indonesia, where it will be sold as the Toyota Innova Zenix. Powertrain options for both the Innova Zenix and the Innova Hycross are expected to be similar.
Styling more SUV-like than previous Innovas
The image of the all-new Innova above is the first official image of Toyota's new MPV. The new Innova looks more butch and SUV-like than any of its predecessors. The nose is upright and has a large trapezoidal grille finished in contrast black with chrome surrounds. Its wide front bumper has a unique cheatline in the centre that cleverly merges with triangular units on each corner. The cheatline also houses wide, horizontally positioned LED daytime running lamps.
There are faux aluminium bits neatly positioned on each corner of the bumper. While the headlamps are wide, wraparound units with dual layers neatly housing LED projector units, there are chrome separators dividing each lamp. There are also what seems to be another set of daytime running lamps on the top like an 'eyebrow'.
Two distinctive creases run across the length of the doors with both neatly merging with the wraparound tail-lamps, resembling the styling on the Avanza Veloz MPV sold overseas. The Innova Hycross' glasshouse seems to be as big as that of the outgoing Innova Crysta, promising ample cabin room for all three rows of seats. The alloy wheel design looks upmarket and gives the new Innova a premium look.
First Innova with hybrid powertrain, fuel effficiency: 20-23kpl
Toyota started focusing on mass-market hybrid models for India with the new Hyryder SUV launched on September 9, 2022. Now, the Innova Hycross, which will go on sale in January 2023, will get a strong hybrid powertrain.
This hybrid, known internally as the Toyota Hybrid System or THS, has been heavily localised to keep costs in check and already does duty on the Hyryder and the Maruti Grand Vitara. While the THS hybrid system will be similar to the one on the SUVs, the new Innova Hycross will come with a bigger 2.0-litre engine instead of the smaller units seen on the midsize SUVs.
The Innova Hycross will be powered by a 2.0-litre naturally aspirated petrol engine from Toyota's Dynamic Force engine family. This is the same family of engines that does duty on many Toyota and Lexus models globally. It will be mated to a strong hybrid powertrain for higher variants, giving customers two powertrain options for the Innova Hycross – a 2.0-litre naturally aspirated unit and a 2.0-litre strong hybrid. Expect more details on the gearbox options, power and torque output, and fuel efficiency to trickle out closer to debut.
The Innova Hycross will have best-in-class fuel economy. As per Autocar India, the latest-gen Innova is likely to deliver fuel efficiency between 20 and 23 kilometres per litre for the hybrid version, easily making this the most efficient car in its class.
Built on TNGA platform
The new Innova will ditch its rear-wheel-drive IMV platform for a lighter, more sophisticated front-wheel-drive TNGA (Toyota New Global Architecture) modular architecture. TNGA is a program of structural innovation, starting with changing the basic architecture of vehicles. Through TNGA, Toyota completely remakes the powertrain unit (engine, transmission, HEV unit) and basic frames (chassis). This means the new MPV will be lighter than its predecessor, have more cabin room, and be more car-like to drive.
Toyota Kirloskar Motor will open bookings for the Hycross on November 25 when the MPV will make its India debut. Prices are likely to be announced at the upcoming Auto Expo 2023, while deliveries are expected to begin around mid-January 2023.
Innova Crysta sales up 36% in April-October
As per industry body SIAM's wholesales numbers for the Indian passenger vehicle market, Toyota has sold a total of 39,840 Innova Crystas in the April-October 2022 period, up 36% year on year (April-October 2021: 29,261). The recently launched Kia Carens, with 40,509 units, has gone ahead of the Innova in the first seven months of the ongoing fiscal. With the latest avatar of its popular MPV, Toyota India will seek to change that equation soon.
ALSO READ: India's Top 15 UVs in April-October 2022
UV sales cross a million units in first 7 months of FY2023
RELATED ARTICLES