TVS identifies white space in India's bike market, sets out to tap 225cc-350cc segment
A lack of premium products in the 225cc to 350cc market sees TVS Motor Co plot strategy for new midsize motorcycles; it also plans to redefine its market positioning with riding communities and experiences as a brand enhancer.
TVS has set out to develop premium motorcycles in the 225cc-350cc segment in India.
Vimal Sumbly: "In India, we are stuck between the 150cc and 200cc segments, and then a long jump to 350cc bikes. There is a huge void in between, which is we want to address and capture."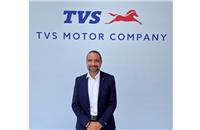 Chennai-based TVS Motor Co, India's No. 3 two-wheeler manufacturer by sales volumes and No. 2 two-wheeler exporter, is looking to expand its reach in the Indian motorcycle market.
The company, which has sold a total of 24,02,780 two-wheelers in the first 11 months of FY2023 and recorded strong 23.53% YoY growth (April 2021-February 2022: 19,45,035 units) is now keenly eyeing the market potential in the relatively unaddressed 225cc-350cc motorcycle segment in India. And it is en route to rolling out new products for this sub-segment of the motorcycle market.
TVS, which at present sells the Apache RR 310 as its flagship 310cc premium motorcycle, as well as the 225cc Ronin cruiser motorcycle, aims to bring more options in the 225cc-350cc segment, which, it states, is currently low on options for customers.
Void identified in India's bike market
"In India, we are somewhat stuck between the 150cc and 200cc segments, and then there is a long jump to the 350cc-displacement motorcycles. There is a huge void in between and that is what we want to address. We want to mitigate this problem and capture the market," Vimal Sumbly, head, Premium Business, TVS Motor Company, told Autocar Professional.
"It is going to be a very exciting space and there are going to be exciting products coming out from TVS," he added, albeit without revealing any specific timelines.
"We are a very customer- and segment-centric organisation, and what one could also expect is our growing connection with customers by the virtue of events such as the 'MotoSoul'. Motorsport is a great opportunity in India and there is lots going to come from our side," Sumbly said.
Last week, TVS held the second edition of the TVS MotoSoul biking festival in Goa. The two-day event saw the unveiling of customisation options based on the TVS Ronin platform, the company's latest offering in the modern retro category.
Last week's TVS MotoSoul biking festival in Goa saw unveiling of customisation options based on the TVS Ronin platform
Riding towards brand transformation
As it readies its new midsize offerings, TVS is simultaneously also on the road to transform itself into a motorcycling brand. According to Sumbly, "Our aim is to transform TVS from being a motorcycle brand into a motorcycling brand by building this community of riders, and offering them a true experience."
While it has now strengthened the AOG or Apache Owners' Group community, which is claimed to have over 250,000 registered customers, TVS Motor Company is also developing the 'CULT' (Culture, Lifestyle and Travel) community specifically for the Ronin with a focus on leisure riding activities with its customers.
The company says the 225cc Ronin currently sees around 25% of its sales originating purely from digital channels and, according to Sumbly, around 16-17% of Ronin buyers are also opting for the several customisation options on offer.
"The mindset of the young customer in India is changing and people are no longer loyal to a brand . . . rather, they want to have the best experience. This is a genre shift that is underway and we want to occupy the entire space through our experiential offerings," Sumbly pointed out.
On March 4, TVS introduced two helmet-mounted, Bluetooth connectivity devices, which allow up to 20 riders in a group to seamlessly pair and connect with each other to converse over a local intercom network during a community ride. While the S10X is priced at Rs 8,499, the S20X with a battery life of up to 16 hours comes priced at Rs 10,999.
TVS SmartXonnect devices: S20X & S10X-
Expansion of premium outlets to 500 by mid-April
As part of its premiumisation strategy, the company is setting up premium bike zones at its existing showrooms by creating a shop-in-shop concept, and aims to have 500 such outlets ready across India by mid-April 2023.
"The objective is to give a better customer experience – not just at the front but at the back end (aftersales) as well so that consumers can really be wowed by our premium offerings as well as the retail experience.
"We are formulating new sales teams and have champions at all our dealerships. There is going to be dedicated manpower who will handle the premium motorcycle customers, who are more interested in getting to understand the technical nuances of the motorcycle. Over a period of time, we will see a transition towards a completely different experience at our showrooms," Sumbly said.
The company says that its objective is to redefine the premium segment by giving its customers differentiated experience, ensuring test rides as well as spare parts availability. "While we have known the commuter motorcycle segment for so many years, this is something which is new, and therefore, we want to put an extra focus," Sumbly added.
"As a brand we need to evolve and we want this experience to be very large and big. To do this, we will leverage our rich heritage of being in racing for almost 40 years, as well as nurturing racing talent in India," Sumbly signed off.
ALSO READ:
TVS Apache sells over 5 million units worldwide in 18 years since launch
Scooter sales rise by 29% to 4.36 million units in first 10 months of FY2023, TVS gains market share
RELATED ARTICLES