Toyota launches flexi-fuel strong HEV pilot project in India
The left-hand-drive Corolla Altis Hybrid flex-fuel will be used as a technology demonstrator for ethanol-powered vehicles in India.
Union Minister for Road Transport and Highways Nitin Gadkari and Vikram Kirloskar, Vikram S Kirloskar, Vice-Chairman, Toyota Kirloskar Motor with the Toyota Corolla Altis FFV-SHEV
The Corolla Altis Hybrid can run on ethanol-blended fuel.
Toyota launches flexi-fuel strong HEV pilot project in India
Toyota launches flexi-fuel strong HEV pilot project in India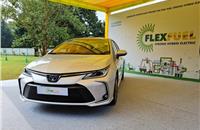 Toyota has showcased the Corolla Altis Hybrid, its pilot project to test flex-fuel-powered cars in India. The car, which also runs on ethanol, was unveiled today in New Delhi by Union Minister for Road Transport and Highways Nitin Gadkari.
The Corolla Altis Hybrid is already on sale in markets like Brazil where the car is tuned to use ethanol-blended fuel (E85). It also gets Toyota's full-hybrid technology, which is seen in vehicles like the Camry and the Urban Cruiser Hyryder in India, among a few others. Last month, we had reported that the car that will be showcased here as the tech-demonstrator for flex-fuel will be the Corolla hybrid and not the Camry.
Sources have told Autocar India that the model being used for testing is a left-hand-drive unit. The Corolla hybrid shown today will be more of a technology demonstrator for the brand, similar to the hydrogen-powered Mirai that Toyota showcased in India earlier this year.
Vikram Kirloskar at the launch of the Toyota pilot project on Flexi-Fuel Strong Hybrid Electric Vehicles (FFV-SHEV) in India.
What is a flex-fuel vehicle?
An FFV–SHEV has a flexi fuel engine and an electric powertrain, thus providing dual benefit of higher ethanol use and greater fuel efficiency, as it can run for significant time periods on its EV mode, wherein the engine is shut off. The FFV-SHEV has much higher economic multiplier benefits, as it can hasten local manufacturing of electric and flexi-fuel powertrain parts, thus providing a disruption free & low risk industry and energy transition. As this technology provides the opportunity to benefit from both electrification and bio-fuel energy pathways, it enables a faster reduction of fossil fuel consumption, CO2 emissions, as well as boosting the agrarian economy.
A vehicle equipped with a flex-fuel engine can run on more than one type of fuel, and also a mixture. Such an engine is capable of automatically adjusting to any ratio, thanks to modifications like a fuel composition sensor and suitable ECU programming. Flex-fuel engines are capable of running on 100 percent petrol or ethanol and are already available in countries such as Brazil, the USA and Canada.
India already has ethanol-blended petrol with a doping level of about 10 percent. Last year, the government brought forward its target by two years – from 2025 to 2023 – to produce 20 percent ethanol-blended petrol (E20).
India has already achieved 10% ethanol blending five months ahead of schedule. The implementation of 20% ethanol blending in petrol by 2025-26 is expected to substitute 86 million barrels of gasoline, thereby leading to forex savings of Rs 30,000 crores for India, as well as reducing 10 million tons of carbon emissions. Given the huge potential of ethanol production that exists up to and beyond E20, these benefits can increase multi-fold with the introduction of Flexi Fuel Vehicle (FFV) technology, that can flexibly use higher ethanol blends from 20% to 85%.
Globally, many countries like Brazil have hugely benefited from large scale introduction of FFVs. In fact, in Brazil an innovative Flexi fuel-strong Hybrid electric vehicle technology (FFV - SHEV) has been introduced by Toyota Brazil, which has the lowest Well-to-Wheel (W2W) carbon emissions for any technology in the country.
RELATED ARTICLES