TMC collects initial batch of seafloor polymetallic nodules from Pacific Ocean
The development may be of interest to the automotive industry as the project aims to cater to the requirement for processed materials for Gigafactories for the production of lithium-ion batteries.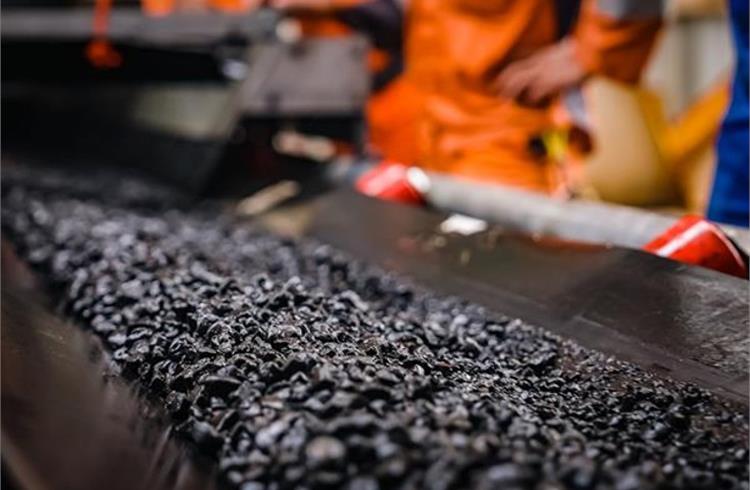 TMC, also known as The Metals Company, announced on Wednesday that it has successfully collected an initial batch of seafloor polymetallic nodules and transported them up a 4km-long riser system to the surface, marking the first integrated system test since the 1970s in the Pacific Ocean's Clarion Clipperton Zone.
The development has implications for the automotive industry considering that Mumbai-based Epsilon Carbon, which makes graphite materials for lithium-ion battery anodes, signed an MoU with Nasdaq-listed TMC in April this year to conduct a pre-feasibility study of a commercial plant in India that can convert cathode precursors into cathode active materials.
The project's goal is to supply processed materials to the country's upcoming Gigafactories for the production of lithium-ion batteries, providing a boost to India's effort to replace existing ICE-run vehicles with environmentally safer electric-mobility with the lightest planetary touch. While TMC, an explorer of lower-impact battery metals from seafloor polymetallic nodules, will contribute the precursors, Epsilon Carbon will be in charge of financing, setting up, and operations of the plant, which is expected to cost Rs 1200 crore in the first phase, which will begin in Q4FY24.
Gerard Barron, CEO & Chairman, The Metals Company said: "With the first nodules making their way from seafloor to surface using an integrated pilot collection system, it is a historic moment in the development of this industry".
NORI's tests will be the first time an integrated nodule collection system — including a nodule riser — has been tested in the Clarion Clipperton Zone since the 1970s, when oil, gas, mining, and industrial majors such as Shell, BP, Rio Tinto (Kennecott), US Steel, INCO (Vale), and Sumitomo collected over 1,500 tonnes of nodules in pilot tests.
TMC, in a statement, added that after having successfully completed at-sea construction of the riser system and its integration with the flexible jumper hose and pilot nodule collector vehicle, the dedicated team of 130 crew and engineers aboard the Hidden Gem commenced initial nodule collection runs, driving the pilot collector 147 meters in one hour on a predetermined path and collecting 14 tonnes of nodules.
From inside the collector nodules were channeled to the jumper hose and into the riser where they were lifted on compressed air in a 12-minute-trip from seafloor to the Hidden Gem, where the return water was discharged to the midwater column at depth. To date, on the current campaign the collector vehicle has successfully been test-driven approximately 18.1km within NORI-D, it added.
TMC subsidiary NORI has used cutting-edge technology in this monitoring effort, including over 20 strategically placed sediment collection stations, acoustic moorings and landers to measure sound propagation, two autonomous underwater vehicles (AUVs) conducting underwater mapping, two remotely operated vehicles (ROVs) collecting water samples in the plume, optical backscatter and laser diffraction sensors to measure sediment particle settling velocity, and optical backscatter and laser diffraction sensors.
Plans for Gigafactories
Battery consumption is anticipated to increase to 260 GWh by 2030 under the expedited scenario. With an average advanced battery production capacity of 10 GWh per year, this would necessitate close to 26 gigafactories. 10 gigafactories would be needed by 2030 under the conservative scenario for battery consumption. The most crucial tool for making this a reality is the recently unveiled production-linked incentive (PLI) scheme.
Some of India's richest corporates have decided to enter into the fray. For instance, Gautam Adani, plans to invest $100 billion over the next ten years, mostly in energy transformation. His proposals for the energy transition include increasing the 20GW capacity of hybrid renewable power generation by 45 gigawatts (GW).
Secondly, Mumbai-based conglomerate Tata Sons has indicated that $5 billion will go toward building gigafactories and another $5 billion will go toward creating a semiconductor fab facility. Likewise, Reliance Industries, intends to build five Gigafactories in Jamnagar, one each for solar panels, energy storage, green hydrogen, fuel cell systems, and power electronics. This project is projected to cost close to $10 billion. Similarly, a greenfield gigafactory being built by Cygni will have a 1,200 MWh capacity and be able to generate roughly 4,00,000 battery packs annually.
RELATED ARTICLES