Tatas sign definitive agreement to acquire Ford India's Sanand plant for Rs 725 crore
Ford India will continue to operate its Powertrain Manufacturing Facility by leasing back the land and buildings of the Powertrain Manufacturing Plant from TPEML on mutually agreed terms
Tatas sign definitive agreement to acquire Ford India's Sanand plant for Rs 725 crore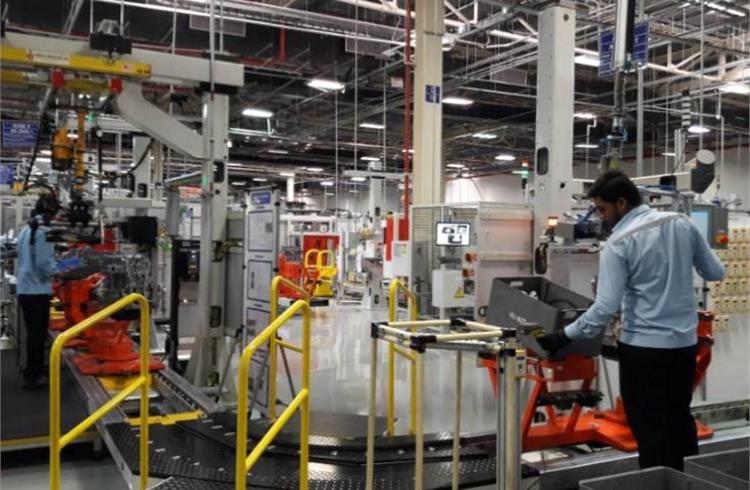 Ford's Sanand plant is now a part of Tata Motors
A view of the Ford's Sanand shopfloor
Tata Passenger Electric Mobility (TPEML), a subsidiary of Tata Motors, and Ford India have signed the Unit Transfer Agreement (UTA) for the acquisition of Ford India's manufacturing plant situated at Sanand, Gujarat, which inter-alia includes the entire land and buildings, vehicle manufacturing plant along with machinery and equipment situated therein and transfer of all eligible employees of Ford India's vehicle manufacturing operations at Sanand, for a total consideration, exclusive of taxes, of Rs 725.7 crore.
Ford India will continue to operate its Powertrain Manufacturing Facility by leasing back the land and buildings of the Powertrain Manufacturing Plant from TPEML on mutually agreed terms. TPEML has agreed to offer employment to the eligible employees of Ford India's Powertrain Manufacturing Plant in the event of Ford India's cessation of such operations.
The closure of the transaction will be subject to the receipt of relevant approvals from the government authorities and fulfilment of customary condition precedents. The government of Gujarat, TPEML and FIPL have already executed a tripartite MoU on 30 May 2022 to support all relevant approvals for the above transaction.
In a press note, Tata Motors said that with its manufacturing capacity nearing saturation, this acquisition is timely and a win-win for all stakeholders. It plans to unlock the unit's manufacturing capacity of 300,000 units per annum which is scalable to 420,000 units per annum.
TPEML would make the necessary investments to reconfigure the plant to adapt to Tata Motors' existing and future vehicle platforms. The unit is adjacent to the existing manufacturing facility of Tata Motors' PV plant at Sanand, which once rolled out the Nano.
Tata will look to enhance drive manufacturing flexibility at Ford plant
At Rs 726 crore, Tata Motors has acquired Ford's Sanand plant at a throwaway price given that the American carmaker had invested close to a billion dollars in the integrated vehicle and engine manufacturing plant. The two facilities include stamping, body, paint and assembly operations for vehicle manufacturing, as well as machining and assembly operations for engine manufacturing.
However, being a highly automated plant with a high break-even manufacturing volume, what Tata Motors will have to reconfigure operations to ensure a high level of manufacturing flexibility to meet future demand for both IC engine and electric vehicles in the market.
What will be key to Tata Motors' success with Ford's Sanand plant will be ensuring speedy and seamless flexibility to handle unpredictable market swings. It is understood that it will take a year for Tata to retool the plant, which will be ready for a new generation of EVs like the Curvv midsize SUV which, though based on the modified Generation-1 architecture found on the Nexon EV, has been designed to accommodate multiple body styles and powertrain options.
There is also the Avinya concept that's based on a born-electric platform. Tata Motors has also trademarked names of four other EVs earmarked for the coming years.
One could expect Tata Motors to think of top-notch manufacturing flexibility as Mercedes-Benz has done with its Factory 56. Production in Factory 56 is characterised by maximum flexibility – this applies to the number of models produced and the production volume as well as to material flows. New models – from compact cars to SUVs, from conventional ICE to plug-in hybrid to electric drive – can be integrated into series production in just a few days. Production can be adjusted quickly and flexibly to meet market demand.
Shailesh Chandra, Managing Director, Tata Motors Passenger Vehicles and Tata Passenger Electric Mobility Limited, said, "The agreement with Ford India signed today is beneficial to all stakeholders and reflects Tata Motors strong aspiration to further strengthen its market position in the Passenger Vehicles segment and to continue to build on its leadership position in the Electric Vehicle segment."
"Today's announcement marks an important step forward in Ford's ongoing business restructuring in India, which is part of our Ford+ plan for strategic transformation," said Steve Armstrong, Transformation Officer of Ford Motor Company.
Both TPEML and Ford India will work together over the next few months to satisfy all the condition precedents and obtain the required regulatory approvals for the closure of the transaction, the press note said.
Ford India's plant at Maraimalianagar, Chennai has since closed with the last EcoSport rolling out on 20 July.
RELATED ARTICLES