Tata Motors set to launch Tiago, Tigor CNG in January
The two Tata models will expand the limited options currently available in the factory-fitted CNG car territory.
Tata Motors set to launch Tiago, Tigor CNG in January
Tata Motors set to launch Tiago, Tigor CNG in January
Tata Motors set to launch Tiago, Tigor CNG in January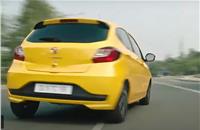 After a long wait, Tata Motors looks finally set to enter the CNG passenger vehicle segment in India, with the long-awaited CNG-powered variants of the Tiago and Tigor likely to be launched in January 2022.
According to Autocar India, Tata Motors dealers in various cities have started accepting unofficial bookings for the CNG variants of the Tiago hatchback and its compact-sedan sibling.
While test mules of the two cars in their CNG avatars have been spotted testing on multiple occasions on Indian roads, any major differentiation from their petrol-powered versions in terms of design, is highly unlikely. However, as per homologation requirements, a CNG sticker each on the front and rear windscreens could be the sole tell-tale sign.
Tata Motors hasn't as yet revealed any details about the variant line-up for the CNG bi-fuel option on the two cars. The entry-level XE and mid-spec XT trims stand a high chance to feature the CNG option when launched next month.
1.2L Revotron power
The Tiago and Tigor come powered by a 1.2-litre, three-cylinder, Revotron petrol engine that produces 86hp and 113Nm of peak torque. While the CNG variants will come equipped with the same engine, there could be a marginal drop (around 10%) in power on CNG mode.
While the petrol versions get options of a 5-speed manual or a Magneti-Marelli-sourced 5-speed AMT, there is likelihood of only manual transmission on the CNG trims.
With the Tiago and Tigor CNG, Tata Motors will become only the third manufacturer after Maruti Suzuki India (MSIL) and Hyundai Motor India (HMI) to offer a factory-fitted CNG option on its products in the Indian market.
While Maruti Suzuki, with eight CNG models, has the highest market share of 82 percent of all factory-fitted CNG cars sold in India between April and November 2021, Hyundai Motor India holds the remaining share with its Santro, Grand i10 Nios, Aura and Xcent Prime being offered with the bi-fuel option.
While the Tiago will rival the king of the CNG segment – Maruti Suzuki Wagon R – that has clocked 45,255 units in the first eight months of FY2022, as well as the Grand i10 Nios that went home to 9,982 buyers during the same period, the Tigor CNG will be a direct competition to the Hyundai Aura CNG, and become the only second car in the compact sedan segment with a factory-fitted CNG option.
Wallet-friendly fuel draws buyers
From a consumer's point of view, a CNG car provides considerable savings compared to its petrol or diesel-engined siblings. What's also driving the consumer shift to CNG models is the high price of petrol (Rs 109.98 a litre in Mumbai) and diesel (Rs 94.14 a litre in Mumbai). CNG in Mumbai today costs Rs 63.50 per kg.
Running costs are also significantly lower compared to either of the fossil fuels as a vehicle inherently gives better fuel economy when driven on CNG. A few challenges remain though. Refuelling takes longer due to a fewer number of CNG stations and highway driving requires additional planning in terms of trying to take a route with a CNG station. But car buyers, who have heavy day-to-day usage, are finding that it makes wallet sense in choosing the CNG fuel option.
As per industry data, demand for CNG-powered cars is on the rise with CNG car sales registering a smart uptick of 56 percent between April and November 2021 to reach a cumulative total of 136,357 units, from 87,634 units in the same period last year.
RELATED ARTICLES