Spark Minda sets up lockset sub-assembly unit in Yerawada prison
The women prisoners will be trained to work on a shopfloor for manufacturing automotive locksets.
Unveiling of stone at Yerwada Central Prison, Pune.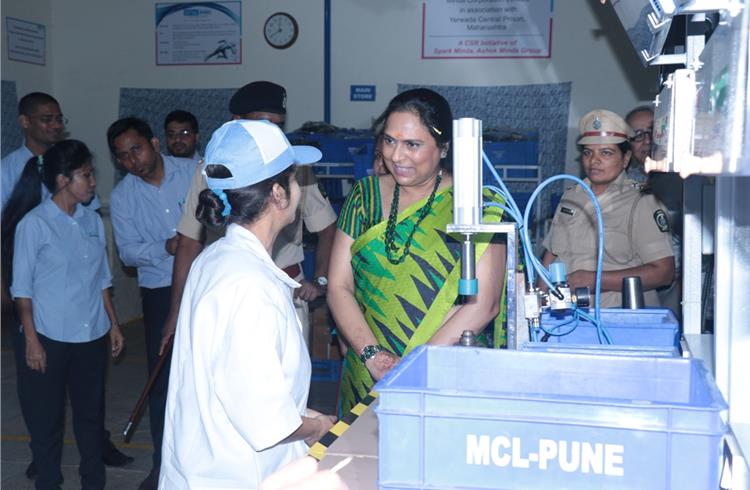 Sarika Minda, chairperson, Spark Minda Foundation, interacting with female jail inmates.
Sarika Minda, chairperson, Spark Minda Foundation with other dignitaries outside the Yerawada jail.
Component manufacturer Spark Minda, Ashok Minda Group has collaborated with Yerawada Central Prison, Pune for installing and setting up a manufacturing automotive lockset sub-assembly unit at the prison for female prisoners inside the jail premises. The company says this unit will facilitate the inmates to earn a basic livelihood and learn skillsets required in manufacturing and finishing of automotive locks.
Under the initiative , a special women's cell in Yerawada Jail has identified around 25–30 jail inmates as per the criteria laid down by Minda Corporation, the flagship company of Spark Minda, Ashok Minda Group.
They will be trained to work on a shopfloor for manufacturing automotive locksets. The Group will also pay the compliance wages to the Jail authorities, which will subsequently be paid to the inmates. The finished products will be supplied to OEMs and also sold in the aftermarket.
The MoU was signed between Minda Corporation and Yerawada Central Prison, Pune on February 15, 2018, under which key highlights includes installation of automotive manufacturing assembly for producing lock sets. The company will provide basic product awareness and training at Yerawada Jail. The Prison projects under public-private partnership (PPP) is an extension of the component manufacturers CSR activities which the Group has installed at Aurangabad, Tihar and Yerawada Jail till now.
The company says the setting up of a special manufacturing plant will not only provide finished goods for the Group but will also help female inmates to earn their livelihood within and outside the jail premises.
The Spark Minda investment at Yerawada Jail includes entire machinery, raw materials, transportation of goods and other quality systems and procedures as per the MoU. The shopfloor will be run and maintained by inmates under the supervision of MCL.
Speaking about the initiative, Ashok Minda, Group CEO said, "We are constantly engaged in various social upliftment activities at different locations. The group's basic practice of installing manufacturing facilities and engaging jail inmates is a unique way of helping jail inmates in betterment of their lives as well as inculcating in them basic business ethics for future prospects. The Yerawada Jail authorities have been very cooperative and encouraging in providing the necessary approvals for our social initiative aimed in improving the livelihood of jail inmates. We truly feel that women are indispensable part of the entire ecosystem; empowering women means we are empowering the whole ecosystem. We are hopeful that our small means of giving back to society will bring some important changes in mindset of jail inmates."
Sarika Minda, chairperson, Spark Minda Foundation said, "Our association with Jail authorities have been long known and well established till date with Aurangabad, Tihar and Yerwada Jail. We have been working continuously to provide skilling and livelihood to numerous jail inmates. Employing jail inmates not only helps them earn a livelihood but also imparts a sense of productivity with knowledge about the business sector."
The raw material entry and dispatch of finished products is being kept under the control of Minda Corporation for smooth execution of work. To facilitate this process, a few company staffers will be deployed at the jail.
RELATED ARTICLES