Skoda Kushaq sells over 26,500 units in first year
Czech carmaker's and VW Group's first production model based on the MQB-A0-IN platform helps Skoda make a difference in India's hotly contested SUV market.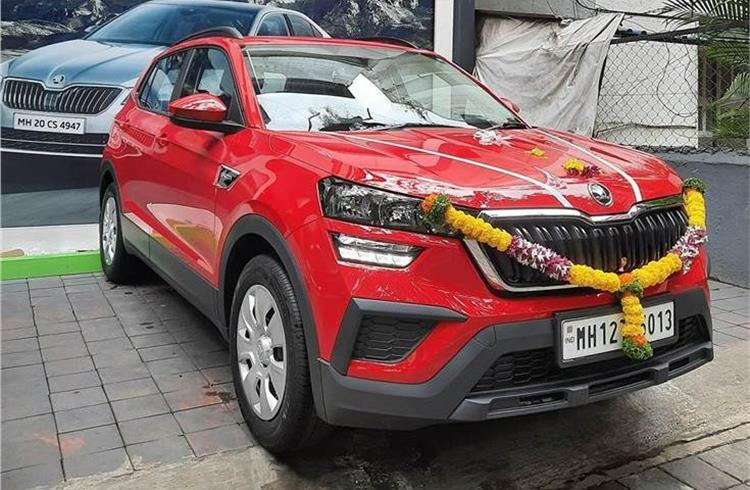 The Skoda Kushaq launched on June 28, 2021 has completed a year of retail sales in the Indian market. Importantly, the SUV has made a mark in the hotly contested SUV segment with sales of over 26,000 units. As per Autocar Professional's passenger vehicle sales analytics, the Kushaq has sold a total of 26,807 units in its first year in the domestic market.
Skoda on a roll in June and H1 CY2022
Skoda Auto India has notched its best-ever monthly sales in June 2022: 6,023 units, up a massive 721% YoY on a low year-ago base of 734 units. What's more, the carmaker's cumulative sales of 28,899 units in the January-June 2022 period have surpassed entire CY2021's 23,858 units. In June, the Kushaq with 2,983 units accounted for 49.5% of Skoda India's total sales. The other big contributor is the Slavia sedan, with 2,765 units and 46% to last month's numbers.
The Kushaq, which rolled out with high 95 percent localisation level, marked the entry of the Skoda brand into India's fast-growing midsize SUV market. This segment sees SUVs whose length ranges between 4000mm and 4500mm. And in the year that followed, the SUV, which is 422mm long, has made a mark for itself and Skoda.
Developed exclusively for India, it is the Czech carmaker's first production model based on the MQB-A0-IN platform, an MQB variant adapted by Skoda for India and to be used on other Volkswagen Group models in India.
The first product from Volkswagen Group's India 2.0 project, at launch the petrol-only Kushaq was priced between Rs 10.49 lakh for the base 1.0 TSI Active variant and Rs 17.59 lakh (ex-showroom) for the top-spec 1.5 TSI AT Style variant. Key highlights are its striking styling, great build quality, a well-appointed cabin with plenty of comfort, high level of safety and top-notch infotainment systems.
The Kushaq, which is available in seven variants, powered by 115hp 1.0-litre and 150hp 1.5-litre turbo-petrol engines with manual and automatic gearbox options, and delivers brilliant ride and handling. Suffice it to say it is a well-rounded midsize SUV.
In May 2022, Skoda India rolled out the Kushaq Monte Carlo, targeted at SUV enthusiasts who want to stand out from the crowd. Priced from Rs 15.99 lakh for the 1.0-litre TSI manual variant, and going up to Rs 19.49 ex-showroom, for the top-end 1.5-litre TSI automatic trim, the Monte Carlo version brings along aesthetic tweaks such as a blacked-out grille, larger 17-inch alloy wheels and prominent Monte Carlo badges on the front fenders over the standard crossover.
Zac Hollis with the Kushaq Monte Carlo.
At the Kushaq's launch in June 2021, Zac Hollis, Brand Director – Skoda Auto India, had said: "The launch of the Kushaq is a watershed moment for Skoda Auto India as we enter one of the most exciting segments in this dynamic automotive market. The Kushaq is made keeping in mind what really matters to our customers and is localised and tailored to suit the Indian market. With a world-class SUV that is ready for India, we are looking at taking the Skoda brand to new and emerging markets across the country."
A year on, that promise of a brand-new model seems to have been fulfilled. The Kushaq has taken on the likes of Hyundai Creta, Kia Seltos, Nissan Kicks, MG Hector and the Tata Harrier and also its sister SUV, the Volkswagen Taigun.
Importantly, the Kushaq has given Skoda a new charge in the market. In June 2021, Skoda had a minuscule 0.37 percent share of the PV market. This June, the carmaker's passenger market share stands expanded to 2 percent helped by the February 2022 launch of the stylish and feature-laden Slavia sedan. In just four months (February-May 2022), the Slavia has sold 9,424 units and would have zipped past the 10,000-unit mark in June.
Along with its new products, what has helped Skoda make inroads into the market is also its aggressive sales network expansion plan which has seen it expand its retail footprint to Tier 2 and 3 cities. At present, Skoda has close to 200 sales touchpoints across India.
Customer-centric initiatives like a 4-year/100,000km warranty (extendable up to 6 years/150,000km), two years' parts warranty, two years battery warranty, three years paint warranty, six years corrosion warranty and extended roadside assistance programs up to nine years.
In FY2022, Skoda India sold a total of 33,962 units, up 200% YoY. The company is now targeting sales of around 71,000 units this fiscal and up to 1,00,000 units by 2025. With the Kushaq and Slavia firing on all cylinders, and six launches planned in the current year, that target should be easily crossed.
SEE VIDEO: In conversation with Skoda India's Zac Hollis
<>
ALSO READ
Skoda Auto Volkswagen India records best-ever H1 sales in FY2023

Skoda Kushaq gets most things right in a compact footprint
RELATED ARTICLES