Resilient component industry records 65% growth in H1 FY2022
Auto component manufacturers have now, by and large, recovered and the "investment cycle has also commenced."
The fortunes of the automobile and component industries are intrinsically connected, what with vehicles being the sum of all parts. 2021 has been a difficult year for India Auto Inc, having faced multiple challenges – be it the ongoing chip shortage, rising commodity prices, high fuel prices and resultant lacklustre consumer demand.
It was felt a festive November would bring in sales but the red ink splattered across all vehicle segments – overall down 32 percent YoY – belied that hope. This, in turn, somewhat impacted the component industry's sales in India but smart demand for made-in- India components gave a new charge to suppliers in the first half of FY2022.
The growth is cited to have come on account of the surge in global demand as the wheels of overseas markets began turning once again, helping the components industry record a positive trade balance.
Exports grew 76 percent YoY to Rs 68,746 crore (US$ 9.3 bn), on account of diminished impact of the second wave on foreign markets, leading to a trade surplus of US$ 600 million by offsetting imports, which too registered a 71 percent YoY growth to Rs 64,310 crore (US$ 8.7 bn), driven by increased demand for luxury and high-end cars in the domestic market.
Within India, sales of auto components to OEMs rose smartly by 76 percent YoY to Rs 153,297 crore in H1 FY2022. The passenger vehicle (PV) segment comprised the highest share of component supplies by vendors at 38 percent, followed by commercial vehicles (23%) and two-wheelers (21%).
While engine components still remained on top, commanding a 24 percent share of all parts supplied, electricals and electronics parts, which scaled 15 percent, are seen gradually increasing their contribution as the EV megatrend further unfolds.
Sunjay Kapur, president, ACMA said, "Despite resurgence of demand for vehicles, supply-side issues of availability of semiconductors, increasing input costs, rising logistics costs and availability of containers, among others, continue to hamper recovery in the automotive sector. The auto component industry, in this backdrop, displayed remarkable resilience. Increased value-addition to meet regulatory compliance, fast recovery in external markets and traction in the domestic aftermarket market have contributed to the growth of the sector in the first-half of FY2021-22."
"Going forward, whilst the performance of the vehicle industry during the festive season has not been on expected lines, however there are indications that the vehicle demand, in the coming months, will improve. This, together with the increased focus by the auto industry on deep-localisation and the recent announcements by the of PLI schemes by the government on Advanced Chemistry Cell (ACC) Batteries and auto and auto components will facilitate the creation of a state-of-the-art automotive value chain and developing India into an attractive alternative source of high-end auto components."
In terms of outlook for the near and mid-term, Kapur mentioned that according to a recent survey of ACMA leadership, despite concerns of another wave of pandemic, "the industry is cautiously optimistic about the prospects of the Indian economy and the automotive sector for FY2022." He said that auto component manufacturers have now, by and large, recovered and the "investment cycle has also commenced".
Indian suppliers ready for the EV-lution
According to the ACMA president, "Nothing is going to stop the EV revolution and we are moving towards it globally. In India too, there's a lot of push in the form of infrastructure development, subsidies, and encouragement to invest in new technologies with the PLI schemes."
"As much as 60 percent of ACMA members are ready to supply components for electric vehicles in some form or the other, and remaining 40 percent will be ready within the next couple of years," pointed out an optimistic Kapur, who believes drivetrain and battery are going to be the key technology areas when it comes to EVs.
Component exports surge
It was Europe and North America that together comprised 63 percent of the exports and remained the primary export destinations for Indian automotive component manufacturers.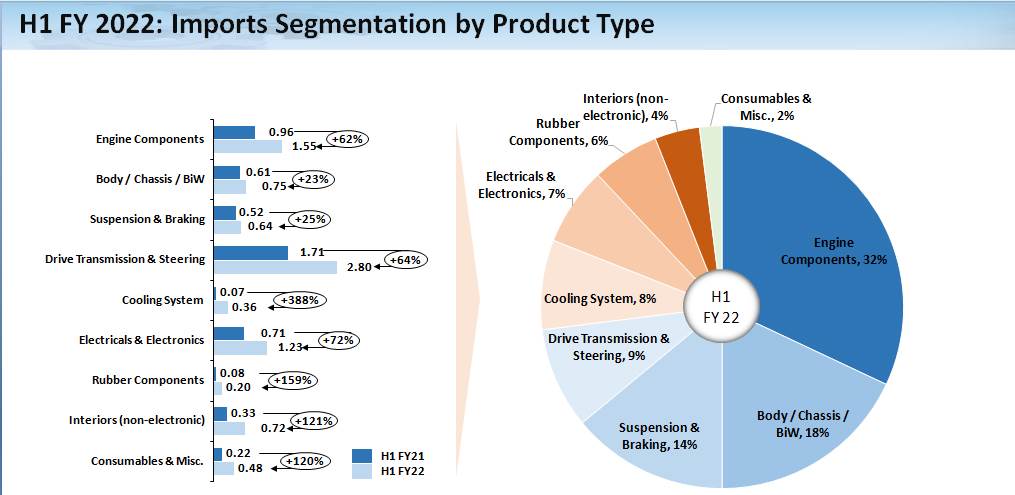 Exports of drivetrain and steering systems were pegged at 34 percent, followed by engine components that comprised 20 percent of the overall shipments. The US remained the top export destination for Indian component suppliers and comprised 28 percent of all shipments. Germany (8%), Thailand (4%), Turkey (4%), and the UK (4%) were the other major export destinations in H1 FY2022.
Rising imports and localisation
On the import front, Asia accounted for 63 percent of all component imports into India. At 29 percent, Europe followed behind and both continents outperformed the average growth.
Engine components led the import parts category with a 32 percent composition, followed by chassis parts forming 18 percent of the total volumes, and electricals and electronics components having a 7 percent share.
China maintained its reign as the lead source of auto component imports to India, with a healthy global share of 27 percent, followed by Germany at 12 percent, Korea (11%), Japan (9%) and the US (7%).
"While several component manufacturers have consistently been enhancing the localisation levels of their products, we still continue to be heavily dependent on imports for electronics. And we need to cut down our dependence dramatically by not just collaborating with players within the automotive space, but also with different industries," Kapur said.
The ACMA president applauded the government's allocation of Rs 76,000 crore under the latest semiconductor PLI scheme, which encourages deep localisation, as well as exports, for the industry to take benefit of higher volumes.
Growth outlook: Cautiously optimistic
With a growing aftermarket that registered an YoY uptick of 25 percent, with revenues scaling to Rs 38,895 crore (US$ 5.3 bn), and several tailwinds in the form of an impressive GDP estimate of 8-10 percent for FY2022 and growing emphasis on infrastructure development, India Auto Components Inc still remains cautious about recovery in the short term.
"From a forward-looking perspective, the challenges with respect to the global chip shortage, fuel and raw material prices continue, including about a 35 percent hike in two-wheeler prices at the entry level, which is a key issue. On the other hand, while there is demand for passenger and commercial vehicles, supply chain challenges could pose a hindrance," pointed out Kapur.
"We do see a couple of difficult quarters up ahead, but the medium- to long-term outlook of the industry is very good, including the macro parameters of the economy," he signed off on an optimistic note.

Infographics courtesy: ACMA
RELATED ARTICLES