Renault India goes flat out to optimise resources, raise quality bar
Renault India has been on a massive rebuilding drive aimed at optimising costs and focusing on profits. 
Renault India's quality drive has continued with the Kiger compact SUV, which is seeing robust demand.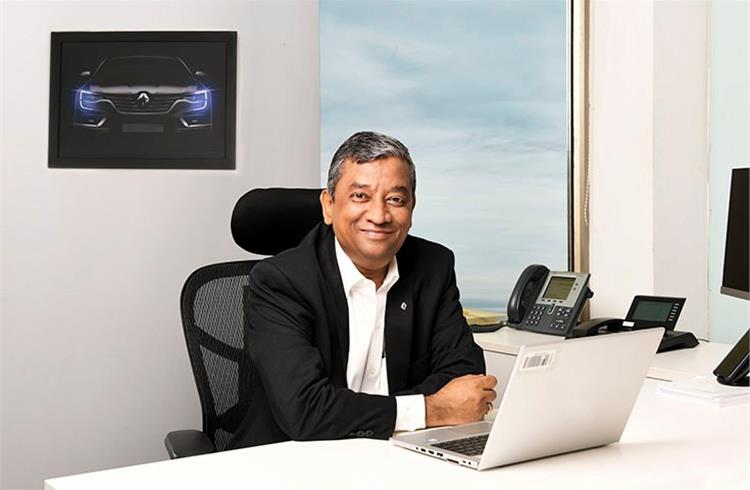 Venkatram Mamillapalle: "We give precisely what the customer wants in terms of value for money and price accordingly."
Launched on August 28, 2019, the Renault Triber has crossed the 75,000-unit sales milestone in India.
Renault India goes flat out to optimise resources, raise quality bar
Renault India goes flat out to optimise resources, raise quality bar
Renault India is pulling out all the stops to optimise its product portfolio while adapting to customer needs.
"The way we have been going about it lately, we price the value and do not get into this zone of cheaper costs. We give precisely what the customer wants in terms of value for money and price accordingly," Venkatram Mamillapalle, Country CEO & MD of Renault India operations, told Autocar Professional.
This is the strategy that the company has been adopting for a couple of years now and will continue to do so going forward. The key is to deliver what the customer wants where he/she can "pick and choose" while paying the value for a car. Renault, in its turn, will offer an array of choices across the length and breadth of customer needs.
"Since we were only charging value, profitability became a challenge but we are trying to optimise our resources internally…whether it is cost optimisation in the manufacturing plant, supplier base or the way we use the supply chain management. That is how/where we need to optimise and we are doing it extensively," said Mamillapalle.
In this backdrop, the top priority is to ensure quality where Renault has gone the extra mile to ensure that the evolution over the last three years has created a strong base for the future. "Take Kwid when it was launched in 2015 and check it out today where there is a lot more appreciation from users. This has been repeated with Triber where we hardly have any complaints and customers are satisfied," he said.
This quality drive has continued with Kiger too where every effort has been made to ensure that customers have little or nothing to complain about. After all, what they want eventually is "peace of mind" when buying a car and that is what "our goal is in terms of offering value".
It is a tough exercise which begins at the time of production when the product is evolving and there are "engineering things happening". This is the time when feedback is constantly taken to "reinvest back into the engineering" and testing methodology. Till every parameter of quality is addressed, the car will not get the go-ahead to make its way into showrooms.
"To be able to do this, you have got to understand the product and how it is working…what is the technology and what creates the problem. I will not take a car out of the plant without knowing the root cause," said Mamillapalle. The idea is to make sure that this particular quality problem does not keep resurfacing.
"If you are not able to control your quality problems, you can never produce a quality car," he reiterated. This is the approach that he has been taking while constantly "challenging my guys to tell me the root cause" first. The underlying message to them is loud and clear: 'I do not care if you have solved the problem but if you do not know the root cause the problem is still there and can come up anytime.'
This whole evolution is almost like a cultural change which has also come about thanks to the unstinting efforts of the alliance entities — Renault Nissan Automotive India as well as Renault Nissan Technology & Business Centre — which "do not hesitate even for a minute" to "put their foot down" when quality is not up to expectations.
If this is the case, any new model will not be accepted for delivery even if it means putting off its launch date by some weeks or even months. For instance, in the case of Kiger, the original plan was to launch it last year but this was "pulled and pushed back" for various issues: Covid, suppliers and resolution of quality issues to make it defect-free before it was finally ready.
"Anyone who drives a Kiger will feel the quality for sure," said Mamillapalle who was himself engaged with suppliers and following up with them on every aspect of quality for almost three months along with the Chief Vehicle Engineer. The effort has paid off since "we are there where we should be". This has also been borne out by the positive customer feedback coming in for Kiger.
ALSO READ: Renault Triber surpasses 75,000-unit sales in 21 months
RELATED ARTICLES