Pricol plans new capacities in NCR, Satara and Sri City
For the next round of expansion, it is looking for a new generation of products to cater to electric in the two-wheeler space.
Pricol plans new capacities in NCR, Satara and Sri City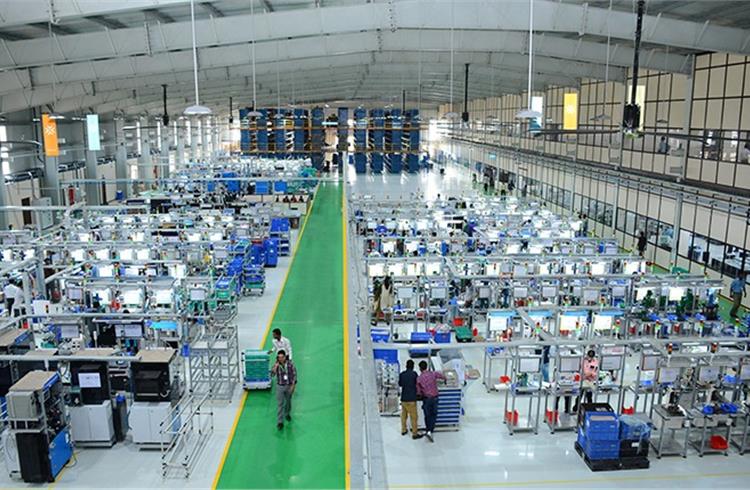 Pricol plans new capacities in NCR, Satara and Sri City
Pricol plans new capacities in NCR, Satara and Sri City
Vikram Mohan, Managing Director of Pricol, is confident that the company will maintain its growth momentum this fiscal.
Businesses are in place along with two new plants in north and south India that will be set up to cater to growing demand and newer products. "I was worried last March and April with Covid but the lockdown ended. The two plants are operating at full capacity and doing well with a surge in revenue," says Mohan.
The Coimbatore-headquartered Pricol has optimised most of its existing facilities in the recent round of expansion but can still "squeeze out" Rs 400 crore from the Rs 2,500 crore capacity right now with a little bit of capex. For the next round of expansion, it is looking for a new generation of products to cater to electric in the 2-wheeler space.
This will mean setting up two more plants at an outlay of Rs 200 crore which, in turn, will generate Rs 600 crore revenue. Beyond the north and south, the plan is to add one facility for Rs 15-20 crore to take care of additional production in the west.
"In the north, we will be in the NCR between Gurugram and Bawal where we already have two operating centres. As for the south, we are bullish on Sri City in Andhra Pradesh…my experience with the new plant is good and we will expand in this region," says Mohan.
In the west, Pricol is considering expansion in Satara, Maharashtra, where the work culture and quality of suppliers is good and, in fact, better than Pune. The higher transport costs "are nothing compared to the benefits" in Satara. "It is a nice ecosystem with a good work culture," he adds.
From Mohan's point of view, the task on hand is to be "pretty capex-light" for the next two years, generate cash and become debt-free in two years. "We will then go for another wave of expansion for new products and continue to spend four per cent on R&D," he says.
The ancillary supplier is also keeping its options open on exploring new geographies even after it had to shelve ambitious forays like Brazil. According to Mohan, going global is an important component of the overall growth plan and this is where Indonesia will play a big role.
Not only will it be home to the fourth largest vehicle population in the world but its export treaty with North America is another bonus. Pricol is using its Indonesia base to kick off shipments to Harley Davidson and BMW. Vietnam may be considered as an extension in the future but there is nothing on the table yet.
Mohan says he is equally upbeat about setting up a base in Nigeria but this will depend on one of Pricol's key 2-wheeler customers taking the lead first. For now, Bajaj Auto is the largest exporter from India followed by TVS Motor. If either chooses to set up a base in Nigeria, Pricol will follow in due course whenever this happens.
Other overseas forays can wait even while automakers are bullish on Latin America. As Mohan puts it, the Brazil foray "took away 50 per cent of my physical and mental bandwidth". Mexico, in contrast, has a more stable and evolved ecosystem and a time may come when it could just end up being relevant "but it is not on my radar for now".
One of the key lessons Mohan learnt is that the acquisition route is always not a bed of roses. "Buying a company cheap is fine but bridging cultural differences is something else. I would rather go for greenfield as an option," he says.
Pricol had made some investments overseas a few years ago to grow its product portfolio and get some technologies to flow back to India. Things did not quite work out and the Brazilian economy collapsed. It cost the company "a ton of money" to underwrite the losses and keep it going.
The bright side, however, is that "we transferred technologies here and developed products" which helped generate revenue and will continue to do so in the years to come. Pricol took a call to sell that business and this happened just before the pandemic set in — the new owners were not so lucky and had to take it into bankruptcy a few months later.
The top priority was to clean up the balance sheet where the Rs 400 crore investments had impacted the net worth of the company. "Over the last 4-5 years, we have been consciously investing in products and process technology. We were the outliers in a way spending 4.8 percent of sales with 40 percent of our workforce focused here," he says.
The effort has paid off with Pricol growing by 10-11 per cent in FY 21, a difficult year with Covid-19 on the rampage, thanks to products and higher value exports. "One of the strategic initiatives was to grow exports and the technologies from Brazil were absorbed here," says Mohan.
RELATED ARTICLES