Nissan India delivers 30,000th Magnite within a year of launch, increases UV share
The Magnite has helped Nissan increase its UV market share to 2.78% from just 0.20% a year ago.
Zero to 30,000 in 11-and-a-half months. Guillaume Cartier, Nissan Chairperson for Africa, Middle East, India, Europe and Oceania region handed over the keys of the 30,000th Magnite to a customer at a dealership in Gurgaon.
L-R: Guillaume Cartier, Chairperson (AMIEO); Makoto Uchida, CEO; and Sinan Ozkok, President, Nissan Motor India
The Nissan India team has bagged the Nissan Global President's Award for the launch of the Magnite, a first for Nissan India operations.
Nissan Motor India has delivered its 30,000th Magnite in Gurgaon today. The retail milestone comes within a year of launch of the compact SUV. On December 2, Nissan had launched the Magnite at a starting price of Rs 499,000. Till end-October 2021, the carmaker had sold a total of 29,701 units, with the highest monthly sales being 4,0723 units coming in July 2021 (see data table below). It is understood the Magnite has 72,000 bookings in hand.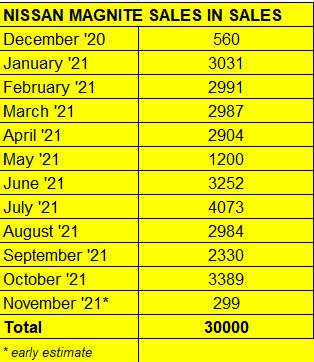 The market demand for the Magnite is reflected in the company's improved market share both in the passenger vehicle and utility vehicles segments. In PVs, Nissan India's share has grown to 1.38% (22,304 units) in the April-October 2021 period from 0.37% (4,431 units) a year ago and in UVs to 2.78% (21,297 units) from 0.20% (924 units) a year ago. Of the 30,000 Magnites sold till now, 20,132 units were sold in the first seven months of FY2022.
Guillaume Cartier, Nissan AMIEO Chairperson, for Africa, Middle East, India, Europe and Oceania region in his visit to India, handed over the keys of the 30,000th Nissan Magnite to the customer in a ceremony at a dealership in Gurgaon. The chairperson also presented Nissan Global President's Award to the Nissan India team for the launch of Nissan Magnite, a first for Nissan India operations.
Cartier said, "I am pleased to handover the Nissan Global President Award to the Nissan India Operations for the successful launch of Nissan Magnite under the Nissan NEXT transformation plan. With this car we wanted to shake up the highly competitive compact SUV segment in India. The Nissan Magnite symbolizes Nissan's commitment to driving innovation in India through daring design, technology and world class Indian manufacturing."
Sinan Ozkok, President, Nissan Motor India, commented: "Nissan Magnite is a core model under the company's global transformation strategy, and is playing a key role in strengthening Nissan's presence in India and overseas under 'Make in India, Make for the world'. We thank our customers, business partners and employees for making Nissan Magnite's first year in the market such an overwhelming success."
Rakesh Srivastava, Managing Director, Nissan Motor India, added: "Launch of the all-new Nissan Magnite has proven itself to be a game-changer, redefining value in the SUV segment. This very special recognition of Global Nissan President Award is a proud moment for the Nissan India family. Cumulative bookings stand at over 72,000, a testament to the car's popularity amongst the discerning Indian customer."
Biju Balendran, MD & CEO, RNAIPL, said "We are glad to have rolled-out 30,000th Nissan Magnite. We have been able to achieve this milestone with the help and support from all our supplier partners. We are now excited and working round-the-clock to deliver high-quality cars at the earliest to our discerning customers. And the GNPA award is another feather in the cap for the Nissan Magnite."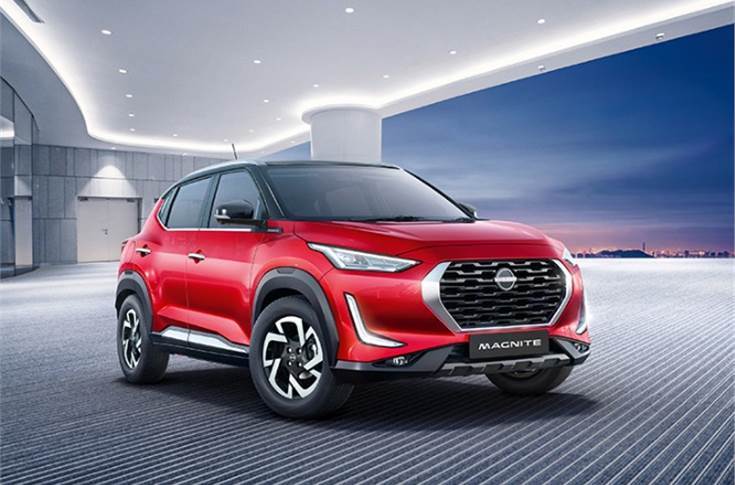 Petrol power
The Magnite comes with the choice of two petrol engines. The first is a 1.0-litre, three-cylinder, naturally aspirated engine producing 72hp, while the second option is a 1.0-liter, three-cylinder, turbo-petrol unit (HRA0) that churns out 100hp and 160Nm of torque. Nissan is not going to offer a diesel engine with the Magnite.
In terms of gearbox options, both engines come paired with a 5-speed manual gearbox as standard. The turbo-petrol additionally gets the option of a CVT automatic gearbox, but in this configuration the engine's torque output drops by 8Nm (to 152Nm).
What is creditable is that the Nissan Magnite has held its own in the midst of stiff competition. Prices for the Nissan Magnite currently range between Rs 571,000 and Rs 10 lakh, ex-showroom, Delhi. The Magnite sits in the hotly contested compact SUV segment where it rivals the likes of the Renault Kiger, Kia Sonet, Hyundai Venue, Mahindra XUV300, Tata Nexon, Maruti Suzuki Vitara Brezza and the Toyota Urban Cruiser.
Top-spec variants of the Magnite have been in greater demand, thanks to the mix of features and value unlike most other models in this segment. These variants come loaded with goodies like an 8.0-inch touchscreen infotainment system with wireless Apple CarPlay and Android Auto connectivity, a 7.0-inch TFT display for the instrument cluster, voice recognition technology, a 360-degree surround view camera, a tyre pressure monitor, push-button start, cruise control and much more.
Nissan India's aggressive marketing strategy for the Magnite also includes placing the compact SUV in the Canteen Store Departments (CSD) where defence personnel can avail all CSD-approved applicable discounts and offers.
ALSO READ
Maruti Suzuki maintains UV lead over Hyundai, Mahindra back in No. 3 spot
RELATED ARTICLES