Mercedes-Benz India plans local production of EQS, 2021 sales up 42 percent
Mercedes-Benz India sales volumes were affected by substantial challenges on the supply side triggered by the pandemic in Q2 even as the semiconductor shortage impacted the entire Q4 deliveries.
Mercedes-Benz delivers 11,242 units in 2021 compared to 7893 units in 2020; India sales up 42.5% YoY.
Company plans exciting new product launches across the Maybach, AMG and EQ brands in 2022.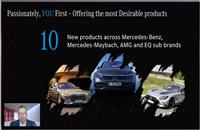 Mercedes-Benz India will start local production of its all-electric EQS in Q4 of 2022 as it tries to enhance its EV portfolio in India, and lead the EV segment.
Managing Director & CEO, Martin Schwenk made these remarks at a virtual press meeting to announce the brand's sales number for 2021 in which it delivered 11,242 units, a 42.5% year-on-year sales growth. While the numbers are below pre-pandemic levels when sales in 2017 and 2018 were in the region of 15,000 units each, the company said it had an estimated market share of around 41 percent (in CY2021) of India's luxury car segment.
Schwenk said the start of local assembly in Q4 will take account the uncertainties and ongoing disruptions cause by the Covid in global supply chains and business environment. "The EQS is the right product to come to India in a locally-assembled form to gain volumes in the luxury EV segment, he reiterated.
With a locally-assembled model, Mercedes will have a price advantage over vehicles being brought through the CBU route, including its own EQC. "The duty savings will definitely make their way into the customers' pockets," said Schwenk.
In 2021, Mercedes' top-seller was the long wheelbase E-Class, and its highest-selling SUV was the GLC. Key volume drivers included the A-Class Limousine, S-Class luxury sedans and the GLA, GLE and GLS SUVs. The AMG segment saw a growth of over 100 percent but some CBU models remain in the long waitlist, the company said. Its total order bank for calendar 2021 was over 3,000 units.
Mercedes plans to open new AMG Performance Centres across major cities in 2022. "AMG remains a focus area and part of our growth strategy in India," Schwenk said. Metros will also see showrooms getting overhauled with Mercedes's new brand representation, which commenced last year with the Mercedes-Benz India Global Star franchise in New Delhi being the first one. With a focus on new as well as used-car sales as part of its Mercedes-Marketplace C2C platform, the company is bullish about growth in CY22. "We are targeting to 1,300 additional units with the Mercedes-Marketplace in 2022," he said.
Schwenk also announced YOU First, the company's 2022 motto. As part of this, Mercedes India is committed to launching new products such as the S-Maybach (in March 2022), and as well as products across the AMG and EQ portfolios, technologies like MBUX Hyperscreen for customers, curated customer services and best-in-class warranties. For franchise partners, Mercedes will assist in their transition to the emerging era of electric mobility, and provide upskilling programs to service future products from the EQ brand.
For the larger community, Mercedes said will undertake initiatives towards the use of eco-friendly power its production unit. For its staff, vaccination support as well as creating a strong talent pool will be key priorities in 2022.
Between 2021 and 2022, Mercedes-Benz India has an overall capex plan of Rs 400 crore, primarily directed at enhancing the operations, including product-specific tooling and fixtures, as well as strengthening its product portfolio.
RELATED ARTICLES