Mahindra's new state-of-the-art parts warehouse near Pune to go on stream soon
Mahindra & Mahindra invests Rs 250 crore in setting up new 50 lakh square feet warehousing facility in Kanhe village, near Pune.
The new warehouse in Kanhe, near Pune, is spread across 500,000 square feet and reaching up to 15 metres in height. It will have 1,800 Very Narrow Aisles to optimise space.
Mahindra Logistics aims to double its revenues and become a Rs 6,000 crore third party logistics service provider by March 2021.
Illustration of the soon-to-be-opened Mahindra & Mahindra warehouse at Kanhe, near Pune.
Video grab shows construction work, which began in November 2017, is close to completion.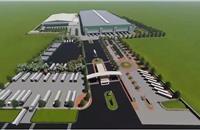 Mahindra & Mahindra is investing in the future and how. Coming on the back of the recent revelation that the company has broken ground on a Rs 200 crore EV powertrain plant in Chakan, Maharashtra, to make key components of an EV powertrain – EV battery, motor, transmission and power electronic, comes another bit of news of new investment once again in Maharashtra.
The company is soon to open a brand-new Rs 250 crore parts warehouse, which is being set up at Kanhe village, in the Mawal Tehsil of Pune. Spread across 50 lakh square feet (464,515 square metres) and reaching up to 15 metres in height, the new facility is aimed at ensuring speedy delivery of parts across the country for the company.
The state-of-the-art warehouse will have loading and unloading docks, prepacking section, a 960-metre-long spiral conveyor, conveyors for packing and also lifts for speed material movement. Other highlights include an overhead pallet conveyor, pallet lift and packing stations and around 121,000 parcel locations.
Very narrow aisles to optimise warehouse space
A highlight of the new warehousing facility is 1,800 Very Narrow Aisles (VNAs), aimed at optimising warehousing design. A VNA essentially is a warehouse layout design that optimally maximises the utilisation of available space. By narrowing the distance of the aisles and using tall racking systems the maximum vertical and horizontal storage space is able to be utilised.
Typically, logistics operators deploy combi trucks, with fixed or articulated chassis, which are able to perform full pallet handling and order picking at heights in narrow aisles. These models are designed for wire or rail guidance, and can have special features such as fork units that pick up and deposit loads at both sides for increased productivity and safety.
Mahindra ha considerable expertise in the warehousing sector, thanks to its own logistics arm, Mahindra Logistics which is a listed company. Recognising the potential of the logistics sector in India, which is estimated to be worth around US$ 160 billion and slated to touch US$ 215 billion by 2020, Mahindra Logistics aims to be a Rs 6,000 crore logistics service provider by March 2021.
This means the company aims to double its turnover. Mahindra Logistics currently manages over 15 million square feet of warehouse space at multiple locations across the country and has added about a million square feet in the oast year. These include a mix of built-to-suit, dedicated and multi-user warehouses. The newest one in Kanhe will help give a new charge to Mahindra Logistics and Mahindra & Mahindra's operations,
In an interview to Autocar Professional last year, Mahindra Logistics' CEO Pirojshaw Sarkari was hugely bullish of the growth of the company and the sector, and particularly its connect with the automotive sector. "The 3PL (Third Party Logistics) concept has actually originated from the automotive sector. Over the decades, OEMs have developed an efficient-working and robust supplier base and today they only assemble the parts. In the USA, a typical automobile plant's job is to assemble the car, everything comes from the suppliers. This makes logistics one of the major focus areas – Just-in-Time (JIN) and Just-in-Sequence (JIS) are what vehicle manufacturers engage in for building vehicles. Vehicle manufacturers no longer store parts in their factories; instead, they want the vendor to park the parts outside, then their logistic partner brings them in just in time to the assembly line. This makes the role of logistics provider highly important for the efficient working of vehicle manufacturing process."
"Besides the in-plant logistics solutions, we also do outbound transportation for M&M with our car carrier transporting vehicles across the country. We also do warehousing and freight forwarding for the automotive sector. Our entire automotive business is built upon the backbone of being M&M's logistics solutions provider. We also handle M&M's tractor business; when we transport tractors which are often carried on a flat-bed, the same flat-bed trailer is used for container movements too. If the tractors are being taken close to a port city, then the same trucks use car pick-up containers.
Logistics is all about reverse load management – if a truck gets a return load, the cost of logistics cost always reduces. We also do aftermarket spare parts logistics, which is quite large for every OEM," added Sarkari.
After GST implementation, there is a requirement of large warehousing, so the government gave infrastructure status to the warehousing. This helps in taking loans on affordable rates and a longer repayment period which is important for the growth of the warehousing industry.
Also read:
Interview: Pirojshaw Sarkari: 'Today industry is confident that Indian logistics players can handle Just In Time and Just In Sequence.'
Mahindra Logistics trains 10,000 drivers in a year
Gulf Oil to use Mahindra Logistics to strengthen its supply chain
RELATED ARTICLES