Mahindra finally sees robust demand for EVs
With new orders for its three- and four-wheeled electric vehicles in the pipeline, Mahindra Electric is finally seeing traction for its green mobility solutions.
Mahindra finally sees robust demand for EVs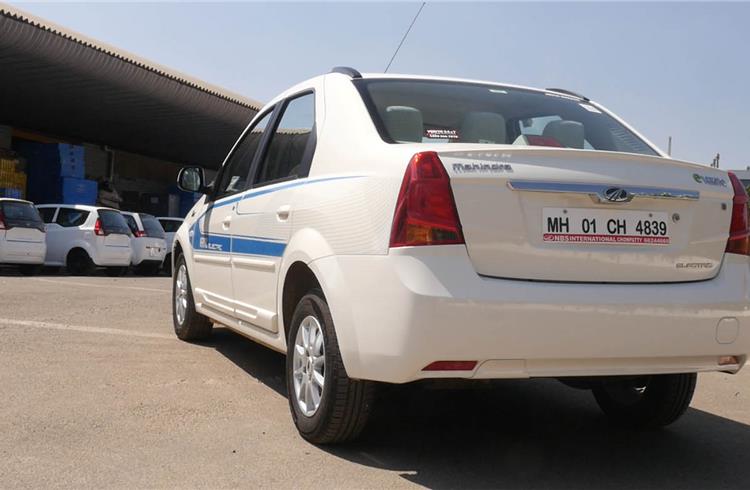 Mahindra finally sees robust demand for EVs
Mahindra Electric, the oldest electric vehicle (EV) maker in the country, is set to witness robust demand for its electrified product portfolio. The company, which has been in advanced talks with many stakeholders who wish to be part of the green mobility scenario, today revealed that it will soon supply its electric three- and four-wheelers to around 5 cities in India for last-mile connectivity operations.
"In three or four cities, there is very serious talk about setting up a fleet of vehicles. We will also, hopefully, very soon announce the project with Uber following up the commitment made last year. It took much longer than what we thought because the policy didn't get announced and then there was this whole business of registration being free, which was supposed to happen but has not happened yet. That makes a huge difference between commercial viability. Now that we have gotten all that sorted out, we will probably announce our first pilot certainly within this month," said Dr Pawan Goenka, MD, Mahindra & Mahindra in Mumbai today.
Revealing some information about the upcoming EV demand, Dr Goenka said that the company will be supplying around 40-50 units of its e-Treo three-wheeler and e-Verito sedan to this pilot project (s) each, which can later be ramped up to "any number".
At present, Mahindra is ramping up e-Verito sales to around 400-500 units including the EESL order; the company says that it has seen huge demand for the green sedan from several fleet companies across India. In Delhi, the company says it has sold 15-20 e-Veritos each to several fleet operators, of which "some will succeed, some will not". The one's that do succeed "will obviously buy more vehicles".
"There are some companies who are demanding up to 2,000-3,000 vehicles in the next three months," pointed out Dr Goenka. Apparently, in Delhi-NCR, there are fleet operators who are betting big on operating a fleet of 3,000 to 4,000 e-Veritos in Delhi alone; the scenario is quite similar in other cities including Bangalore, Chennai, Hyderabad and Pune.
Great expectations from FAME II
What Dr Goenka is also bullish on is the announcement of the anticipated FAME II scheme, which he says will "definitely be announced before March 31, 2019 and which will lay out a roadmap for EVs". He says: "If there is no change done to it (policy) and is similar to what was to be announced on September 7, 2018, it would be a very good scheme for EVs."
He further supported the revision on import rules for EV and its components, which he said is "quite prudent and is balanced between promoting Make in India and ensuring that EVs do come in to India. Because you can go overboard either side – if you put heavy duties you slow down EVs and if you put no duty, you discourage domestic manufacturing. It is a fine balance and very nicely done. The only concern that has come in which I hope will be corrected is imposing duty of five percent on EV battery cells (lithium-ion cells), which was duty-free up until now. The EV battery and battery cells were duty-free for importing in India for using in EVs. At present, they have put a duty on both cells and the battery. In a way, it is right to put duties on the batteries because many companies who are making them in India from cells, but these cells are not being manufactured in India. Therefore, it will have an adverse impact immediately on the price of the vehicle, as it is we are struggling to get the price right. And 5% on cells will mean a lot of money – for instance, the e-Verito will get costlier by around Rs 16,000-17,000 and that will not be good for the domestic market. We will write to the government; my take is that the government can put a sunset clause for making it duty-free for up until a particular period or when the battery cells are available in the country."
Referring to demand for electric three-wheelers, Dr Goenka said, "The sky is the limit". He says the company is waiting for the FAME II scheme to be announced, which will have similar benefits for the 3W category that was proposed if not increased. Mahindra has at least half-a-dozen potential customers who are in talks with the company for ordering 2,000 to 3,000 electric three-wheelers each, bringing the potential total demand to around 10,000 to 12,000 units.
Mahindra is ramping up production for the e-Treo at its Bangalore plant on the back of huge demand. In January 2019, the company sold 143 units. The company is already selling 800 to 1,000 units of e-Alfa Mini each month.
Ramping up production
Given the considerable demand for its EVs in hand, Mahindra is ramping up production at its plant which has a capacity of around 1,000 electric three-wheelers and 500 to 600 units electric four-wheelers a month. However, its component supplier capacity is yet to "be ramped up in that level" for meeting the three-wheeler plant capacity, which it will take another four to six months.
Also read: Mahindra & Mahindra ups stake in e-mobility
Mahindra to launch electric XUV300 in 2020, twin variants in the works
Mahindra Electric partners SmartE for last-mile connectivity
Shell partners Mahindra for opportunities in the EV space
Mahindra Electric inks MoU with TWU, will roll out 2,000 Treo 3Ws by 2019
Mahindra bets big on e-mobility, opens new EV tech plant, launches Treo 3W at Rs 136,000
Mahindra Electric plots aggressive growth and a raft of new models
RELATED ARTICLES