Mahindra Bolero sells over 100,000 units in FY2023, over 1.4 million since CY2000
M&M's best-selling product in FY2023 is the tough and rugged Bolero which soldiers on indefatigably with strong demand in rural India. Its more modern avatar, the Bolero Neo, has helped accelerate sales.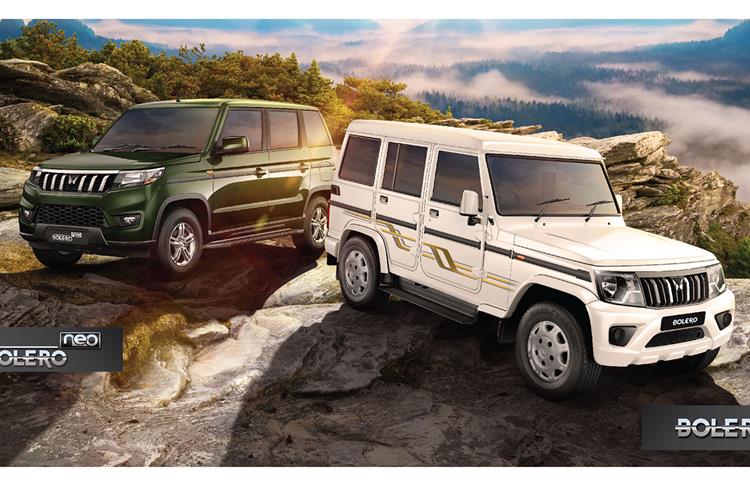 Mahindra & Mahindra has announced that its hardy SUV, the Bolero has recorded its best-ever sales in a fiscal, crossing the 100,000-unit mark in FY2023. Cumulative sales of the Bolero, since its introduction in 2000, total over 1,400,000 units, which is a testament to the model's value proposition, performance capability and its reputation as a reliable and versatile workhorse. The Bolero Neo, launched in mid-2021, has helped accelerate the pace of sales.
As per Autocar Professional's estimates, the Bolero sold a total of 100,577 units in FY2023, ranking seventh in India's Top 30 Utility Vehicles – a very creditable achievement given the extremely high level of competition in the segment. This constitutes handsome 54% year-on-year growth (FY2022: 65,473 units), with the Bolero and Bolero Neo together averaging monthly sales of 8,381 units.
While the Bolero sold a total of 59,166 units, up 16% (FY2022: 51,154), the Bolero Neo clocked 41,411 units, an increase of 189% (FY2022: 14,319 units).
Veejay Nakra, President – Automotive Sector, Mahindra & Mahindra, said: "With over 1.4 million sales in total, the Bolero has become more than just an SUV – it has become a household name in semi-urban and rural India. 100,000 sales in FY2023 are a testament to the unwavering trust and loyalty of our cherished customers. The Bolero Neo, launched in July 2021, has successfully extended the Bolero SUV brand to the new customer segments in tier 1 and urban markets."
The Bolero, available in three variants – B4, B6, B6(0) – and priced from Rs 992,000 to Rs 11.03 lakh (on-road Delhi), is powered by the 76hp 1.5-litre, three-cylinder mHawk diesel engine and has been updated to comply with the latest safety and emission regulations.
Along with personal use, the Bolero SUV also sees active duty in municipal corporations and government departments for firefighting, forestry, irrigation, public works, emergency services, and other critical operations. The hardy SUV is also a part of various government and law enforcement agencies across the country with police departments, the Army, and paramilitary forces.
With 41,411 Bolero Neos sold in FY2023, up 189% YoY, and Bolero sales of 59,166 units, up 16%, combined Bolero sales were 100,577 units.
Bolero Neo revs up sales
The Mahindra Bolero Neo, a rebrand of the Mahindra TUV300, aims to fill the gap between the standard Bolero and the Scorpio. It remains a ladder-frame SUV with a longitudinally mounted, 100hp, 1.5-litre, 3-cylinder turbo-diesel engine and rear-wheel drive aimed at those who prefer a tough compact SUV that can handle bad roads easily. There is now the option of a mechanical locking rear differential (from the Thar) to help in low-traction situations.
The Bolero Neo has four variants – N4, N8, N10, N10(O) – priced from Rs 10.08 lakh to Rs 13.12 lakh (on-road Delhi).
What has helped brand Bolero to drive past the 100,000 units sales milestone in FY2023 is the sustained demand for the Bolero Neo, which has successfully penetrated new markets and attracted new customer demographics. According to M&M, Bolero Neo customers are relatively younger.
M&M had a record-breaking year in FY2023 with total wholesales of 359,253 units, up 59% YoY. The Bolero, with 100,577 units, contributed 28% to total sales, clearly establishing its value in the Mahindra stable of SUVs.
RELATED ARTICLES