Kia installs 150kW DC charger at Gurugram dealership
Korean carmaker is strengthening EV charging infrastructure before its first EV is delivered to customers from September.
Kia India has inaugurated what is being claimed as the country's fastest DC charger for electric vehicles (EVs) at its dealership – Dhingra Kia in Gurugram, Haryana. With its first EV – Kia EV6 – having gone on sale in the country last month, the Korean carmaker is in the process of strengthening its EV charging infrastructure, and has plans to equip all of its 15 dealerships in 12 cities, earmarked to sell EVs, with a DC fast charger. These locations include Delhi, Gurugram, Noida, Jaipur, Mumbai, Pune, Ahmedabad, Bengaluru, Chennai, Kochi, Hyderabad and Kolkata.
The 150kW DC charger in Gurugram can recharge an EV from 10 to 80 percent charge in under 42 minutes. While the chargers at Kia dealerships will offer service to Kia EV6 owners, the company has kept the service accessible to EV owners of any other car brand as well. Customers will be able to visit a DC charger-equipped Kia dealership and access charging by paying as per the usage.
According to Myung-sik Sohn, chief sales officer, Kia India, "We started with the ambition of making EV ownership aspirational and launched our global EV, the EV6 in India. To take things further, we're now incredibly excited to inaugurate the first DC fast charger for passenger vehicles with 150 kWh charging capacity, playing our role in India's EV growth story."
"We believe that such fast-charging solutions will take away issues of range anxiety and charging time that EV owners face. Kia has begun the journey of providing an unparalleled EV experience across all our EV dealerships in the country and here, we will be able to cater to the charging requirements of EVs from other OEMs as well. We shall be installing a total of 15 such chargers across 12 cities by August, 2022."
The Kia EV6 which has been brought to India through the completely built unit (CBU) channel, comes priced at Rs 59.95 lakh for the rear-wheel drive variant, and Rs 64.95 lakh, ex-showroom, for the all-wheel drive trim. While only 100 units allocated for India for 2022, Kia India received over 355 bookings till its launch on June 2. Deliveries commence from September 2022.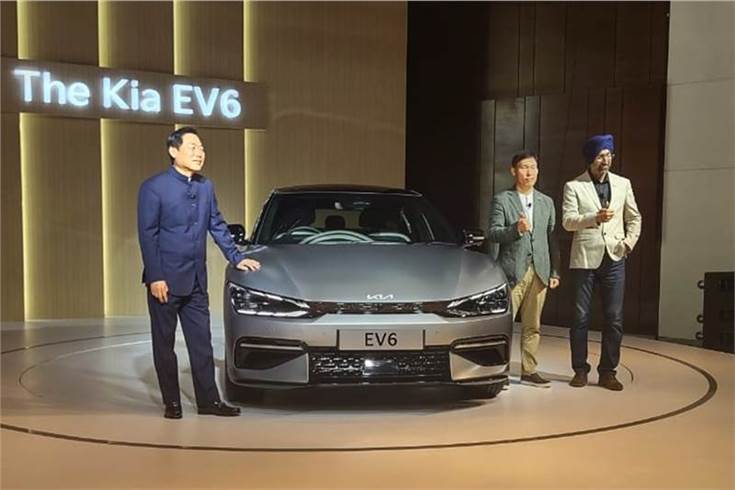 Kia India's first all-electric model – the EV6 crossover – has been introduced in the country, at a starting price of Rs 59.95 lakh
The EV6 is based on Hyundai-Kia's E-GMP or electric-global modular platform, and gets a 77.4kWh li-ion battery pack that offers a WLTP-certified range of 528km. The all-electric crossover comes bundled with a 22kW AC wall-box charger that takes up to five hours to replenish the battery, and the EV6 can also accept DC fast charging at up to 350kW. After the EV6, Kia has plans to introduce an India-centric EV by 2025.
RELATED ARTICLES