Industry experts debate aftersales best practices in India
AkzoNobel 'RepairTalks' OEM Round-Table, held in New Delhi, has industry professionals discuss the many vexing issues impacting passenger vehicle aftersales in India and brainstorming to find solutions to them.
Keith Malik, Director of Global Accounts at AkzoNobel, opens the proceedings at RepairTalks held in New Delhi on November 20.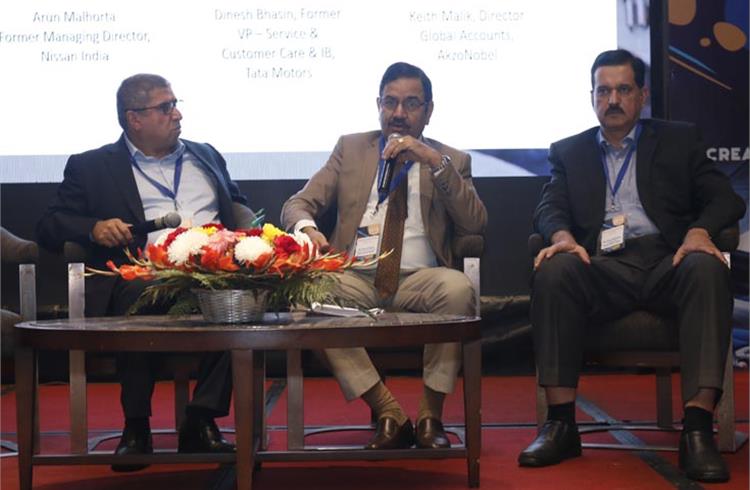 L-R: Keith Malik, Director, Global Accounts, AkzoNobel; Dinesh Bhasin, former VP (Service & Customer Care), Tata Motors; and Arun Malhotra, former MD, Nissan India.
Shelley Cheshire, CEO of RepairTalks.
Keith Malik, Director of Global Accounts, AkzoNobel, opens the panel discussion.
L-R: Vivek Sahai, segment head, VR Premium AkzoNobel; Sanjeev Aggarwal, VP Service Nissan India; Dinesh Bhasin, former VP (Service & Customer Care), Tata Motors; Arun Malhotra, former MD, Nissan India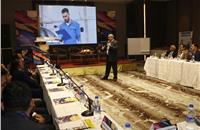 Keeping customers happy is what makes businesses click and the automotive industry is no different. In fact, with vehicle purchase having a high emotional quotient, customer expectations are always high and OEMs have to ensure that their aftersales operations, which also handle vehicle repair, win over customers and influence positive word of mouth, so critical in a value-conscious market like India.

To discuss and debate this issue, the ongoing development of the Indian collision repair market and the scope of improvement, a number of high-ranking executives and industry experts from the aftersales division of key vehicle OEMs came together in New Delhi on November 20 for the '2018 OEM Roundtable Conference' led by RepairTalks, an automotive knowledge and education start-up hosted by industrial paint specialist AkzoNobel. The day-long roundtable was held on November 20 with Autocar Professional the official media partner.
The conference brought together industry professionals, both veterans and leaders in their fields, to bring to the table the many vexing issues and concerns impacting passenger vehicle (PV) aftersales in India and brainstorming to find solutions to some, if not all, of them. The panellists included Dinesh Bhasin, former VP (Service & Customer Care & IB), Tata Motors; Arun Malhotra, former MD, Nissan India; Sanjeev Agarwal, VP (Service), Nissan India; Joseph Alexis, Head – Aftersales, Audi India; RK Duggal, head – Maruti Suzuki Service Division; Pankaj Narula, senior advisor for Customer Quality Assurance and Service, Suzuki Japan and executive advisor, Maruti Suzuki India; Kevin Jones, former head of Al Futtaim Motors; Keith Malik, director of global accounts, Akzo Nobel; Graham Threlfall, global key account manager, Akzo Nobel and Shelley Cheshire, CEO of RepairTalks.
India is where the market is
The changing dynamics in the global automobile market over the past four decades have seen Asia economies make their presence. From the 1980s, when the global market size was 60 million units with Europe and North America contributing 42 and 41 percent to total sales respectively, the present-day scenario is vastly different with Asia including China comprising the maximum volumes, and India as the world's No. 4 PV market with a growing GDP and increasing spending power. In FY2018, a total of 3.2 million PVs were sold in India (+7.9%) and in the first seven months of FY2019, 2 million have already been sold (6.10%). Proof enough of large market that is billed to be the world's third largest market by 2021, driving past a slowing Japan.
Compared to developed markets where motoring is well entrenched and a fair number of vehicle owners indulge in do-it-yourself operations for regular maintenance and small repairs, Indian industry studies indicate that 83 percent of PV customers prefer visiting authorised service centres for general maintenance as well as major accidental repairs. However, small tinkering jobs are still preferred at local garages which end up being cheaper.
According to Dinesh Bhasin, former VP (Service, Customer Care and IB) at Tata Motors (pictured above), "Three key developments in the aftersales business are set to disrupt the entire ecosystem –digitalisation, automation and connectivity."
The forum also spoke about the emerging megatrends wherein up to 2050 industry strives to offer sustainable mobility solutions, which will help stem and then improve the degrading air quality around the world, eventually targeting full vehicle electrification and bringing a paradigm shift to the century old automotive ecosystem. Vehicle autonomy and IoT are the given technological add-ons, which will further accelerate the industry's march towards the new future.
According to Arun Malhotra, former managing director, Nissan India, "Megatrends need to be irreversible. Vehicle electrification is not yet a megatrend, but it certainly is headed there. Having said that, every country needs to have its own set of solutions against the pertaining challenges of vehicular pollution and traffic congestion. We need to think global and act local."
"Different markets have approached the problem of pollution and congestion in a different way. For instance, in China only green registration-plated EVs are allowed to venture into specific areas plagued by air pollution," said Keith Malik, director, Global Accounts, AkzoNobel.
Need for stringent standards for qualitative vehicle repair
On the vehicle repair front, the panellists discussed the need to have strict guidelines and standards across the board in order to ensure qualitative vehicle repair (for the consumer), while at the same time also ensuring a safe work environment for the workforce.
"We do need the government and the authorities to chip in and formalise standards which the industry proposes so that there is a mutual consensus and no conflict of interest. This will enable effective implementation of regulations on the aftersales front and bring authorised as well as neighborhood garages on the same level of repair quality," said Pankaj Narula, senior advisor, Customer Assurance and Service, Suzuki Japan and executive advisor, Maruti Suzuki India.
Pankaj Narula: ""We need the government and the authorities to formalise standards which the industry proposes so that there is a mutual consensus."
According to Arun Malhotra, "The industry, along with the government has a collective responsibility to bring regulatory reforms and move in the right direction."
"As an industry, we have to take our own initiatives to factor in solutions to such issues into our business plan. At Hyundai, we are ensuring sustainable solutions such as dry washing, as well as encouraging our dealers to use water-borne re-paint process, which has already been adopted by 150 of our dealer partners," said S Punnaivanam, VP and national head, Service, Hyundai Motor India.
"Even in case of repair at the unorganised level, it is the OEM which needs to take care and ensure a proper repair job and train the people, in order to protect the brand from taking a hit from any substandard work causing a mishap and thus impacting the brand," said Narula.
Supply chain of the future
Market maturity in different countries depends upon customer awareness and regulatory standards related to automotive ecosystem in the country. India Auto Inc is actively working to gradually increase the level of workmen skills as well as the quality of the spare parts at workshops to offer a high quality repair job, especially on the bodyshop front.
"Authorised automotive dealers as well as the neighborhood garages need to outsource training and source their parts from the OEMs so as to not fall in the trap of spurious parts from the grey market and the lack of expertise of unskilled manpower," said Graham Threlfall, global key account manager, AkzoNobel.
"Dealer profit on vehicle repair stands in the range of 15-20 percent on replacement body parts and hence, if a car goes to the unorganised sector for repair, the replacement part doesn't come sourced from the OEM, thus being a huge lost opportunity," said Keith Malik.
On the other hand, the gross profitability on labour cost of such repairs stands at a tremendous 65 percent, given the low labour rates prevalent in the country. The average profit on selling of body paint tops at 70 percent, when looked standalone and not consolidated with the labour charge of its application.
Of the total invoice value, however, labour charge takes the top spot with 47 percent of the total contribution, with parts coming second at 43 percent and paint only contributing to 10 percent of the total bill of a repair.
"When we do not use the right methods to make profits, then it is called profiteering. Every business needs to make profit and as a result we need to optimise the processes in order to maximise profits, but at a reasonable expense to the customer," said Pankaj Narula.
The panellists also analysed trends in mature markets globally where OEMs sell critical body repair parts such as chassis and body panels only to dealers, as well as independent garages which can prove their mettle by being able to perform a proper repair job, thus ensuring a high level of satisfaction for the end customer.
Automated estimation system for speedy insurance approval
With the motor insurance business being majorly handled by nationalised companies in India, the panel arrived at a mutual consensus on the hassles in document retrieval. As a result, the insurer remains insecure of inconsistent estimating standards. The end result is the threat to customer retention, both to the dealership as well as the insurance company.
PSU insurance companies have been at the receiving end of dealer malpractices in the past and, as a result, have become cautious of passing claims easily. Now, as each insurance company has a tie up with OEMs, they are now working on fixed pricing which is based on benchmarking within the industry.
Child part assemblies also impact cost to customer as well as cost to the insurance company and no OEM allows for a difference in quality if the labour is contractual or on the company's payroll, the end result should be the same.
The panel discussed the need of an automated estimation system, which should take into account labour cost as well as the material and component costs, to offer insurance approvals in real time. Computerised systems will bring transparency, discussed the panel.
Ensuring customer satisfaction at all times
Even as the panelists discussed and debated a number of challenges and their solutions threadbare through the day, they all voted in favour of what is the universal truth – 'Customer is King' – be it repair at authorised workshops or independent garages.
Hyundai Motor India's S Punnaivanam: "Expectations are different for different customers and can vary between quality, cost, convenience and time."
Citing the initiatives taken at Hyundai, S Punnaivanam mentioned the examples of workshop automation taken with introduction of digital job cards at its service centres, along with starting the concept of overnight service for fleet operators at 45 of its workshops where cab drivers running Hyundai cars can Ieave their vehicles to be serviced between 7pm and 9am. Moreover, while it takes first-time car owners for a workshop tour every weekend, it has also devoted service bays and experienced manpower for customers of its premium models who have more expectations. Hyundai is also seeing its doorstep service program picking up steam, with 450 of its riders on motorcycles handling minor repair jobs around the country. "Expectations are different for different customers and can vary between quality, cost, convenience and time," pointed out Punnaivanam.
Another key customer satisfaction parameter is the bodyshop. The concepts of shared mobility and ride hailing are also impacting the dealership business as the average running of personal vehicles has come down, leading to a shift in maintenance cycles, thus causing a lot of cancelled part orders.
The exciting roundtable concluded with the thought that if businesses need to ensure profitability, it is imperative that they adapt to change and drive towards a sustainable future by deploying modern processes and importantly winning the customer's trust at every inch of the way.
RELATED ARTICLES