Industry captains urge suppliers to think global, invest in R&D, be agile in a disruptive era
The 58th annual convention of the Automotive Component Manufacturers Association sees captains of industry urge the supplier community to prepare for a disruptive future, target higher exports and befriend new mobility like EVs.
Industry captains urge suppliers to think global, invest in R&D, be agile in a disruptive era
Industry captains urge suppliers to think global, invest in R&D, be agile in a disruptive era
Industry captains urge suppliers to think global, invest in R&D, be agile in a disruptive era
Industry captains urge suppliers to think global, invest in R&D, be agile in a disruptive era
Industry captains urge suppliers to think global, invest in R&D, be agile in a disruptive era
Industry captains urge suppliers to think global, invest in R&D, be agile in a disruptive era
Industry captains urge suppliers to think global, invest in R&D, be agile in a disruptive era
Industry captains urge suppliers to think global, invest in R&D, be agile in a disruptive era
Industry captains urge suppliers to think global, invest in R&D, be agile in a disruptive era
Industry captains urge suppliers to think global, invest in R&D, be agile in a disruptive era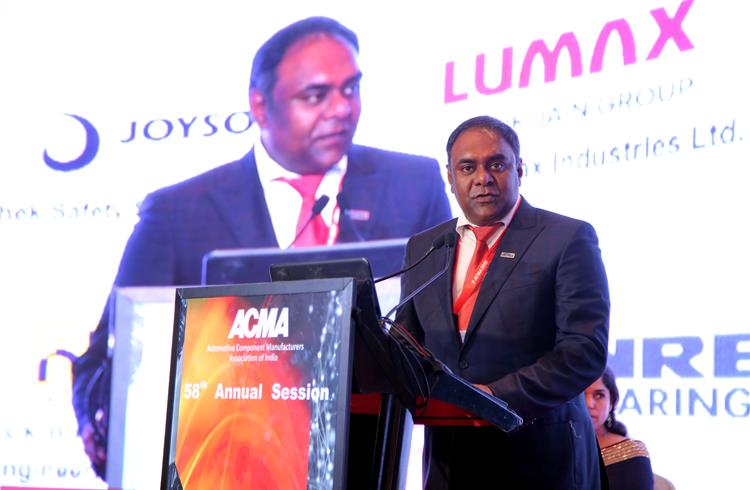 Industry captains urge suppliers to think global, invest in R&D, be agile in a disruptive era
Industry captains urge suppliers to think global, invest in R&D, be agile in a disruptive era
Industry captains urge suppliers to think global, invest in R&D, be agile in a disruptive era
Industry captains urge suppliers to think global, invest in R&D, be agile in a disruptive era
The overall mood of automotive industry stakeholders, especially suppliers, present at the 58th annual convention of the Automotive Component Manufacturers Association of India (ACMA) in New Delhi today was one of cautious optimism.
While the Indian component industry, which has recorded strong 18 percent YoY growth in FY2018 and surpassed a $50 billion turnover for the first time, is bullish on maintaining growth, it is also cognisant of the fact that it faces a number of challenges in the near-term.
Abhay Firodia, president, SIAM, said: "The Indian component industry is like an iceberg. You only see the tip. What you don't see is the depth. They are a repository of technologies, and have to support automakers and the country. The Indian automotive industry can be compared to a stable ship. However, it needs more depth in engineering and development capabilities."
In his welcome address, ACMA president Nirmal K Minda said, "Robust domestic production and exports have contributed healthily to the component industry. Going forward, the Automotive Mission Plan 2026, a rising GDP and infrastructure will contribute significantly. India has significant headroom for growth and a huge opportunity awaits the component industry. It is billed to the world's Top 3 market and the ASEC opportunity (Autonomous, Shared, Electric, Connected) with focus on decentralization will take things forward. We are thankful to the government on reducing GST on almost 60 percent of components; we are advocating that the government create a fund for component makers to invest in R&D, new technology and technology acquisition. We are running 18 cluster programmes with over 150 companies and OEMs are also coming forward to support."
In his opening remarks, Nitin Gadkari, Minister of Road Transport, Highways and Shipping, government of India, said: "I am happy to see that the auto industry is no more reluctant to embrace new norms and technologies."
Chief guest Anant Geete, Union minister for Heavy Industries & Public Enterprises, government of India, assured the industry of complete support while also urging both OEMs and suppliers to advance technologically. "We have to change with the times. That is the need of the hour. What's important for this change is the mindset to accept change. And industry has begun to do that. While making policy is the government's right, industry is the one to execute the policy. So we know we shouldn't make policy that industry cannot execute. Recognising the need of tomorrow and the need for change, we are about to make an all-encompassing auto policy for which we need the industry's support. We have to increase exports, reduce imports and have to do this together."
Lauding the industry, Geete said: "The automotive industry is the prime contributor to Make in India, the maximum investment is from the auto industry and is also the biggest employer. Therefore, we have to partner each other for growth."
Suresh Prabhu, Union minister for Commerce and Industry, said: "Auto components is one of India's success stories. We are coming out with a new industry policy – one of the key elements is how do you lead India to become a global supply chain, become part of the global value chain? The auto component industry has already done that. Therefore, we like to promote and support it and taking all possible steps to make it happen.
Component and making parts of a supply chain is teamwork and the Indian component industry demonstrates just that. We are promoting exports in a big way. The highest exports recorded in six years were in FY2018 and this despite global headwinds. A product country matrix has been put in place and promoting in an aggressive way. We are trying to promote exports which will help drive India's GDP to around 5 trillion dollars in another 7 years – it is here that the auto industry can play a significant role. We are looking to ensure market protection as well as market access, domestic as well as export-led growth, and also services-led growth. The auto Industry can bring growth for both manufacturing and services and is one industry that encompasses many segments of the economy."
TATA AND MAHINDRA BOSSES URGE SUPPLIERS TO REINVENT
Guenter Butschek, MD and CEO of Tata Motors, made an incisive presentation. The company, which is taking strong strides under its Turnaround 2.0 growth strategy, had gone ahead with a plan to rationalise the number of its component suppliers. Butschek said, "The intention was to engage suppliers in a strategic dialogue to face challenges, translate change into opportunity for industry. However, more intensive dialogue is required between OEMs and suppliers to capture the magnitude of change. Nonetheless, suppliers have their own dynamics in their own competitive environment."
He said the auto industry is undergoing a silent transformation in terms of the changing consumer, intensifying competition and an evolving eco-system. As regards consumers, he said there is growing demand for shared mobility compared to owning a vehicle. Then there's the unexplored multi-modal transport, which he sees more as an opportunity than a threat and possibly a theme of the future.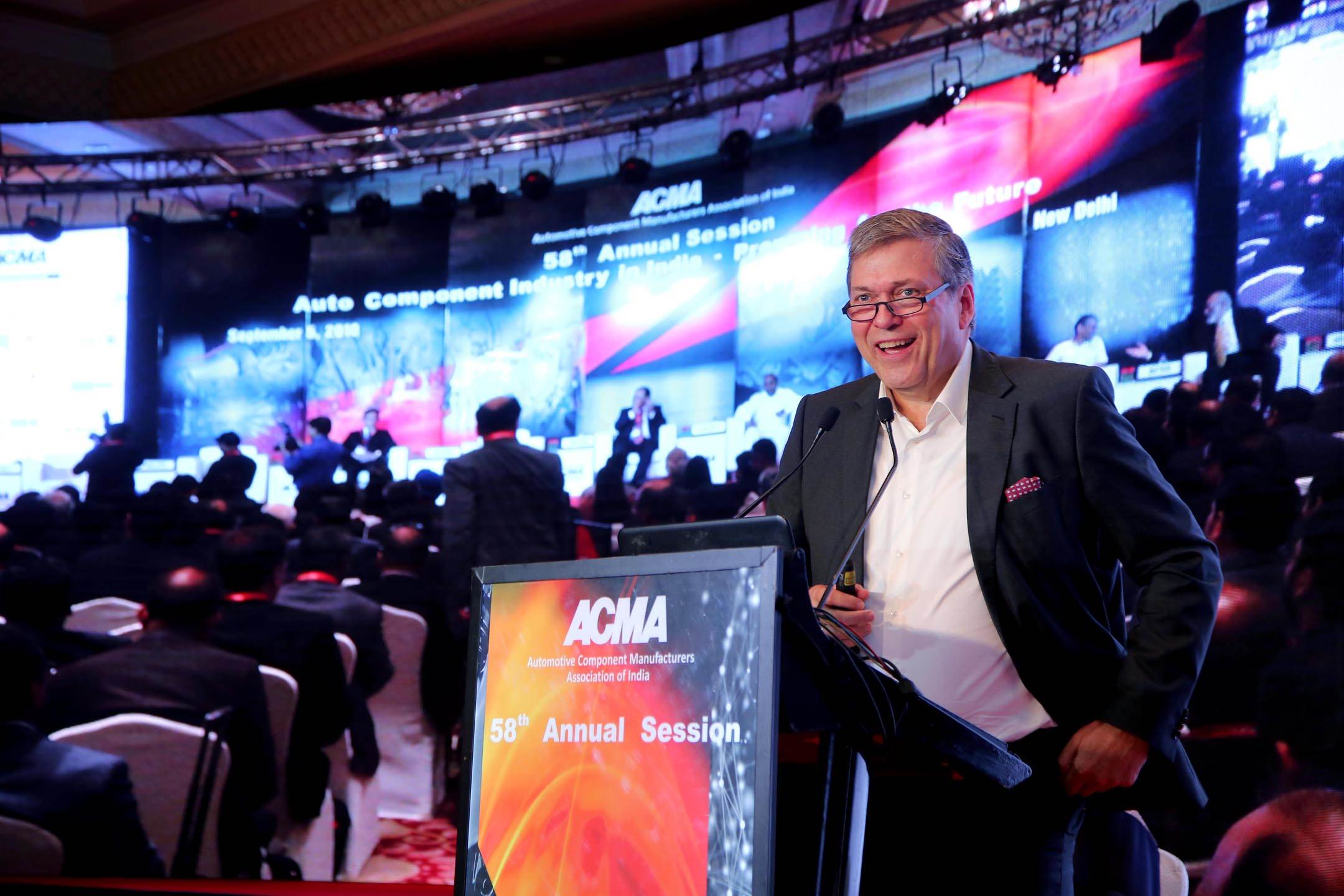 Butschek added that for him 'digital millennials' are an opportunity as is connectivity and customisation. "We have to ensure that our products of the future become part of the digital life of our consumers. Consumers would like to own an experience and would like to differentiate themselves from others."
He said that industry faces new competition and there are global players as well as disruptive start-ups entering the mobility space and innovative solutions from non-OEMs are posing a challenge to traditional automakers. This also means the market is further getting segmented in terms of white spaces and new revenue streams are emerging due to limitations from mainstream businesses.
Industry now also has to contend with rapid regulatory changes like BS VI, stringent safety norms and payload limits.
According to Butschek, the big implications for the auto component industry are to make it engineering-ready, tech-ready and business-ready
This also means suppliers have to decide their fitness of future role – stay component manufacturers or become a full systems supplier. Are domestic suppliers developing a modular approach (plug and play) and leveraging platforms to gain from economies of scale?
The opportunity landscape needs to be tapped by finding solutions to problems, investing in emerging business models, nurturing existing relationships, forging new partnerships as well as ensuring active policing support
Suppliers have also to be technology-ready in terms of investment in new, cutting-edge technologies, developing best-in-class capability and capacity, while also being geared up with an aggressive xEV and BS VI-compliant portfolio. He urged the component industry to leverage digitalization and IT and also enhance localisation plans for R&D and manufacturing. "It's all about tapping opportunities in the landscape. OEMs cannot alone face the challenges; we have to jointly develop solutions. We have to reinvent ourselves. Over the years, industry has tended to become complacent. At the end of the day, it is all about getting faster to the market. The changes are so fundamental that we are in a process to redefine ourselves."
Butshek said, "We jointly need to tap the opportunity landscape. One of the starting points of innovation is the discovery of pain areas – road safety, pollution and fuel costs." He said there is a need for nurtured relationships and new partnerships in terms of strategic partners. Critical success factors for industry will be greater thrust on time to market, best-in-class quality, best value proposition and closer customer connect.
Dr Pawan Goenka, managing director of Mahindra & Mahindra, made a thought-provoking presentation, pointing out that with the auto industry going through a churn and disruption like never before, both OEMs and suppliers will see huge change. Vehicles are getting cleaner, safer, more connected and intelligent and auto ownership paradigm is also changing with the advent of shared mobility. Importantly, the customer of today is willing to pay a premium for more safety.
Dr Goenka detailed seven pointers that industry needs to take notice of, things that will impact current business significantly.
The ICE engine is not dead by any stretch of the imagination. If we assume 10 percent CAGR to 2030 and about 30 percent EV penetration by then (being very optimistic), we will see about 7 percent growth in the demand for ICE engines. This isn't bad.
However, if industry does not invest in new technologies and capacity, then there is a risk. "There are people who still believe EVs is all talk. The takeoff will be very rapid and those of you who are not taking EVs seriously are doing so at your own risk.
Emission norms and change will be faster than expected by the industry – clean air and safety are vital to societal needs. We need to put in our resources for what is good for the society. In 2009, an airbag was considered a technology feature when introduced in the Scorpio. We had introduced ABS in 2006. Today both (dual airbag and ABS) are basic customer needs. The rate of change and adoption has impact on localisation and jobs. We urge the government to provide a long-term roadmap. The rate of change and adoption has an impact on localisation and jobs. Every change should not become a crisis for industry.
The focus on vehicle lightweighting is much more than in the past 4 years. Industry is looking for more fuel efficiency, cleaner emissions and a smaller battery size. Each new model is lighter than the model it replaces. Process, production and design optimisation have helped shed vehicle weight. OEMs are willing to trade higher cost for lower weight.
The value chain will shift. At present, 80 percent of profit pool goes to OEMs and suppliers. This will become 60 percent.
Protectionism will grow. In the past two years we have set up 5 CKD plants globally. Therefore, there is an increasing need to have suppliers set up their plants closer to CKD facilities.
Indian cost competitiveness is eroding. Technology will be the name of the game, low cost is no more advantage, technology will be. Technology will drive the advantage and profit. The source for technology in our products and processes will not be in big research projects but in start-ups. In fact, in your mature business you need to embed a start-up culture which offers more agility and innovation. What do we do as OEMs and suppliers. An OEM will be willing to pay a premium to suppliers if they are giving a competitive advantage; the 4-year development cycle needs to go and changes will need to be adapted in months.
Dr Goenka emphasised two major enablers to steer through disruptive times. He said, "Partnership and trust between OEMs and component suppliers needs to go up. The war will be won with the right talent. Don't let good people go. Good talent is always high maintenance. No matter what happens, the Indian auto industry has the desire and capability to succeed. They will pay in the long run."
Meanwhile, Minoru Kato, president and CEO of Honda Motorcycle & Scooter India, said: "The world sees India as the fastest growing economy and the biggest two-wheeler market. Nearly 30 percent of Honda's global sales come from India. Our overall investment in India is Rs 9,800 crore and we have over 37 million customers today. We have over 243 suppliers in 350 locations and a localisation ratio as high as 97 percent. Our suppliers have made huge investments to support our growth. Global changes like ABS and BS VI are reflecting in India. With BS VI, the world will be our market. To make most of this opportunity, we are investing in products and building a strong and skilled workforce. We are closely working with our supplier chain with a planned approach and have proactively shared the BS VI roadmap for advanced preparation. We shall help suppliers to develop new tech and creating QCD and manufacturing efficiency and process efficiency. It is to be noted that the higher cost of BS VI might lead to reduced market demand. All higher costs cannot be passed on customers. Innovative measures required a balance between costs and affordability. Those who adapt and invest have the opportunity to lead the change."
PANEL DISCUSSION: PREPARING FOR THE FUTURE
There was also a lively panel discussion moderated by Ashok Taneja, managing director and CEO, Shriram Pistons & Rings, on how the component industry needs to gear up for the future and what do OEMs expect and perceive.
The panellists comprised Asutosh Padhi, Senior Partner, McKinsey & Company; Shivanshu Gupta, Partner, Mckinsey & Company; C V Raman, Senior Executive Director, Maruti Suzuki India; Hemant Sikka, President-CPO, Mahindra & Mahindra; Vikram Kasbekar, Executive Director, Hero MotoCorp and Sandeep Sinha, Managing Director, Cummins India.
Translating his thoughts into words, C V Raman, senior executive-director, Maruti Suzuki India, said that India is more likely to see a technology agnostic roadmap; it would not be just EVs, it could be hybrid and alternate fuels among others. He said that (vehicle) electrification is important and it will happen whether one likes it or not. But from a customer's expectation, he/she looks at the infrastructure and TCO, if it is comfortable for him/her, the technology will see adoption. "That is the one thing one needs to look at it critically."
Raman added that the industry is already working for engines compatible with ethanol, methanol and other alternate fuels. Speaking about the EV demand, he said one will need to look at the ecological perspective, the technology will need to be localised be it battery technology or powertrain. In the near future, he said India may see two-wheeler electrification as it is possible from a cost and charging perspective point of view, followed by public and fleet transport.
He said, "We need to look at solutions. Lithium-ion battery technology is not just the end of it (EV), all of us need to work and collaborate together, be it hybridisation or alternate fuels."
Giving his suggestions to suppliers, he said there is huge scope for investing in improving manufacturing technology, which will enable competitiveness. This, according to Raman, will bring additional opportunity of exports. "India is a growing market and there is enough scale in investing not just in manufacturing but also in R&D."
He added that suppliers could look at three major things for the future – quality (first time right zero defect), financial prudence on making the right investments for the future and how do you adopt new technology developments for India.
Sharing his thoughts in the discussion, Sandeep Sinha, managing director, Cummins India, said: "What we need in India right now is already being used in many parts of the world. As regards content growth in terms of emissions, in my view, we are not doing a lot in India to localise it. That is impacting our localisation opportunity which is being lost. The Indian auto industry needs to move towards these areas."
He said in terms of global opportunities, the opportunity will grow faster where the supplier base is yet not developed. India needs to go towards high technological areas.
Backing his confidence on the growth of ICE engines, he said that even in countries where the government has been emphasising and supporting EVs the shift has not been complete. He said while different segments may see different levels of electrification and some getting electrified more, "ICE engines are here to say, we are making investments towards them."
He called upon component makers to "take notice of that, and work towards the same so that we don't run out of capacity." Sharing his suggestion, Sinha said, "In R&D, creation of IP (intellectual property), there is not enough focus on creating and protecting." Also, the industry should look at implementing Industry 4.0 practices, to make your processes much more efficient.
Vikram Kasbekar, executive director, Hero MotoCorp, said that when it comes to demand, what may be good for us (domestic customers) may not have similar appreciation in other countries. He cited the fuel efficiency, which is considered as an important parameter for customers in India but in some other markets customer demand is inclined towards performance.
He said, "We need to have deeper understanding of the customer's (globally) need; it also needs to meet the regulations of that country. The quality is not what you make, but what the customer perceives, so you need to make/design the product accordingly. It will be foolish if one is not geared up for the future; EVs are one part but unless the costs come down the adoption will not be high."
Kasbekar said that "technology which is sustainable will win the game". He said that the suppliers need to invest in production and supply, as that would help them "win the game". He said that the companies will need to develop competencies, and be future-ready through either internal or external competencies. In terms of the disruptive environment, he said while the global scenario is undergoing one of the biggest transformations, "One must be agile and flexible. It is the capability of your team to adapt to different changes and scenario, along with investing in different technology, R&D and agility, to win the game."
Backing thoughts on the need for suppliers to invest in additional capacity, Hemant Sikka, president – CPO, Mahindra & Mahindra said, "As the industry is growing (around 10%), we would need additional investments from suppliers on ICE engines (diesel and petrol). Despite the industry growing, suppliers are hesitant in investing in additional capacities."
He said while there is some skepticism among suppliers to make new investments. He urged them to invest in manufacturing capacity and hedge in other technology. "That is what OEMs are doing."
Comparing the Indian supplier community with South Korean counterparts, Sikka said the difference is that the domestic companies need to have a strong level of ambition among the entrepreneurs. He said that "we have the problem of plenty but the suppliers in India are happy to supply locally. They need to look globally. We need to continuously keep investing for the future."
Moderating the debate, Taneja raised the concern of the supplier industry, saying that if 40 percent of the content in new vehicles is slated to become electronic, along with a significant portion being software, electronic parts would replace oil demand imports. If such a situation, what could Indian industry do?
Responding to the query, Ashutosh Padhi, senior partner, McKinsey & Company, said, "As you look at the car of the future 10-15 years from today, it will be a supercomputer on wheels. It will have numerous lines of codes running through it. "The technology stake will have many different layers inside of that."
He said when it came to electronic chips that would be utilised for GPUs among others, that opportunity will not be available to new players, because they will require scale, which has already been captured by few companies with the first mover advantage.
Padhi said that there will be other aspects (opportunity), especially in the software and technology space where Indian companies could take a lead. "There will be areas like applications, where Indian companies can have advantage." He said that the start-up ecosystem, or partnerships, it will call space for explicit strategy to go out and get partnerships or acquisitions and bring it to India.
Concluding the session and the event, Taneja said, "There is huge room for growth, look at the global market. Focus on design, development and talent acquisition. Forging partnerships is something we need to take very seriously in the future."
Also read: MOVE Summit India opens, PM Modi calls mobility sector a key economy driver
SIAM calls for long-term policy roadmap to enable smooth transition to future mobility
RELATED ARTICLES