India's 2-Wheeler industry targets sustainability, merges focus with vision
The two-wheeler segment, currently notching 12 percent YoY growth, is among the most exciting ones in India. But it also faces challenges in a disruptive world including speedy product obsolescence, changing customer preferences, new regulations and the charge of electric mobility. Autocar Professional's Two-Wheeler Industry Conclave saw a galaxy of industry experts discuss, debate and offer sustainable solutions for the Indian marketplace.
Session III – Emerging Market Trends and Predicting the Future
Jayant Davar: "Electrification, shared mobility, autonomous driving, connectivity and IoT are just not sweeping the four-wheeler space, but are set to revolutionise the two-wheeler sector too."
John K Paul, president, FADA; Hormazd Sorabjee, editor, Autocar India, Torsten Bellon, VP, Product Line - Non-Auto, Continental AG; and Jayant Davar, co-chairman and MD, Sandhar Technologies, light the ceremonial lamp.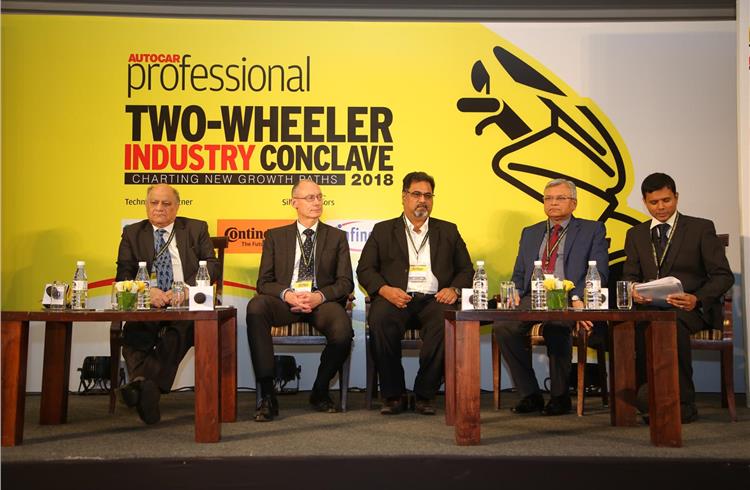 Session 1: Opportunities & Challenges in the Horizon
Session 2: Riding The Electric Mobility Wave
The Two-Wheeler Industry Conclave saw a full house of delegates comprising representatives of OEMs, suppliers, start-ups and analysts, among others.
SMEV's Sohinder Gill: The 'price sticker shock' of EVs continues to hamper sales and initiatives like battery swapping will help alleviate this situation.
The Two-Wheeler Industry Conclave saw a full house of delegates comprising representatives of OEMs, suppliers, start-ups and analysts, among others.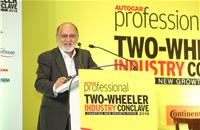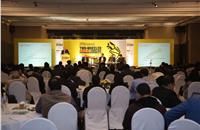 Autocar Professional's Two-Wheeler Industry Conclave 2018, held on January 18, 2018, at the Hyatt Regency in New Delhi, proved to be a melting pot of this dynamic vehicle segment, one where key industry stakeholders, representing OEMs, component suppliers, dealers and also a premier R&D and testing agency of the government took centre-stage, discussing and debating a host of challenges and even more opportunities.
The day-long event drew a packed house, comprising delegates from all sections of the automotive industry – OEMs, component suppliers, dealers, financial analysts, software and hardware developers and even start-up founders. The Conclave's lead sponsor and technology partner was Siemens while the silver sponsors were Continental and Infineon Technologies. Supporting the event as association partners were apex industry bodies ARAI, FADA, SMEV and SAE India, while Roland Berger was the technology partner.
The first Two-Wheeler Industry Conclave was held in November 2016 on the theme of 'Entering A New Era'). This year, the overall theme of 'Sustainable Growth In A New Era' held sway, with the three-session conclave covering the entire two-wheeler industry – in macro as well as micro perspective – with a galaxy of top-notch captains of industry holding forth and offering new vistas of opportunities, even as they accept that the present time is a challenging one with growth being a constantly changing target.
While Session 1 was all about 'Opportunities and Challenges in the Horizon', Session 2 on 'Riding the Electric Mobility Wave' took charge of the upcoming transportation revolution, and Session 3 adroitly handled the sales act through 'Emerging Trends and Predicting The Future'. Sumantra B Barooah, executive editor, Autocar Professional, moderated all the sessions.
The Conclave formally opened with a keynote address by Hormazd Sorabjee, editor, Autocar India and Publisher, Autocar Professional, who said, "The two-wheeler in India is no longer only the most affordable mode of personal mobility. It has also become an aspirational object too. Today, some two-wheelers are more expensive than some luxury vehicles! With the healthy growth of the economy and a growing population base with increasing disposable income, the Harley-Davidsons, Indians, Ducatis and Triumphs of the world are focusing on India strongly.
"It's not only the motorcycles. Scooters are also increasingly finding more buyers. One may say that what SUVs are for the passenger vehicle industry, in terms of customer preference, scooters are doing something similar in the two-wheeler industry. Interestingly, the growth rates of the scooter and UV segments in India during the April to December 2017 are quite close – 19 percent.
"Also, like the car industry, the two-wheeler space is also witnessing a lot of new trends, key among them are safety, sub-segmentation and premiumisation. And, of course, when it comes to the growing megatrend of electric mobility, the two-wheeler has taken a strong lead in India.
One of the indications that the Indian two-wheeler industry is getting exciting is that fact that a motorcycle made it to the cover of Autocar India's January 2018 issue. Like the overall automobile industry, the two-wheeler sector is evolving quite fast. Regulations, electric mobility and new market trends will shape its future."
Jayant Davar, founder, co-chairman and managing director, Sandhar Technologies and former president, ACMA and ASDC, was the other keynote speaker and set the tone for the day with his incisive presentation. He started off by pointing out the four key technology trends for the present day and future, "Electrification, Shared Mobility, Autonomous Driving, Connectivity and IoT are just not sweeping the four-wheeler space, but are set to revolutionise the two-wheeler sector too."
Indicating the massive impact of shared mobility in a market like the USA, he said that a recent study has forecast that the existing car ownership of 247 million will drop drastically to around 44 million by 2030. He said trillions of dollars will be wiped away in the transition to new mobility. ICE vehicles clearly are a threatened lot.
Davar, who is a keen proponent of the shift to electric mobility, had earlier in an interview told Autocar Professional, "Electric mobility is for real and there are no maybes to it." He said it is imperative that the domestic two-wheeler industry acts now. "Two-wheelers are the easiest to go in for electrification, particularly from the cost perspective. India now needs to take strides and strengthen its EV policy."
As regards the short- and medium term (next 5-10 years), he said industry has committed investment for BS VI. And for electrification and long term (2030 and beyond), industry should focus on emission norms, safety, comfort, infotainment and telematics."
He, however, pointed out that despite the government's heightened focus on e-mobility, the "gap between intent and actual happenings on the ground" remains a challenge. In fact, there are less than 500 EV charging stations in the country today; if a high level of e-mobility is to be achieved across the country, scores of EV charging stations will have to be set up and speedily at that. But, he added, industry needs to be aware that "change is coming and it's happening extremely fast."
Session 1: Opportunities & Challenges in the Horizon
The opening session of the Conclave had some high-powered speakers including K K Gandhi, executive director, Technical, SIAM; Torsten Bellon, vice-president, Product Line - Non-Automotive, Continental AG; N B Dhande, senior deputy director, ARAI; and Pradeep Tewari, CEO - Body & Structures Domain of the UNO Minda Group.
L-R: K K Gandhi, executive director, Technical, SIAM; Torsten Bellon, vice-president, Product Line - Non-Automotive, Continental AG; N B Dhande, senior deputy director, ARAI; Pradeep Tewari, CEO - Body & Structures Domain of the UNO Minda Group; and Autocar Professional's Sumantra B Barooah.
SIAM's KK Gandhi began his presentation by lauding Autocar Professional for hosting a two-wheelers- only conclave: "I am happy to find a focused conference on two-wheelers, which get somewhat neglected while defining future roadmaps. Two-wheelers account for nearly 81 percent of the total Indian automobile industry but are not featured in conferences. The Indian two-wheeler industry has come of age and is setting the technology agenda for the world," he said.
Citing some statistics, he said the market has grown nine-fold over a 13-year period. From sales of around 2 million units in 2004-05, industry registered sales of 17,589,511 units in 2016-17. He added that the two-wheeler sector remains a highly regulated one and that there are 63 applicable regulations for them.
Gandhi said emission norms for two-wheelers in India have been progressively tightened every five years. Till BS-IV, limits for combined HC and NOx were specified for retaining superior fuel efficiency, essentially because a large number of them are used mainly for commuting purposes.
He added that with BS VI norms kicking in 2020, India, which is the world's largest motorised two-wheeler market, will be ahead of Europe in emission norms by a year and Japan, by two years. He added that, "India's two-wheeler OEMs manufacture some of the world's most fuel-efficient two-wheelers."
But there are challenges ahead. "The industry has a big challenge ahead with BS VI norms in the form of implementing OBD, which is only present in four-wheelers until now," said Gandhi.
With India set to go BS VI in less than 26 months from now (April 2020) two-wheelers will see a significant loss in fuel efficiency due to 85 percent reduction in NOx. Thus the impact of BS VI will see a drop in fuel economy in the range of 7-10 percent, primarily due to near stoichiometric engine operation coupled with stringent NOx limits. Gandhi said industry is now studying and taking counter-measure to solve this issue.
Thus, the need to develop the OBD (on-board diagnostics) system which will be introduced as OBD-1 from April 2020 and OBD-II from April 2023 with threshold limits with IUPR (in-use performance ratio) introduced with OBD-II.
Consumers are getting used to AHO (from April 2017) and ABS/CBS (April 2018 for new models and April 2019 for existing models). Gandhi also revealed that new industry standards are under consideration (for stands, external projections, footrests). Interestingly, the apex industry body is exploring a helmet lock provision for two-wheelers; essentially, this means if a rider has not strapped on a helmet, the two-wheeler will not start. He called upon tech majors to think of such a solution.
Coming to e-mobility for two-wheelers, Gandhi spoke about the viability gap at present and added that total cost of ownership (TCO) will be attractive only if battery prices come down to around $100 per KwH. The price gap is highest in the 100-125cc commuter bike segment.
German technology developer and supplier Continental is among the global majors which is bullish on two-wheelers. The company has a separate two-wheeler division which indicates the importance it accords to this sector. Representing Continental AG at the Conclave was Torsten Bellon, vice-president, Product Line - Non-Automotive, Continental AG, who, like Jayant Davar, agreed that for automakers, two-wheelers are ideal for electrification and a lot easier than passenger cars. Two years ago, Continental acquired all outstanding shares in Synerject, the company which specialises in engine management systems and a joint venture between Continental AG and Orbital Corporation of Australia. Now, that move is paying dividends.
Bellon said the company's focus areas of the future will include Active and Passive ARAS (Advanced Rider Assistance Systems), electric two-wheelers, connectivity, integrated starter generator, EFI and ABS. He however cautioned going for full electrification means industry will hit a shortage of raw materials. "There is still a path for alternatives. The answers are still not there."
The panel discussion which followed was an interesting mix of revelations, technology updates and opinion. ARAI's NB Dhande was spot on when he said that tech will have to be indigenised for total acceptability in India. Gandhi added to that when he said, "We should have technology-agnostic stands if we are to reduce pollution and then let the market decide. There is enough space for all technologies to co-exist. In fact, with consumers keen on a faster change of vehicle models and OEMs unable to spend vast amounts on developing all-new, expensive platforms, there should be sharing of technology platforms. This is a trend which will happen in the future."
UNO Minda Group's Pradeep Tewari was categorical when he said, "The (Indian) component industry has been somewhat in a denial phase since the past two years about making parts for EVs. It better get started or industry would be subjected to Chinese EV parts in India as China has a well-established EV market.
Being one of India's leading component suppliers, Tewari revealed that the UNO Minda Group is doing a lot of work on sensors. "Our R&D Centre is in the midst of evolving a product portfolio for EVs and we are making adequate investments for the same." He said that two-wheeler OEMs – both global and Indian – are also preparing for e-mobility. "Indian OEs are making huge investments, particularly in higher segments (250-300cc) which are seeing more demand (and enable more profit margins)," he said. He added that, unlike mature markets, OEMs in India work in silos but the fact of the matter is that they are actively working on the two-wheeler of the future.
Rakesh Pandey, Automotive – ISM, Siemens Industry Software made an detailed presentation on two- and three-wheeler vehicle electrification product development, beginning with an interesting Two/Three-Wheeler Vehicle Electrification Product Development, beginning with an interesting fact about the earliest known electric motorcycle patent in 1895. Fast forward 123 years to 2018.
According to Pandey, the first vehicle in the US to use the new Lithium Titanium Oxide (LTO) battery non-flammable battery technology is a scooter called 'The Expresso'. This new technology charges a battery in less than 10 minutes and withstands 25,000 charges (the equivalent of 70 years of daily charges). The technology, created by Altairnano, is currently being used in China where over 10,000 urban buses run on these fast charge batteries. In comparison Tesla's electric vehicles use ion-lithium batteries which wane in 6-10 years.
While detailing electric and hybrid vehicle challenges, Pandey spoke about the need to ensure system continuity, multi-domain traceability and functional safety of across domains. Vehicle Electrification development needs call for systems integration of heat management, energy management, acoustics and NVH; software integration; predictive analysis; attribute engineering, vehicle package design, optimised electrical distribution, durable electronics, verification and validation.
He said there have been dramatic advances in power electronics and electric motors. Lowering of battery temperature from 30-20deg C enables a 2-3 year increase in battery lifespan while improved thermal efficiency can improve battery performance by 20 percent. Thermal simulation is key to eliminate 'range anxiety' to facilitate battery cooling, meet thermal demands of power electronics and reach a 500-mile/800-kilometre travel range.
According to Pandey, Siemens has an integrated solution – Vehicle Energy Management (VEM) – which can troubleshoot complex mechatronic systems.
According to Pandey, Siemens has an integrated solution – Vehicle Energy Management (VEM) – which can troubleshoot complex mechatronic systems. He also detailed the company's comprehensive solution of the digital enterprise for the whole workflow of battery manufacturing. Siemens, as is known, makes a variety of drive components for hybrid and EVs as well as charging stations and have recently contributed to electric highways in Europe which facilitate road freight transport.
Session 2: Riding The Electric Mobility Wave
Given the huge buzz about e-mobility in India and overseas, and the impact of this shift on the automotive value chain (an estimated 22 parts on an electric two-wheeler compared to 3,500-odd parts on a conventional ICE product), this was a much-looked-forward-to session. The panelists were eminently suited to the cause: Sohinder Singh Gill, CEO, Hero Electric and director (Corp Affairs) SMEV; Tarun Mehta, co-founder and CEO, Ather Energy; Avinash Kale, Head - Automotive System Applications, Infineon Technologies; and Sivam Sabesan, managing director, CharIn India and Dr Premendra, Principal, Roland Berger India.
L-R: Dr Premendra, Principal, Roland Berger India; Avinash Kale, Head - Automotive System Applications, Infineon Technologies; Sohinder Singh Gill, CEO, Hero Electric and director (Corp Affairs) SMEV; Sumantra B Barooah; Tarun Mehta, co-founder and CEO, Ather Energy; and Sivam Sabesan, managing director, CharIn India.
Providing a detailed perspective, Autocar Professional's knowledge partner, Roland Berger India's Principal, Dr Premendra shared plenty of insights on the electrification of the largest selling vehicle segment in the Indian market.
He said the Indian two-wheeler market is expected to grow by an average of around 9 percent over the next five years, with upcoming trends led by electrification, digitisation, on-demand mobility and increased importance of styling, safety and emissions.
Sharing the company's research, he mentioned that the global trends (excluding India) indicate growth of around 7 percent in the e-two-wheeler market driven primarily by regulations, wherein China is expected to be the dominant market. As regards India, he said EV sales are largely driven by demand incentive and there is significant work required to address other drivers for their adoption. He stated that to ensure exponential growth in the segment, government and industry would have to come together to address the other inactive drivers – help setup charging infrastructure, identify critical components and encourage a domestic supplier industry for these components.
Roland Berger's research expects rapid R&D in battery technology combined with scale effects which will help reduce battery pack prices by 30-35 percent by 2025. Talking about the trends in technology of critical components, Dr Premendra pointed out that the prices had not yet stabilised and improvement in the same would significantly balance the difference in performance parameters between e-two-wheelers and internal combustion engine vehicles.
He though was optimistic that with technology improvement, the TCO could turn positive even without government support by 2025 and would lead to a significant penetration for e-two-wheelers.
Mentioning the domestic industry, he stated that both start-ups and established OEMs are aggressively dedicating their resources for R&D in EVs, albeit collaboration activity is limited. The charging infrastructure for EVs in India still lags behind mature markets, which leads to 'range anxiety' among EV users. According to Dr Premendra, Indian e-two-wheeler makers are still hugely dependent on China for imports for their core components due to the supply weakness among Indian suppliers. "Suppliers are underestimating the speed of change and electric two-wheelers are expected to potentially reduce 40 percent of well-to-wheel emissions. Collaborative action between the government, OEMs, suppliers and academia can ensure India takes a global lead in e-two-wheelers. Importantly, suppliers have an opportunity in targeting global EV makers," said Dr Premendra.
He forecast that by 2025, the e-two-wheeler segment could potentially target 34.5 percent of the total two-wheeler market (currently 17.6 million strong) and the actual penetration could only be limited by production capacity constraints.
Taking the topic of electric mobility on two wheels some kwH higher was Sohinder Gill, director – Corporate Affairs, Society of Manufacturers of Electric Vehicles (SMEV) and CEO, Global Business, Hero Electric, who has been a driving force of e-mobility in the country, several years before EVs became a buzz word.
He showcased data on how electric two-wheelers are a driving force globally, which comprised almost 61 percent of total EV sales in 2017, followed by electric three-wheelers at 26 percent. In India, affordability is key for EV ownership which is quite clear given that till now, 99 percent of EVs in India comprise e-scooters and e-three-wheelers. Of the total 2,267,125 EVs sold in the country till now, three-wheelers account for 81 percent (1,846,000) and two-wheelers 18 percent (415,000). Only 6,100 electric cars have been sold till now and barely 25 e-buses. Quite an abysmal situation right now, given that the country is targeting full e-mobility by 2030.
Reiterating the points made by other speakers, Gill said targeting specific EV market segments based on economics could drive national adoption quickly, with two-wheelers being the most achievable target for adoption. Projecting sales for e-2Ws, he stated by 2030, of an estimated 40 million unit sales, e-2Ws could account for around 50 percent of the market.
With the li-ion battery currently the biggest cost driver in e-two-wheelers – nearly 40 percent – which hikes final vehicle price, he said a solution is available in battery swapping, which will see vehicle price down by nearly 50 percent and thereby draw consumer interest. Going against what most EV pundits say that lithium ion battery costs will continue to plunge, he said it is matter of time before costs stabilize and plateau given that demand is growing. He suggested that the existing total subsidy on e-two-wheelers be stopped and instead 'front-load' it for a 2-3-year period, which will help boost sales. Gill said that that the 'price sticker shock' of EVs continues to hamper sales and initiatives like battery swapping will help alleviate this situation.
Addressing the concerns over the cost he mentioned how the evolution of lithium-ion batteries globally saw increased life-span along with reduction in costs. On the range anxiety and charging infrastructure concerns he suggested that the existing fuel-stations could set-up battery-swapping stations, which would give a fillip to drive the momentum for adoption of e-2Ws.
Speaking on the market readiness and potential in India, he mentioned several key trends – styling, electronics, batteries, engineering and design, lightweighting, swapping stations, and charging infrastructure among others. Talking on the next big opportunity for Indian OEMs, he mentioned how system integration solution, charging infrastructure, battery swapping infrastructure and component supplying and JVs could be the key drivers for future growth.
Pointing out how e-mobility is gradually picking up steam in India, Gill said that membership to SMEV, the sole global representative body of the Indian EV industry, has grown to 38. There's also a resurgence of interest from the dealer fraternity, some of whom had exited the EV business a few years ago. Gill said that Hero Electric currently has 400 pending dealer applications.
Going by that yardstick, then interest in the soon-to-be-revealed Ather S340, the tech-laden electric scooter from Ather Energy will soar for sure. Making this presence felt at the Conclave was Tarun Mehta, co-founder and CEO of the Bangalore-based start-up in which Hero MotoCorp, the world's largest two-wheeler market, took a 26 percent stake last year. In the panel discussion, Mehta made a number of key points including the allure of getting the regular two-wheeler owner to sample high-tech products. As is known, the S340 oozes innovation, for which Ather Energy has filed 15 patent applications. The touchscreen dashboard with 24x7 connectivity integrates cloud-based data to help personalise the consumer ride experience. Features like user profile-based sign in, onboard navigation, pre-configured drive modes like sport and economy allow a personalised experience. Its integration with the S340 Mobile App keeps the rider connected with the vehicle, to configure ride and profile preferences and sync navigation routes remotely. Predictive analytics and aggregation of ride statistics enable customised recommendations. The company says that as more vehicles go in-field, aggregate rider and vehicle data will help in customised vehicle updates that will be delivered automatically over the air.
Mehta said, "Numerous start-ups have emerged in the past two years, all aiming to bring stylish e-two-wheelers. But there is a harder challenge in building a true product. The gestation period varies between 18 months to three years for an e-scooter and 6-7 years for an e-motorcycle. What bodes well for the future in India, he added, is that the government and policy makers are now a lot more receptive to ideas, suggestions and feedback, which is a sea change from a few years before.
Following up on this, Sivam Sabesan, managing director, CharIN India, a global not-for-profit organisation which is working on a global EV charging standard, provided some insight into the global charging infrastructure and the case for India. He begin his address on how the evolution of driving systems comes with its own sets of challenges that requires all stakeholders to come together to define a standard for the way forward.
Taking a cue from the history, when the introduction of automobile came with the challenge of – high costs, low range and frequent refueling needs – a case similar to the current transition towards EVs where the range anxiety, high cost of battery and charging infrastructure was affecting the potential adoption for the same. He pointed out the solution for it would be to have high power charging, interoperatibility along with increased battery capacity.
Talking on the current available AC and DC charging infrastructure, which have their own pros and cons, he said globally most countries have adopted the CCS (combined charging system) standard for EVs that helps in tackling the issue of range anxiety to a level.
CCS combines the advantages of both AC and DC charging system along with doing away with most of their drawbacks. The Combined Charging System (CCS) is based on open and universal standards for EVs. The CCS combines single-phase with rapid three-phase charging using alternating current at a maximum of 43 kilowatts (kW), as well as direct-current charging at a maximum of 200 kW and the future perspective of up to 350 kW – all in a single system.
The CCS includes the connector and inlet combination as well as all the control functions. It also manages communications between the electric vehicle and the EV charging point. As a result, it provides a solution to all charging requirements.
He mentioned how his organisation was working on developing the IEC 62196-2 (charging system) that would utilise both 1-phase AC and DC charging system. The advantage of this system was that the system was comparatively cheaper, had a unified Type 2 AC Connector that was reused for DC power up to 40kW,it was extremely compact with footprint around 50 X 50 X 60mm, it was widely available globally from numerous vendors, and it qualified for over 10,000 and higher mating cycles, which made it a practical case for being deployed in public charging infrastructure.
Session III – Emerging Market Trends and Predicting the Future
Does the era of disruptive changes, a glut of new models and even more variants, fast-changing consumer preferences as well as India going digital mean the death of the salesman – and of dealerships?

To discuss this and more were Nikunj Sanghi, director, International Affairs, FADA and president, ASDC; Roy Kurian, senior vice-president, Marketing & Sales, India Yamaha Motor; Arun Siddharth, vice-president, Premium Motorcycles, International Business & TVS Racing, TVS Motor; Pankaj Dubey, managing director and Country Head, Polaris India; and Vijay Chandrawat, co-founder and COO, TwentyTwo Motors.
L-R: Vijay Chandrawat, co-founder and COO, TwentyTwo Motors; Nikunj Sanghi, director, International Affairs, FADA and president, ASDC; Sumantra B Barooah; Roy Kurian, senior vice-president, Marketing & Sales, India Yamaha Motor; Pankaj Dubey, managing director and Country Head, Polaris India; and Arun Siddharth, vice-president, Premium Motorcycles, International Business & TVS Racing, TVS Motor.
TVS Motor Co's Arun Siddharth opened the debate saying "Aspirations of two-wheeler owners in small towns are no less than those of people in urban India." Veteran dealer Nikunj Sanghi, who hails from Alwar, a Tier 3 town in Rajasthan, seconded his comment and said that to the rural buyer, buying a two-wheeler means the world to him and it is very often that a potential 100cc commuter bike buyer visiits a showroom accompanied by friends and family.
Remarking on the digitisation wave, India Yamaha Motor's Roy Kurian highlighted that vernacular languages are taking precedence over English, which for long has been considered as the lingua franca for things online. This means that vehicle manufacturers and dealers are now far more easily able to reach out to potential buyers in their mother tongue.
If there was a doubt that online sales are threatening the dealer's existence, then Sanghi blew that away. "E-commerce, in fact, is adding on to a dealer's business. This is a huge tool available to us because we are no longer geographically limited. Dealerships, across the country, are becoming a lot more digital sensitive and some of them are a lot more savvier than OEMs themselves, with their own websites, social networks et al."
Kurian added to that by saying, "Dealerships continue playing a massive role for OEMs. Potential buyers go online largely for product awareness and not so much for sales. A two-wheeler, unlike many other products, and like other vehicles remains a touch-and-feel thing before a final purchase decision is made."
Commenting on future trends in the Indian marketplace, TVS Motor Co's Siddharth was categorical when he said that premiumness is percolating down to all segments of two-wheelers, in a manner similar to the passenger vehicle sector. With ABS becoming mandatory on two-wheelers above 125cc from April 2018, he said the notion of increased safety on a product will lead to a boom in premium two-wheelers.
Pankaj Dubey, country head and managing director, Polaris India/Indian Motorcycle, and CEO and wholetime director, Eicher Polaris, spoke on the future of high-end motorcycles in India. India, which has seen slow but certain emergence of demand in the premium and luxury segment.
He pointed out that as the country witnesses a change in demographics and psychographics profiles, it makes an attractive case for the luxury motorcycle segment. By 2040, the commuter motorcycle will be at almost the end of product lifecycle in India. The current commuter segment is likely to migrate to economy cars, with the growth of income levels and per capita income in India. Commuter biking is not by choice and the first opportunity the same buyer gets, he/she will upgrade to a car.
Attributing SIAM data, he mentions that sales of superbikes has improved exponentially, and going forward as luxury brands continue to grow in the country, ultra HNIs are likely to increase their spending. Along with a new-age biking culture that will add to the numbers, and the young millennials also catching up on luxury bikes. What's more, luxury segment customers typically are not so impacted by inflation. And the brands that have a consistent new product introduction policy will likely see a boost in their sales.
Autocar Professional's Mayank Dhingra delivered the vote of thanks at the end of the conclave.
Key takeaways from the Conclave
The key takeaways from the Two-Wheeler Industry Conclave 2018 was that industry is game to take on new challenges, provided there is a clear policy roadmap. In fact, the panelists were of the consensus that there are plenty of new business opportunities to be had across both conventional IC-engined products as well as electric two-wheelers but the time to seize them is now.
In fact, Indian two-wheeler manufacturers as well as the component supplier fraternity and academia need to rise to the occasion by actively collaborating and create a platform of overall growth. In fact, with most mature markets looking to reduce pollution levels and even go electric, the industry stands a good chance of becoming an exporter of electric two-wheelers. What's more, with a BS VI-compliant India being ahead of the global emission curve by 2020, the industry has the potential of being the global hub of clean and green vehicles on two wheels.
RELATED ARTICLES