India to see 70 vehicle scrappage centres by 2026
The comprehensive infrastructure being set up will also increase value extraction from around 70 percent at present to 90-95 percent.
India to see 70 vehicle scrappage centres by 2026
India to see 70 vehicle scrappage centres by 2026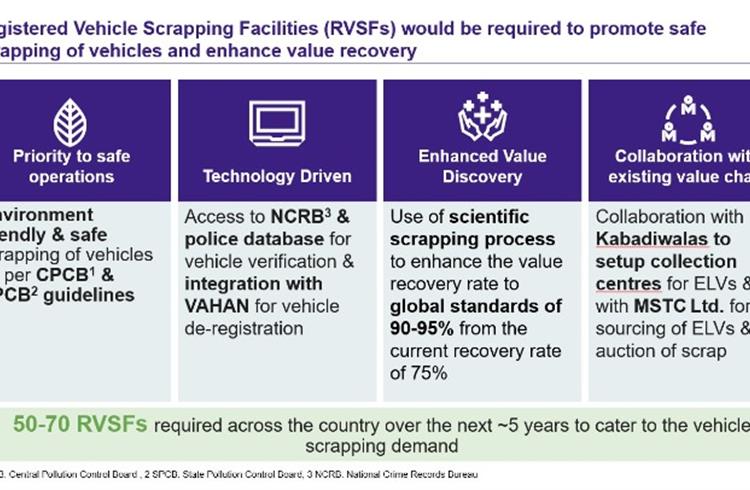 India to see 70 vehicle scrappage centres by 2026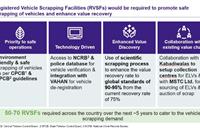 With the government announcing the Vehicle Scrappage Policy earlier this year, there is new momentum in this field and Maharashtra too is mulling its own scacppage policy.
As is known, the Mahindra Group has the first-mover advantage with its Cero Recycling which began vehicle scrappage and recycling operations a few years ago. On November 23, 2021, Maruti Suzuki Toyotsu India commenced operations at its vehicle dismantling and recycling unit located in Noida, Uttar Pradesh. It has a scrapping capacity of 2,000 units a month or 24,000 units annually.. And earlier today, Tata Motors inked an MoU with Maharashtra to set up a scrappage facility
Now, there is a plan to set up plenty more scrappage centres across the country. A national conference on "Investment Opportunities in Haighways, Transport and Logistics' was held in Mumbai under the chairpersonship of Union Minister for Road Transport & Highways Nitin Gadkari. It highlighted investment opportunities in highways, transport and logistics, focusing on three central themes: Bharatmala Pariyojana, Asset Monetisation and Vehicle Scrappage Policy.
The conference focussed on the investment opportunity in the government's vehicle scrappage policy. The Voluntary Vehicle-Fleet Modernisation policy aims to create an ecosystem for phasing out of unfit and polluting vehicles. It aims to reduce pollution by scrapping more than 1 crore unfit vehicles, improve road and passenger safety, boost auto sales, improve fuel efficiency, formalise scrappage industry and boost availability of low-cost materials for the industry. Out of the more than 1 crore vehicles to be scrapped, around 580,000 vehicles are registered in the state of Maharashtra.
As part of the policy, around 50-70 Registered Vehicle Scrapping Facilities (RVSFs) will be set up across the country during the next 5 years to cater to the expected demand for scrapping of unfit vehicles in a safe manner. The comprehensive infrastructure being set up will also increase value extraction from around 70 percent at present to 90-95 percent.
Commenting on the potential Gadkari said that Vehicle Scrapping Policy will reduce pollution, improve tax revenues, grow automobile sector, boost exports and create jobs. It is a win-win situation, in which investment on a high scale can come in.
Ajay Kumar Bhalla, Union Secretary said, "Auto scrappage carries great importance in our economy, especially for India, which requires certain metals which are not domestically available. Our aim is to make scrappage centres viable by bringing a mandate that unfit vehicles have to be scrapped. This policy will also help auto scrappage facilities established with support of state governments, in earning revenue and being viable."
The government states that to make the policy citizen-centric, voluntary scrapping is being targeted, based strictly on fitness, irrespective of the age of the vehicle. If a vehicle fails an automated fitness test, one re-test after the necessary repair/rectification, and the re-inspection if ordered by the Appellate Authority, it will be declared an End-of-Life Vehicle (ELV).
The conference also highlighted the importance of Automated Vehicle Testing, which will be initiated for Heavy Commercial Vehicles, from April 1, 2023; for other classes, it will be mandated in phases, beginning from June 1, 2024. The government has proposed 75 stations to be set up in next 4-5 years; this is to be scaled to 450-500 stations across India.
The centre will take the lead in implementing vehicle modernisation policy by introducing mandatory scrapping of government vehicles older than 15 years, to be effective from October 1, 2022.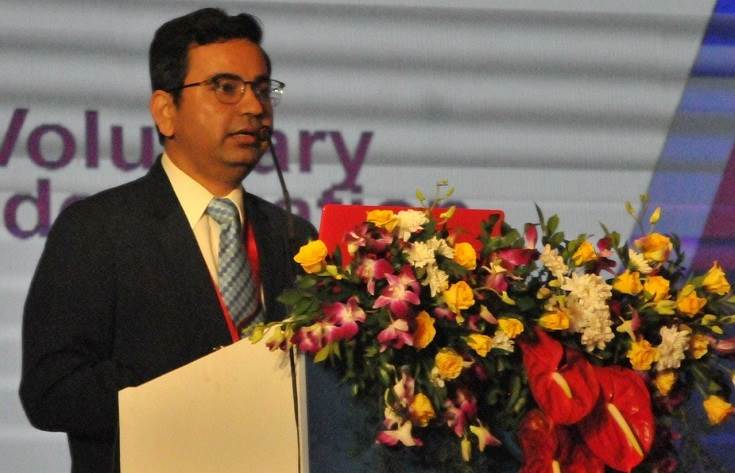 While speaking about vehicle scrapping policy, Mohammad Athar (pictured above), Lead, Economic Development and Infrastructure, PwC said that "Several measures have been taken to encourage owners of End-of-Life-Vehicles to scrap their vehicles." He informed that several measures have been taken to make scrapping process seamless for scrapping facility operators. A single-window-system for registration of scrapping facilities and testing stations has been launched, on the National Single Window System (NSWS) of DPIIT.
It was informed that the facilities and testing stations together present an investment opportunity of Rs 230 crore to Rs 280 crore for Maharashtra alone.
Ashish Kumar Singh, Principal Secretary, Transport, government of Maharashtra said that the Draft Voluntary Vehicle Scrapping Policy of the state too is being made. "This will offer incentives for scrappage. We hope that with the new policy of government of India and with the announcement of the state policy, vehicle owners will come forward, scrap vehicles and shift to electric vehicles."
Singh also hoped that electric vehicle manufacturers will also come forward and set up vehicle scrappage centres, given the direct linkage between scrappage and conversion to electric vehicles.
Sushant Naik, CII representative and Global Head – government and Public Affairs, Tata Motors said that Vehicle Scrapping Policy is a panacea which will create jobs and strengthen the transport sector. The policy will make the sector conducive for innovation and help unlock the sector's potential; it is an immense opportunity, which will create value for all stakeholders and energize our auto sector.
RELATED ARTICLES