HMSI cracks down on spurious parts makers
The raids have helped the company seize over 94,000 spurious parts and accessories in 3 years.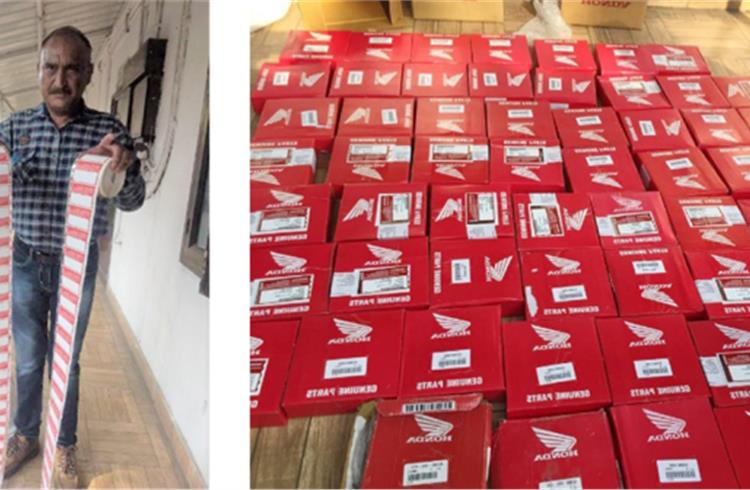 HMSI, in association with the Delhi police, raided this counterfeit parts and accessories dealers in the Karol Bagh market area.
Another fake parts and packaging dealer raided in the Bawana Industrial Area in Delhi.
Everything unofficial about it. Unauthorised use of the Honda brand on a shop in Cuttack, Odisha.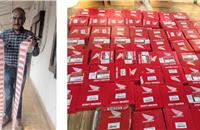 Taking concerted action against manufacturers of spurious spare parts, Honda Motorcycle and Scooter India (HMSI) has conducted a series of enforcement raids against traders and manufacturers dealing in counterfeit Honda parts across the country.
In conjunction with the police, the company conducted four major raids in north and east India in June 2019, seizing spurious goods worth Rs 49 lakh. According to HMSI, in the past three years, the Honda Intellectual Property Rights Enforcement team has seized approximately 94,000 counterfeit parts worth Rs 2 crore across India.
Honda's IPR team swings into action
With customer safety as a top priority, HMSI set up a new Intellectual Property Rights Enforcement (IPR) team led by its international IPR expert in 2017. Since then, the Honda Genuine Parts (HGP) campaign has aggressively taken steps to initiate and lodge criminal action against such traders, manufacturers and suppliers of counterfeit Honda parts.
The most recent raids took place in June 2019. Honda with the assistance of the local police undertook four successful raid operations in June 2019 in Delhi and Cuttack including raids against unauthorised service centres. It seized a total of 10,462 counterfeit items including spurious parts, accessories, various counterfeit dies, scooter guard kits, fake packaging machines and label printing machines, worth an estimated Rs 49 lakh.
On the basis of Honda's compliant, Delhi Police conducted two raids on counterfeit parts and accessories dealers in the Bawana Industrial Area and Karol Bagh market areas.
Meanwhile, in two separate raids in Cuttack, Odisha, police raided the premises of two service centres running under fake a Honda brand name at Sector 9 and Chandi Road and arrested the owner.
Fifteen successful raids in 3 years
In the three years since its formation, Honda's IPR Enforcement team has been working closely with local police and investigation agencies.
Till date, a total of 15 raids have been successfully conducted across major cities including Delhi, Bangalore, Chennai, Hyderabad, Secunderabad, Gandhinagar, Mumbai, Ahmedabad, Cuttack and Gadhi Hasaru (Gurgaon). This has led to the seizure of over 94,000 counterfeit spare parts, accessories and other items with estimated worth nearly Rs 2 crore.
Led by market intelligence, Honda IPR Enforcement team has cracked down hard on fake part manufacturers in automotive industrial belts, retailers/ suppliers in automotive spares hubs and intensified action from three raids in 2017 to six raids in the first six months of 2019.
Honda says it will continue to take aggressively action including but not limited to raids on spurious traders, suppliers and manufacturers to protect its customers from being cheated with counterfeit, duplicate, imitated or fake parts. What's more, fake components are also dangerous and impact the vehicle user's safety.
Honda expands its genuine products campaign
HMSI, in the recent past, expanded its Honda Genuine Parts campaign, which advises its customers to insist on only Honda Genuine Products easily available at all authorised outlets, service centres and parts distributors across India. These parts comply with stringent quality norms and meet Honda's global quality standards.
All Honda Genuine Parts come with a high-security MRP label. This tamper-proof label can be easily differentiated from a fake with its numerous security-enriched features including an original hologram.
RELATED ARTICLES