Group Landmark to foray into pre-owned car business, targets Rs 100 crore revenue in FY2024
The new car dealer principal for automotive brands such as Honda, Mercedes-Benz and Volkswagen in India plans to only deal in used cars of its existing brands to ensure minimal investment and top-notch service to customers.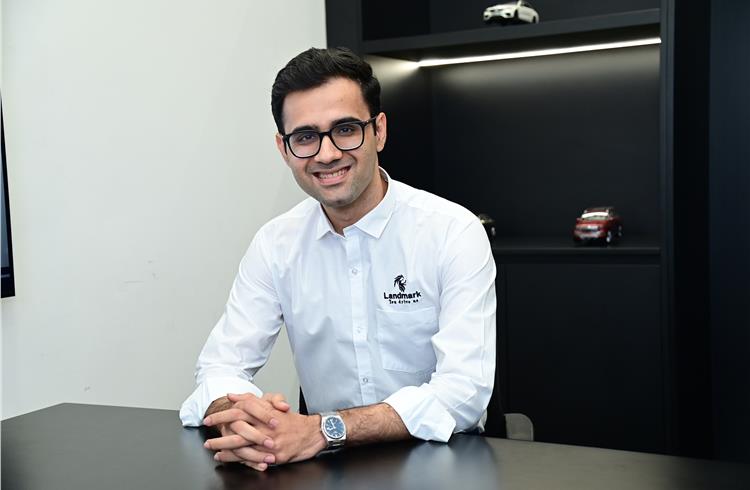 Mumbai-headquartered Group Landmark, which is one of the leading dealer principals for passenger vehicle OEMs, including Honda Cars India, Mercedes-Benz India, Volkswagen India, Renault India, Mahindra & Mahindra, MG Motor India, and BYD, plans to enter the country's used car segment, which is likely to double in size from 4.1 million units in FY2022 to 8.2 million units by FY2027.
The Group's listed entity – Landmark Cars – aims to kick off its used car vertical, albeit with a unique approach of only dealing in pre-owned cars which belong to the brands it serves as an authorised new car retailer. Landmark foresees strong potential in the India's used car market, and targets Rs 100 crore in revenue by end-FY2024.
"The used car domain is one of the key pillars for our future growth strategy, and we aim to adopt a slightly different approach, a different business model compared to the rest of the industry," Aryaman Thakker, Executive Director, Group Landmark (pictured above) told Autocar Professional.
"Our idea is to limit our dealings to the brands that we represent, and therein, we will only purchase and sell cars of the seven brands present in our existing new car portfolio," he added.
Thakker explained that the company intends to build a sustainable and profitably-growing used car business, and therefore, it does not want to shoot wide in a multi-brand format, and risk getting stuck with a lot of fixed cost that accompanies unsold inventory. "We have the expertise in sourcing and selling our brands, as well as have the manpower who is well trained in selling those products. Therefore, we will continue to focus on the brands that we are associated with, and we feel it will be a sustainable, long-term solution which will enable us to achieve profitable growth in this domain," Thakker said.
ENVISAGING MINIMAL INVESTMENTS
Group Landmark's executive director added that as it rolls out its revamped website that will also show real-time listings of the used cars available in its stock by the end of this month, Group Landmark will initially only sweat its existing assets to limit its overhead costs, and sell used cars through its existing sales and aftersales facilities across the seven brands in its portfolio, without investing too much into standalone used car stores.
"Each of our OEM partners has a used car vertical, and with this approach, we will be able to satisfy the respective OEM requirements as well in terms of conforming to their used car programmes. For instance, if it is a Jeep outlet, we will purchase a Jeep car, and sell it under the 'Jeep Select' brand from our existing showroom. This will be a scalable, and a rather profitably scalable model," he added.
Group Landmark which has been operating as a new car retailer in India for close to three decades, and operates over 123 outlets in nine States, says the unorganised nature of the used car market which predominantly relied on cash dealings kept it at bay from the segment so far. "We used to only offer vehicle exchange services to new car customers, and would sell the procured car in the open market. Hence, we would transact very little until this point," Thakker pointed out.
"However, we have figured out the right way for ourselves, and believe now is the right time to enter this space. We have a target to clock Rs 100 crore in revenue from our used car vertical this year (FY24), and we are well on our way to achieve that," he said optimistically while adding that even at this revenue level, the company would be just scratching the surface, and therefore, expects significant growth over the next few years from this vertical.
"There is a tremendous potential in the premium- and luxury- used car space and that is where we have found a gap. After Covid, the number of inquiries coming in for pre-owned luxury cars is huge, while quality cars are in short supply. If someone can build the trust factor here, the opportunity is huge. Furthermore, there are better margins on used cars and the average selling price, particularly, in the luxury car segment is high," he added.
With a plan to leverage its existing resources to drive growth from the used car business, the company foresees minimal capital investment, which would largely involve inventory cost to procure and hold cars until they exchange hands. Group Landmark will also leverage its partnership with Mumbai-based SheerDrive, which offers AI/ML-based solutions to identify defects and damages on a vehicle to ascertain its quality. "We are using our tie-up with SheerDrive as well as some white-label technologies to accurately price and source the pre-owned vehicles," Thakker said.
EVALUATING EXPANSION POTENTIAL
Group Landmark, which has scaled up its operations in nine Indian states including Gujarat, Madhya Pradesh, Maharashtra, Goa, and Delhi among others, continues to evaluate future expansion possibilities in terms of geographies as well as partnering with more OEMs. While its recent association has been with BYD India, according to Thakker, "We would not just look to grow our geographical presence, but also explore tie-ups with other brands as well. Once we enter a State, we aim to go deeper into it by venturing into more cities, and tying up with more brands. That is how we achieve economies of scale in that region."
He further added that other than used cars, the company has also forayed into car-care services by partnering with US-based Permagard and MotorOne of Australia to offer paint-protection film, coatings, and treatment services to its customers across all Landmark outlets. In FY2023, Landmark Cars clocked overall revenues of Rs 4,500 crore, with a PAT of Rs 85 crore, and is optimistic to continue its industry outperformance, while focusing on ensuring top-notch customer experience across sales and service for the brands in its portfolio.
"We have outperformed the industry growth in the past, and with the new additions in our sales and aftersales businesses, we should have a good growth in FY24 as well. We expect to grow in the high-single-digit to the low-double-digit growth range this fiscal," he concluded.
RELATED ARTICLES