Ford workers in Chennai weary, accept the inevitable
With the company finalising its India exit plans, it is going to be a rough road ahead for the Chennai workforce.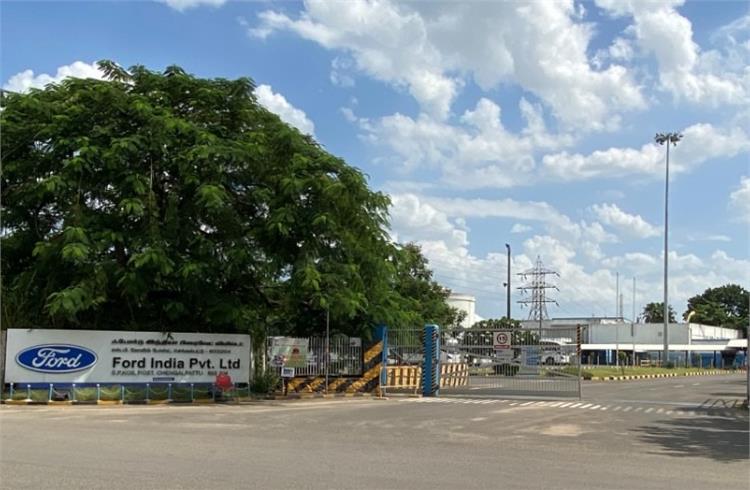 Though there were reports of small protests inside the facility, it looks like a lost battle to the 2,500 workforce in the Chennai Ford plant.
To make sure that no violence or protests break out, Police personnel were stationed outside the Ford's Maramalai Nagar plant and at Henry Ford road.
A day after Ford made it known that it was not going to revive its India plans through production of electric vehicles, police were quickly deployed outside the Maraimalainagar plant near Chennai.
"We were asked to come over to make sure nothing amiss would happen. So far, things are calm and peaceful," a cop told this writer. The DMK government clearly did not want to take any chances with worker ire spilling into the open and violence breaking out as a result.
"Employees are weary and it looks as if they have accepted the reality," said a shopkeeper who was quite certain that his own little retail business would take a hit. After all, these small traders who sell tea, biscuits and cigarettes have a ready customer base in the form of these 2,000-plus Ford workers.
June is the last month for production of vehicles and it now remains to be seen what the Tamil Nadu government can pull off in terms of finding a buyer. When Ford announced last year that they were pulling out of India, the rumour mills were abuzz that Hyundai and Ola were among the potential buyers for the Chennai plant.
The workers were then encouraged by the fact that Ford had qualified for the production-linked incentive (PLI) scheme where it would make EVs for exports. Amid reports that Tata Motors was going to acquire the American carmaker's Gujarat facility, employees were hopeful that Maraimalainagar would qualify as the EV hub.
"Ford could have handled the entire sequence of events better. First, it calls it a day in India and then makes the news all over again for making EVs here. How can employees be blamed for misguided optimism?" asks an industry expert. Maraimalainagar also has a large workforce of nearly 2,500 which is at least six times more than that at the Gujarat plant.
Now with the company finalising its India exit plans, it is going to be a rough road ahead for the Chennai workforce. It is still not clear if they will get an adequate compensation package from Ford and, alternatively, if the auto ecosystem around the Maraimalainagar-Oragadam-Sriperumbudur belt can hire them.
On the face of it, this stretch is home to a whole lot of vehicle manufacturers like Hyundai, BYD, Renault-Nissan, BharatBenz, Royal Enfield and Yamaha. Additionally, there are many auto ancillary suppliers also in this region which is the most vibrant auto hub in the south.
The problem, however, is that not everyone is in hiring mode right now given the slowdown in the industry and the fact that companies are earmarking substantial investments for electrification. In this backdrop, they are seeking fresh talent where people have a flair for mechatronics to better cope with the new electric regime.
The Tamil Nadu government will, of course, be hoping for the emergence of a knight in shining armour who can absorb the existing workforce at Ford and get the plant back on track again. For now, that seems a tall order with nobody in sight right now and the curtain set to come down on Maraimalainagar end next month.
Also read
Ford finally bids adieu
Ford drops India plans for EV exports

RELATED ARTICLES