Fisker Ocean receives bookings from India, Henrik Fisker bullish on India's tech adoption appetite
The Ocean electric SUV is clocking bookings "by the minute" and some from India too. If the India number grows, then the Fisker e-SUV may be launched here in 2022, says CEO Henrik Fisker
The Fisker Ocean at an Electrify America charging station. The high-mounted side indicators double as charge indicators – signaling a full battery when the green light bar is lit to the top.
Henrik Fisker:  "If we get quite a lot of reservations (from India), I think we can still get the car to India by the end of 2022."
Prices start at US$37,499 (Rs 26.75 lakh). After the U.S. federal tax credit is applied, the cost of the Fisker Ocean drops to a The Fisker Ocean SUV is equipped with a state-of-the-art battery – with 80 kWh capacity and a range of up to 300 miles / 480 kilometres.
Production of the luxury Fisker Ocean SUV is targeted to begin production at the end of 2021 – with the first high-volume deliveries projected for 2022.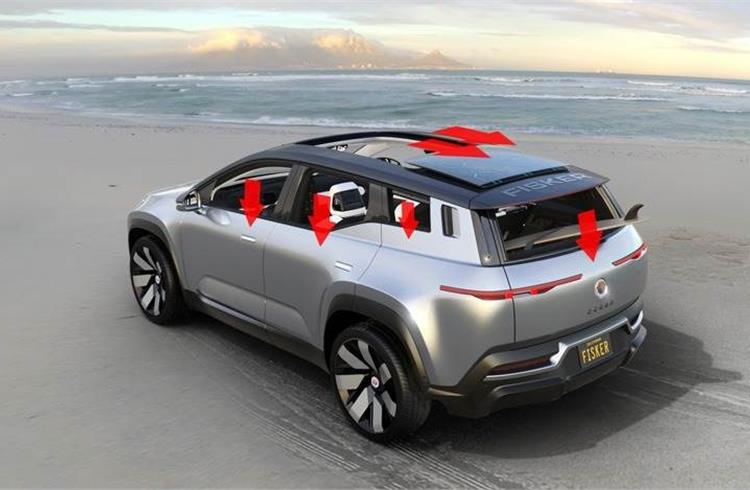 'California Mode' allows a convertible-like experience. This feature lowers/slides nine glass windows/panels to open the entire cabin with one touch – creating an open-air feeling.
'California Mode' adds functional utility by allowing the rear hatch glass to drop – enabling long items to be placed through the opening without having to drive with an open tailgate.
Fisker Ocean, the fully electric SUV by Fisker Inc, unveiled on Tuesday at the CES 2020, is one of the highlights of the annual technology and innovation fair. Its maker, the California-based Fisker Inc, has adopted an unconventional approach of reaching out to customers across markets through a smartphone app to sell, or lease out, the Ocean.
"The interesting thing about technology today is it enables us to go to the world market very quickly," Henrik Fisker, chairman and CEO, Fisker Inc tells Autocar Professional. And that, perhaps, has helped at least a few early adopters in India to put their money to book a Fisker Ocean.
In an exclusive interview with Autocar Professional on Tuesday night (India time) Fisker said the Ocean electric SUV is clocking bookings "by the minute" and has been reserved by consumers in India too. "We can see we have got a handful of orders from India. I think it's still less than a hundred," he says, while adding that if he receives "quite a lot of reservations" from India then the Ocean may enter India in 2022, the same year of its commercial debut, starting with its home market USA and other key electric vehicle (EV) markets -- Europe and China.
Henrik Fisker: "If we get quite a lot of reservations (from India), I think we can still get the car to India by the end of 2022."
"It all depends on how many orders do we get from India, how fast we get the car to India, but we can already see we are getting reservations from India, and if we get quite a lot of reservations I think we can still get the car to India by the end of 2022. Commercial production of the Fisker Ocean will begin by the end of 2021."
India is not yet a major market for electric passenger vehicles. In 2018-19, only around 3,600 units were sold in India, none of them an SUV. With the SUV trend continuing in the overall automobile market, a new crop of them in electric version are entering the market. The Hyundai Kona priced at Rs 24 lakh, launched in July last year, was the first. MG Motor India's ZS and Tata Motors' Nexon EV, both unveiled last month, are set to enter the market this month. The ZS is expected to be priced more aggressively than the Kona, which has received over 400 bookings since launch. The Nexon EV could be the most affordable at an expected launch price of Rs 15-17 lakh. UV major Mahindra & Mahindra is also plotting an electric SUV.

Fisker bullish on tech-friendly Indian buyers
The Fisker Ocean may well sit on the top of the volume electric SUV pack. Fisker is bullish on the prospects as he sees consumers in India to have a good appetite for new technology. " What I know from India is that a lot of people in India adapt to new technology really quick, and we have a lot of new technology in this car," he says. The all-electric SUV will come standard with an extended range (target of approximately 250 to 300 miles (400-480km), depending on driving conditions), enabled by an 80 kWh lithium-ion battery pack.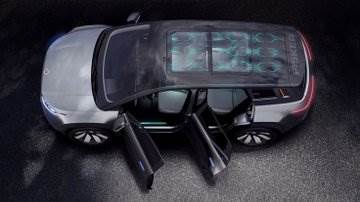 Solar roof can provide the Fisker Ocean charge for up to 1,600km a year.
Affordability and sustainability are key attributes, apart from the product features, that Fisker is betting on for the Ocean to succeed in the market. A solar roof which can provide charge for up to 1,600km a year, fully recycled carpeting made from regenerated nylon (from abandoned fishing net waste in the oceans and aquaculture), vegan interiors (100% Polycarbonate Polyurethane surfaces and 100% reinforced Rayon backing), repurposing rubber waste are some key features to lend the Ocean a high sustainability quotient. The electric SUV's name is inspired by the ocean from which a significant amount of waste is recovered to make plastic components for the car.
Sustainability and affordability as USPs
The Fisker Ocean is pitched as the 'world's most sustainable car'. "This is no marketing gimmick. When I was walking over the beach in California and collecting all the plastic bottles, I realised that we need to do something more substantial. in India, in Mumbai they have forbidden some plastics because there is so much pollution in the ocean because of them," says Fisker.
The reserve price or booking amount for the electric SUV is $250 or close to Rs. 18,000 only. The Fisker Ocean is priced at US$37,499 (Rs 26.75 lakh). After applicable U.S. federal tax credit it drops to $29,999 (Rs 21.40 lakh). Not very affordable given India's per capita income level compared to USA, Europe and compared to volume segment vehicles with internal combustion engines, but Fisker says affordability is a key aspect of the Ocean project.
"As we move into electrification, the most important aspect would be the affordability. During an exclusive preview for a select audience on Sunday, Fisker says, "How do we put out as many vehicles as possible out on the road and how do we make them affordable. For this we are considering certain design elements where we could take out certain costs out of the vehicle." The fixed hood of the Ocean SUV is one example.
The Fisker Ocean competes with the Model 3, fellow EV maker Tesla's entry-level model, in terms of price. So, is Fisker Inc gunning for the Model 3's prospective customers too? Fisker says his bet is cooler. "Anybody who wants an EV wants it to be really cool and modern. We were able to adopt this aggressive pricing because we do not have any expensive overheads like some of the other companies. We do not have dealerships. We do service partnerships. So we deliver the car directly to you and you order via the app," says Fisker. For service, Fisker Inc is partnering with some service groups globally.
So, the Fisker Ocean has already found takers in India. With the government's focus on making India an EV hub and the gradual electric mobility, which is likely to gain more traction, could India become an assembly base for Fisker Inc? "I think you need at least 50,000 vehicles a year to make this viable. So you need to wait for that exact moment when you would shift your base from sales and imports to actual manufacturing. You need some local investors in India who want to be part of this because you always need some local investment, money, supply chain to get all that to work," says Fisker. Whether that happens time will tell. But for now, the Fisker Ocean has made a connect with India, albeit with a small group of customers.
For Henrik Fisker, the Ocean is not the first time he is dabbling with electric mobility. He created and launched the Fisker Karma, an electric sports sedan, in 2011. The business ran into rough weather after its sole battery supplier went bankrupt. With a new business model now, in a different weather for EVs, the American-Danish automotive designer and entrepreneur is scripting a different story, on a digital platform. With a strong focus on sustainability and affordability (both fall in the category of positive karma!). Could the "several hundred million dollars of value of reservations (for the Fisker Ocean)" till Tuesday night be an indicator of things to come?
(Read full story, and interview with Henrik Fisker, in Autocar Professional's 15 January 2020 issue)
RELATED ARTICLES