Exicom opens R&D centre for EV batteries in Bangalore, launches multi-standard EV charger
New facility will evaluate cell quality, battery pack design, rapid prototyping, reliability and environmental testing; Harmony charger complies with CHAdeMO, CCS and Type 2 AC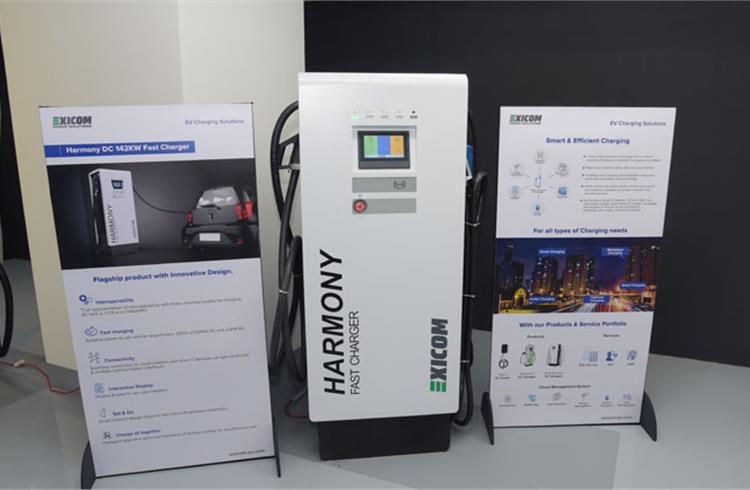 Exicom opens R&D centre for EV batteries in Bangalore, launches multi-standard EV charger
Exicom opens R&D centre for EV batteries in Bangalore, launches multi-standard EV charger
Gurgaon-based electric vehicle charging solution company, Exicom Tele-System today opened its new battery R&D centre and launched multi-standard chargers for EVs in Bangalore.
The R&D Centre is equipped with state-of-the-art equipment and infrastructure for comprehensive evaluation of cell quality, battery pack design, rapid prototyping and reliability/environmental testing.
Exicom says that the facility ensures adherence to all international safety standards especially specific to the lithium-ion battery packs and will facilitate development of battery pack using any cell chemistries and form factor. This facility will enable Exicom to design and develop automotive battery packs up to 500V and will strengthen the company's ability to produce and deploy customised products and solutions across various automotive applications.
Harmony multi-standard fast-DC charger
The company also launched the new Harmony multi-standard fast-DC charger, which it says is one of the most advanced in the industry. The Harmony charger is an all-in-one EV charging solution that has three-output connectors complying with CHAdeMO, CCS and Type 2 AC. This charger will be able to cater to all types of vehicles and charging needs and the single design provides flexibility to accommodate output anywhere between 30KW-150KW. The charger comes with connected services to allow integration with payment platforms or smart electrical systems apart from housekeeping functions such as remote upgrades and diagnostics, among others. Exicom says the charger is ideal for deploying for highways, fleet operations and parking among others.
According to Anant Nahata, managing director, Exicom, "We are committed to playing a leading role in the transition to shared, connected, and electric mobility. It is our consistent endeavour to offer the most innovative and affordable charging solutions to meet EV charging demands and enabling a stronger penetration of EVs in the country. We see EV chargers as more than just 'just a plug' – they are the gateway to the future of mobility and the first piece of the puzzle in giving people energy independence. Today, we have a full range of AC and DC fast chargers suitable for all types of EVs ranging from 1 kW to 150 kW, supporting all global standards and both low and high voltage battery platforms."
RELATED ARTICLES