Daimler India CV commits to 48-hour service delivery of BharatBenz trucks and buses
Rakshana program covers scheduled services, running repairs or vehicle breakdown cases at authorised service centres across India; DICV to compensate customers if service or repair exceeds 48 hours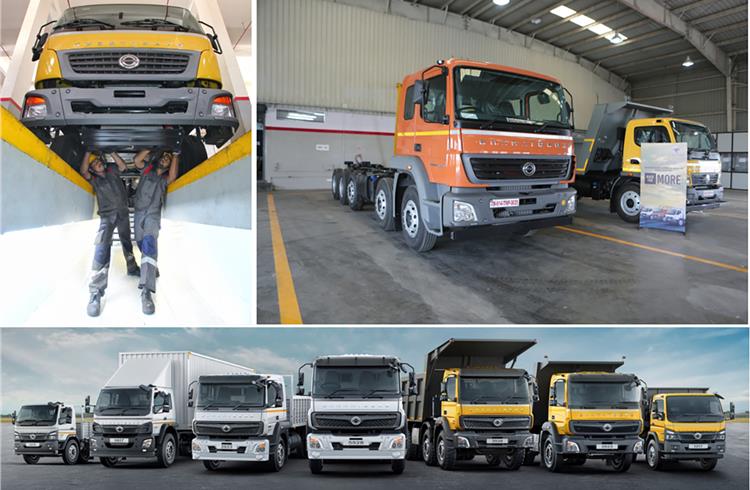 Daimler India Commercial Vehicles (DICV), the manufacturer of BharatBenz trucks and buses, has launched an uptime assurance program called 'BharatBenz Rakshana' aimed at enabling its customers to enhance their business profitability.
The Rakshana program commits to servicing and delivering BharatBenz trucks and buses within 48 hours. This program is a standard feature in BharatBenz on-road haulage trucks, tippers, tractor trailers and buses which already come with an active powertrain warranty at the time of sale as it assures timely delivery of vehicles that report to authorised BharatBenz service stations located across the country for service.
Commenting on the introduction of the BharatBenz Rakshana Program, Rajaram K, Vice President - BharatBenz Marketing, Sales and Customer Service at DICV, said: "At BharatBenz, we constantly strive to enhance our customers' experience. With the rollout of Rakshana, an uptime assurance program, we are taking a step further in our customer service commitment to enhancing our customers' business productivity and profitability. We are also enhancing the efficiency of our technicians to reskill and upskill through BharatBenz Regional Training Centres, offering one of the industry's best roadside assistance and services at our touchpoints. Our aim is to increase touchpoints and service bays by 13% and 17% by December 2023 to address our growing customer base across India."
The Rakshana program covers scheduled services, running repairs or vehicle breakdown cases. Over 98% of the trucks and buses that check in to BharatBenz service centres are serviced and delivered to customers within 48 hours. However, in case the service delivery exceeds 48 hours, BharatBenz will compensate the customer as per the terms and conditions of the Rakshana program. This makes the Rakshana Program one of the most unique customer service initiatives in the Indian commercial vehicles industry. The compensation for the delay in completion of the service will be a percentage of the cost incurred in the service.
BharatBenz dealerships and service stations are located on leading national and state highways. DICV currently has over 300 touchpoints across India covering national highways on the Golden Quadrilateral North-South and East-West Corridors, with reach to customers on these highways within two hours. BharatBenz trucks, as per the company, "have arguably the safest crash-tested cabins in India which meet the highest safety standards as per European cab-crash regulations that are not introduced in India yet."
Daimler India Commercial Vehicles retailed a total of 1,785 BharatBenz trucks and buses in February 2023, up 23% year on year (February 2022: 1,449 units), and currently has a market share of 2.26% in India's commercial vehicle market.
ALSO READ: Commercial vehicle retails in India up 17% at 79,027 units in February 2023
RELATED ARTICLES