Continental targets 60% growth in India's PV and CV tyre market by 2028
Bullish about the growth potential of the Indian automobile market, the German tyre major plans to introduce high-on-safety, comfort-oriented products for the passenger and commercial vehicle segments.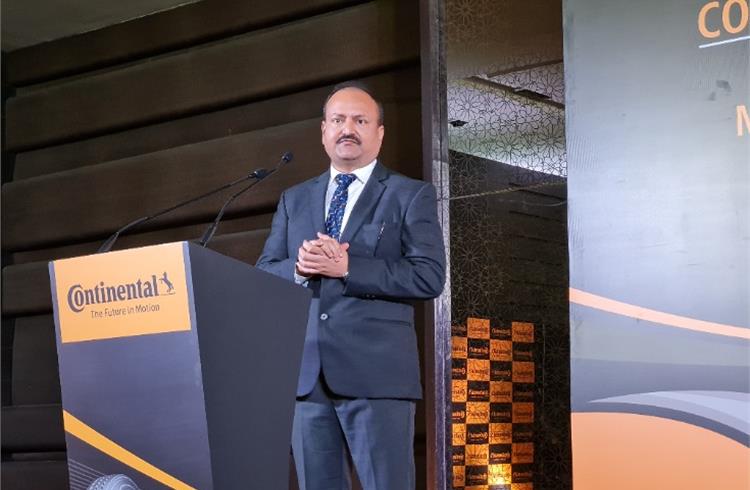 Samir Gupta, CEO, Continental Tires (India): "India is the world's fastest-growing economy and the rapidly improving infrastructure will only drive road transportation, both in CVs and PVs in the years to come."
The Continental CrossContact H/T tyre for SUVs has a robust tread pattern and compound mix that can withstand mild off-road terrains.
Manufacturing capacity at the Modipuram (Uttar Pradesh) plant, which rolls out truck and bus radial tyres, is to expanded by up to 15% by end-CY2024.
In September 2022, Continental opened a new commercial vehicle alignment center in Jodhpur which also acts as a brand experiential zone offering the latest technologies, products, and services.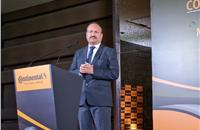 Tier 1 technology and component supplier Continental Automotive's tyre division Continental Tires has outlined an aggressive future growth strategy for the Indian market. The company, which has been in India since 2011, has an ambitious target of increasing its volume sales by about 50-60% over the next five years.
The company is bullish about the growth potential in the Indian automotive market, which is growing at a healthy pace, and emerged as the third-largest passenger vehicle market in the world in CY2022. In the first six months of the ongoing fiscal, over 1.80 million cars and SUVs have been sold in the domestic market, growing 6% YoY.
CAPACITY EXPANSION AT MODIPURAM PLANT
To be ready for future growth, the Faridabad-headquartered company, which is a key player in the passenger-car radial (PCR) and truck-and-bus radial (TBR) segments in the automotive market, plans to make incremental expansions to the manufacturing capacity at its Modipuram (Uttar Pradesh) plant by end-CY2024. While it has invested over Rs 1,000 crore into its business since inception, it continues to take incremental investment steps to brace its capacity in line with demand.
Truck and bus radial tyres, will see incremental expansions by end-CY2024.
The company is also expanding its retail footprint in India, and has scaled up to nearly 200 Continental-branded tyre shops thus far, with an intent to continuously grow the size of its network by identifying white spots, and aligning its core values of safety and comfort with its retail partners, to fulfill market requirements.
"We envisage to grow by 50-60% of our current volume levels over the next five years. This is because India, as a market, is growing rapidly. It is the fastest-growing economy in the world, and the rapidly improving infrastructure will only drive road transportation, both in the cargo- and passenger-carrying segments in the years to come. This will automatically lead to a growth in tyre consumption. We have an extremely positive outlook for our future growth," Samir Gupta, CEO, Continental Tires (India), told Autocar Professional.
"We are the youngest player in the Indian tyre market, and while our market share is still in single digits, our focus remains on providing innovative technologies to our customers. Presently, we are strengthening our capacities and footprint as we intend to grow our market share," he added.
Gupta further pointed out that the company has ample scope to expand capacity at its existing plant in Uttar Pradesh over the next few years, and therefore, will not require making a greenfield expansion anytime soon.
FOCUSED ON THE AFTERMARKET IN INDIA
While its business is largely derived from the aftermarket in India, Continental Tires is exploring venturing into direct-OEM supplies, but has no plans to foray into the segment in the near term. "Although Continental Tires has a large OEM presence in markets like Europe and China, we are focusing more on the replacement market in India at the moment. Having said that, we are waiting for the right time, and once we establish ourselves well in the aftermarket, we will start focusing on the OEM space as well. It is certainly something that is on our plate," said Gupta.
He added that OEM supplies would necessitate more investments to ready a suitable capacity and, therefore, the company will address this investment in a step-by-step process. Continental Tires, however, is a preferred tyre partner for Mercedes-Benz India dealerships since the last five years, and it is also a key supplier to Audi and Volkswagen India authorised service centres in the country.
Continental Tires, which introduced its 19- and 20-inch PCR tyres last year, says the Indian market is maturing, and the demand for above-15-inch tyres is only growing. "The Indian market is evolving and there is a premiumisation trend underway. We are in a transition phase from smaller to bigger tyre sizes, and in the last couple of years, we have seen a double-digit growth within the above-15-inch PCR category," Gupta said.
While it offers an entire range of passenger-car tyres, starting from the 13-inch size, the company has recently also introduced its CrossContact H/T (Highway Terrain) range of tyres for SUVs. The tread and rubber compound of these tyres claim to handle mild off-road terrains with ease.
In the commercial vehicle segment, the company is witnessing a shift from biased to radial tyres, and is the only player to have introduced its intelligent tyre (i-Tyre), which comes embedded with a sensor that captures the tyre temperature and pressure, and helps determine the tyre condition to aid fleet operators achieve up to 3 percent fuel-efficiency gains by taking right care of their heavy-duty vehicles' tyres.
EYEING FUTURE TRENDS, AIMING FOR SUSTAINABILITY
Continental Tires, which sees sustainability as a key trend, especially in the PCR segment, aims to achieve 60% carbon reduction by 2030, and become carbon-neutral by 2060. While it has already started recycling PET bottles to extract polyester – a key raw material for tyres – it is also investing in solar power, which is presently taking care of a third of its energy needs.
"Sustainability is the most powerful trend at the moment, and all PCR tyres that we produce in India fulfill the criteria of offering low rolling resistance, and noise, while offering high traction. Therefore, our range is suitable for EV applications as well," Gupta said.
The company says that with improving road infrastructure, and rising average vehicle speeds in India, its locally-stationed R&D team is tapping into the voice of the consumer, and collaborating with Continental's global design teams in Hannover, Shanghai, and Malaysia, to undertake new product development for the Indian market.
While tyre prices in the aftermarket had begun to stabilise over the last two quarters, Continental Tires is wary of the recent events in Israel that could again cause some disruptions. "The last 2-3 years, starting with 2020 (Covid) were full of challenges, and logistical inefficiencies leading to an increase in logistics, energy, and raw material prices. Oil prices going up again could impact the tyre industry," cautioned Gupta.
"Having said that, we are growing on a year-on-year basis and are fully committed to the Indian market. We have ambitions to become one amongst the Top 3 podium players in the Indian market," said Gupta.
RELATED ARTICLES