CNG price hiked for seventh time this year
October 5's CNG price hike to Rs 86 per kg in Mumbai is the seventh in CY2022, which has also seen two cuts. Given the global firming up of energy prices, it is likely there could be more hikes in the future.
With global prices of natural gas rising sharply and in India by 40% from October 1, a hike in the price of compressed natural gas (CNG) was only to be expected. Effective midnight of October 3, 2022, Mahanagar Gas announced a price hike of Rs 6 per kilogram in Mumbai, up 7.5%.
This takes the price of CNG to Rs 86 per kg in what is the seventh price hike in the year till date, and also returns to the same price level 46 days after CNG prices were reduced to Rs 80 on August 17. CY2022 till date has seen two CNG price reductions, the last one on August 17 – by Rs 6 per kg – and the previous one – also by Rs 6 a kg – on April 1 (see data table below).
October 5's Rs 6 hike takes CNG price to Rs 86 per kg in Mumbai and returns to the same level 46 days after CNG prices were reduced to Rs 80 on August 17.
Over a 20-month period, from February 2021 through to September 2022, CNG prices (in Mumbai) have risen by 74%: from Rs 49.40 per kg to Rs 86. Given the global firming up of energy prices, it is likely there could be further price hikes in the future too.
Why the latest price hike?
On October 1, the Oil Ministry hiked natural gas prices to US$ 8.57 per million British thermal units (per mmBtu) from the previous US$ 6.1. This makes for a substantial 40.50% increase, neccessitating the latest price hike.
In its communication dated October 4, Mahanagar Gas said: "The price of domestically produced APM gas has been revised by Petroleum Pricing & Analysis Cell (PPAC) with effect from October 1, 2022. The revised price reflects an increase of 40%. Besides, allocation of APM gas to MGL for CNG and domestic PNG segments has also been concurrently reduced by 10% due to which MGL is required to source RLNG at a substantially higher cost in order to cater to the increasing requirement of CNG and D-PNG in MGL's license areas."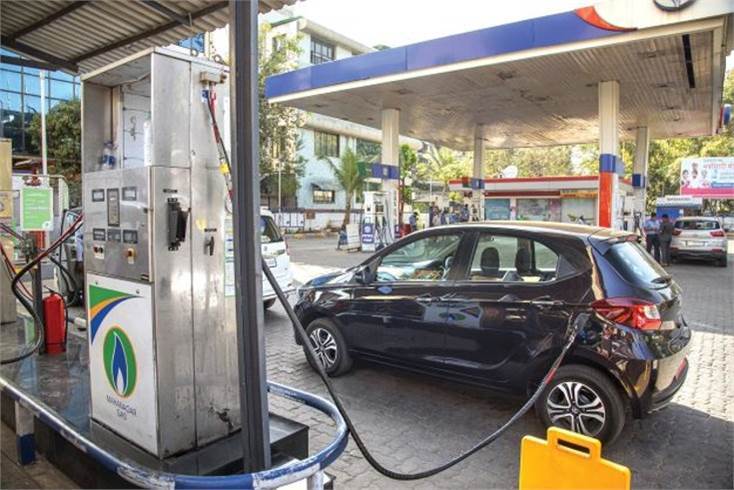 Price hikes could impact demand for CNG cars
One of the compelling reasons for personal passenger vehicle users as well as owners of CNG-powered commercial vehicles has been the substantial price differential versus petrol and diesel albeit that is now reducing. On October 4, petrol was priced at Rs 106.29 a litre and diesel was Rs 94.31 a litre. At Rs 86 per kg, the price differential versus petrol is Rs 20.29 and Rs 8.31 when compared to diesel.
Twenty months ago, on February 8, 2021, the price differential between CNG and petrol was Rs 44.09, given the prevailing CNG price of Rs 49.40 per kg and Rs 93.49 for a litre of petrol in Mumbai. That price differential has now halved.
Nonetheless, if one factors in CNG's inherently higher fuel efficiency being 1.5 times that of petrol, it still offers increased savings with CNG. In its October 4 statement, Mahanagar Gas says, "revised MRP of CNG offers attractive savings of about 45% compared to petrol at current price level in Mumbai."
Given the high prices of petrol and diesel, sales of CNG-powered cars have been growing over the past few years and major PV OEMs like Maruti Suzuki, Hyundai Motor India and Tata Motors have expanded their CNG portfolios.
In FY2022, the passenger vehicle segment saw CNG-powered sales clock near-55% YoY growth with sales of 265,383 units, accounting for 8.64% of total PV sales of 3,069,499 units compared to 6.30% CNG PV share in FY2021.
Now, with continued price hikes, demand could slow down for CNG cars. And there are also wallet-friendly reasons for motorists to shift to electric vehicles.
Will rising CNG prices drive consumers towards EVs?
While it is difficult to say whether CNG prices will keep moving upwards, given the growing demand for the fuel in India both for motoring and household usage, the fact remains that CNG vehicle running costs are significantly lower compared to petrol or diesel as a CNG vehicle inherently gives better fuel economy.
A few challenges remain though. Refuelling takes longer due to a fewer number of CNG stations and highway driving requires additional planning in terms of trying to take a route with a CNG station. At present, there are an estimated 1,332 CNG stations and plans are to substantially increase the existing parc of 4,500 CNG stations to 8,000 in the next two years. Also, servicing costs of CNG-powered cars are higher compared to petrol siblings with the CNG filter requiring scheduled replacement in factory-fitted CNG kits.
Passenger vehicle and three-wheeler buyers now have another option – electric vehicles. While the initial cost of an EV is higher than a CNG or petrol/diesel model, the much lower cost of EV ownership in the long run is very attractive. With the Central and state governments offering a host of subsidies, the fast-expanding EV charging infrastructure and also banks and financing institutions plugging into the EV growth story, it is likely the CNG sector's loss could be the EV segment's gain.
ALSO READ
India's Top 10 fuel efficient CNG cars in 2022

Delays in MoRTH guidelines for BS VI CNG kits hurting retrofit business

India Auto Inc clocks 11% retail growth, 1.46m units in festive September
RELATED ARTICLES