BYD India inks MoU with HDFC Bank for dealer inventory financing
MoU to strengthen the financing capability of the BYD dealer network for managing inventory of electric cars.
BYD India, a subsidiary of the Warren Buffett-backed EV manufacturer BYD, today signed an MoU with the country's largest private bank HDFC Bank towards stock financing solution to its all-India dealer network.
The strategic tie-up will provide BYD's dealers access to inventory finance for its electric cars. HDFC Bank's dealer finance solution provides a bouquet of customised products offering tailored solutions for electric car dealers and BYD's end customers.
In November 2021, BYD India had launched the electric MPV e6 for Rs 29 lakh. As per apex dealer body FADA, BYD India has sold a total of 153 EVs in the April-July 2022 period. The company also market pure electric buses.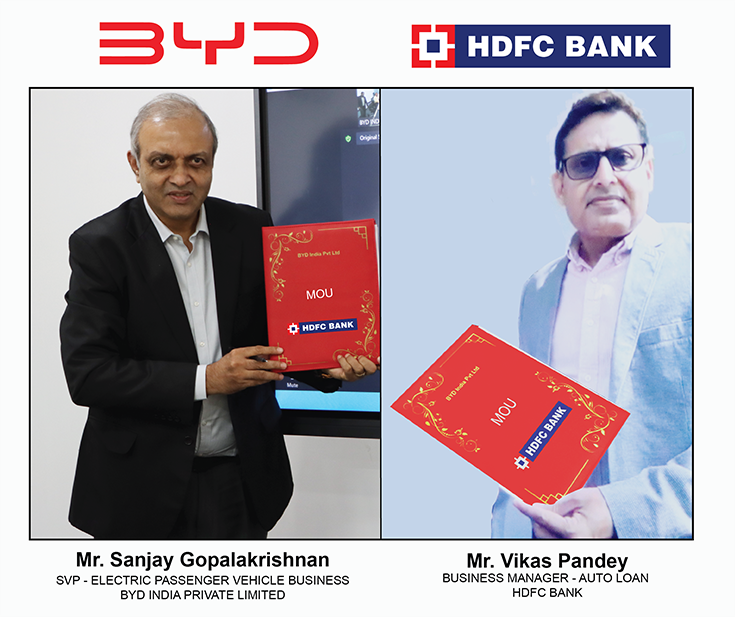 Commenting on the strategic tie-up with BYD India, Vikas Pandey, Business Manager, Auto Loan, HDFC Bank, said, "We believe in creating an eco-system that brings OEMs, dealers and financiers together thus enabling customers to purchase their electric vehicle. BYD India has been the driver in bringing advanced technology in pure EVs globally and we are delighted to partner with them to enhance sustainable travel in India."
Sanjay Gopalakrishnan, Senior Vice President - Electric Passenger Vehicle Business - BYD India, said, "The strategic tie up with India's largest private bank gives our dealers the access to inventory funding and cash credit which will also help them manage other expenses. Dealers are the frontrunners for our electric car sales and we are happy to support them through this tie-up. We are on track towards building a stronger ecosystem and facilitate EV adoption in our country."
ALSO READ
​EV sales in India cross 210,000 units in Q1, charge towards new record in FY2023
China's BYD sells 641,000 electrified vehicles in first-half 2022
BYD India was established in March 2007 in Chennai, India and had set up an office in
New Delhi. The Indian subsidiary has two factories, covering more than 140,000 sq m,
with a cumulative investment of over US$150 million. The business covers mobile
components, solar panels, battery energy storage, electric buses, electric trucks, electric
forklifts, chargers, rail transit, and more, also providing customers with product solutions
and related after-sales services.
With local partners, BYD India has successfully piloted pure e-buses in Delhi NCR, Mumbai,
Bengaluru, Hyderabad, Vijayawada, Ahmedabad, Kochi, Chennai, and other cities. At
present, BYD has a large market share of e-buses commercially operating in India. For
more information,
RELATED ARTICLES