Axalta Coatings opens state-of-the-art training centre in Manesar
Axalta Coating has opened its fourth training facility in the country to cater to the northern automotive belt.
Axalta Coatings opens state-of-the-art training centre in Manesar
Axalta Coatings opens state-of-the-art training centre in Manesar
Axalta Coatings opens state-of-the-art training centre in Manesar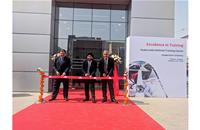 A global supplier of liquid and powder coatings, US-based Axalta Coating Systems India today opened its largest and most advanced 'Refinish Training Centre', spread over 20,000 square feet in the industrial district of Manesar, in Haryana. The state-of-the-art training facility was inaugurated by Sobers Sethi, president, Emerging Markets, Axalta. Axalta now has four dedicated training facilities in the country, including one each in Savli, Manesar, Kolkata and Bangalore.
"The opening of this new training facility today demonstrates the confidence we have in the opportunities for growth in India," said Sethi. "The coatings industry, especially waterborne coatings, in India has been growing at a rapid pace. "The aftermarket has already reached 20 percent penetration and while the OEMs are reluctant due to huge capex involved, the shift would be there over the next two- to three years," he added.
The company says that the new training facility will provide its customers (authorised OEM workshops) with the most advanced painting techniques to help them be more efficient, productive, and profitable. "We are helping our customers drive these improvements while being mindful of the environment with sustainable techniques and products. Our customers' success is our success and we are proud to be the refinish leader in India and around the world," Sethi claimed, without revealing any market share statistics with this correspondent.
The company eyes training around 1,000 technicians at the new training centre this year. Students will include technicians and workmen from authorised OEM body-shops as well as independent garage owners. Latest technologies such as virtual reality (VR), advanced digital paint mixer and spectrophotometer will be used to impart training to the students in order to achieve the best paint finishing possible on an accident repair job. The VR training, which has been developed with 'Skillveri' - a Chennai-based company supplying simulation platforms - duplicates spraying activity and experience and enables customers to gain the benefits of the training without actually using the paint material.
The training facility, which focuses on operational safety with mandatory personal protection (PP) gear to be worn at all times, also demonstrates the latest spraying application systems that use less energy and reduce waste, have fast-drying finishes, and use superior colour matching technologies. The training centre has two paint booths and two paint preparation beds in order to offer holistic skill development.
As part of its larger responsibility, Axalta India is also supporting the government's Skill India initiative and is training paint technicians towards adopting low wastage painting methodologies.
"Axalta is committed to consistently investing in enhancing our capabilities, facilities, and training to help customers grow their businesses," said Vinay Rajadhyaksha, managing director, Axalta India.
Growth and expansion plans
A part of its five-year business plan, the training centre is just one of the many initiatives the company is eyeing in the near future. "We are also open to mergers and acquisitions, and we will also look at inorganic growth to expand our business in the country," said Sethi.
In 2018, the company invested a major chunk of its planned capital into its Savli plant in Vadodara, Gujarat, in order to double its volumes and enhance its footprint in the direct OEM supply space as well. It also exports products to ASEAN markets such as the Philippines, Thailand, Vietnam, Japan and also to Australia and the Middle-East from its Gujarat plant. "Our technology and colour labs here in India cater to the aftermarket and industrial requirements. Even though these are highly capable entities, the core R&D lies in the US and we carry out more of application-based development in India and attune the products as per the needs of the local and ASEAN markets," added Sethi.
Axalta India closed FY2018 with double-digit growth and "even though it is relative to a low base, we are bullish on India and we are set to grow in double digits for the next three-five years," concluded an optimistic Sethi on the company's roadmap in the country.
RELATED ARTICLES