Autocar Professional's April 1 issue is out
Electrification and sustainability are some of the core themes in our 56-page April 1, 2022 issue.
The first issue of the new financial year has a raft of stories on key developments in the electric bus arena to updates and analysis on news developments in the previous fortnight.
EV push


PMI Electro Mobility: How a coach builder is transforming itself into a manufacturer of electric buses and from its home base in UP is keen on entering states like MP, Maharashtra and Kerala. The company is eyeing the next phase of growth with Beiqi Foton.
With Suzuki Motor Company's recent investment, Gujarat joins other states in proactively trying to woo investments in the EV eco-system. We have a detailed news analysis

Euler Motors is targeting deployment of 8,500 units of the HiLoad electric cargo three-wheeler by end of FY2023. It is also aiming to end the financial year with Rs 300 crore revenue.
Founded in 2020, the IIT-Delhi incubated startup Tadpole Projects has a three-pronged EV business approach. In addition to retrofit, it is also gearing up to launch an electric hyper sports bike and a coupe. More on that in the April 1 issue.
EV makers remain wary of battery swaps even as the Centre gives a push to battery swapping… find out why
Tata's capacity gameplan


The company is gearing up to enhance its capacity in order to sell over 500,000 units in FY2023. Its likely acquisition of Ford's Sanand plant is part of that strategy. Read our comprehensive analysis
Ford's future plans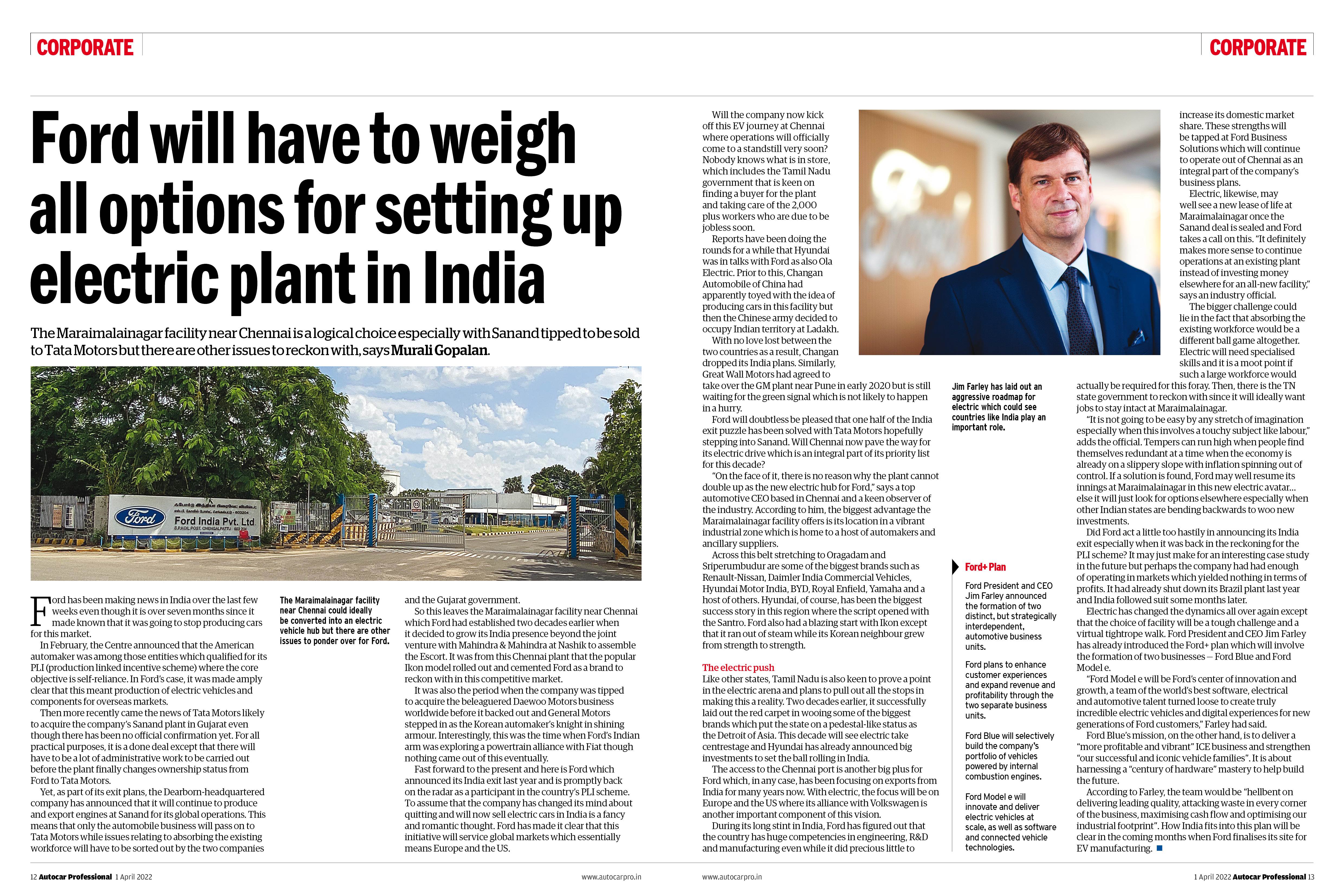 Ford is weighing the options on its roadmap for electric and this could see countries like India play a critical role. Its Maraimalainagar facility near Chennai could be the choice for an electric vehicle hub.
Daimler's future strategy
- Daimler gears up to be future-ready for trucks and buses. The manufacturer is working on a host of initiatives this decade in the mobility space to bring about the transformation
-Daimler Truck has inaugurated an innovation centre in Bengaluru that focus on software-led innovation and zero-emission projects for the company's BharatBenz and other global truck brands.
Exclusive Interview


Close on the heels of Israel-based StoreDot's strategic tie-up with Ola Electric, we get you an exclusive interview with the founder and CEO of StoreDot, Doron Myersdorf about partnering with Ola, India as manufacturing base and key learnings from global markets.
What's the buzz
But that is not all. This 56-page issue gets you all the action across the auto space in the last fortnight.
-As OEMs grapple with the chips crisis and rising crude prices, analysts lower forecasts for FY2023.
-Maruti Suzuki Toyotsu India's vehicle scrapping joint venture in Noida aims to scrap up to 24,000 vehicles.
-Responding to the IPCC 2022 report, industry experts say extra attention needs to be given to vehicle designing to cope with more extreme weather.
How you can read this issue
Autocar Professional magazine is also available through all good newsagents and for download from Magzster. You can also buy one-off copies of Autocar Professional magazine – contact Ganesh at ganesh@haymarketsac.com. Alternatively, never miss an issue – subscribe to Autocar Professional magazine today.
RELATED ARTICLES