Autocar Professional's Maharashtra Special  –  and its 350th issue – is a cracker!
India's most popular and most widely-read automotive B2B title rolls out its 350th issue.
The ICC World Cricket Championship is underway in England and most hard-hitters are doing their best to slam the ball out of the ground to give maximum mileage (runs) for their team and viewers for their money. Hitting a century has its own delight but when you crack a ton three times and more, it calls for a special celebration. That's just what Autocar Professional's fresh-out-press July 1 edition is. India's most popular automotive B2B title, a fortnightly launched on December 15, 2004, has rolled out its landmark 350th issue. 350 editions and still batting as strongly.
Incorporating a Maharashtra Special, the landmark issue gives you more editorial bang for each of its 72 pages. And to make some celebratory noise about India's automobile industry, this 350th issue comes with the 80-page 2019 Vehicle Manufacturing Capacity Guide, the ultimate ready-reckoner to over 50 OEMs in India across the two-, three-, four and more-wheeled OEMs in the country. This pocket edition is a must-have for business and planning strategy for all industry stakeholders.
Make in Maharashtra
Maharashtra, as is known, is one of India's leading automotive hubs and right from the days of the pioneering Walchand Hirachand to the dynamism of Rahul Bajaj and the tenacity of the Tata Group, it has held its own.
The State is once again in the news when on June 3, connected car technology major Harman announced a fresh Rs 350 crore investment in its Chakan facility. Utility vehicle maker Mahindra & Mahindra too is setting up a Rs 200 crore EV powertrain plant, also in Chakan. While Tata Motors recently rolled out its Intra compact truck, Bajaj Auto is getting ready to enter the electric mobility sector and become the first OEM in the world to have EVs on two, three and four wheels.
To cater to both domestic and global OEMs in the state, there is also a growing cluster of new component suppliers. The well-developed Pune-Chakan belt is now home to companies that manufacture two-wheelers, three-wheelers, passenger vehicles, commercial vehicles and components. This area, which is also known as a hub for engineering and auto education, is also the base for the Automotive Research Association of India (ARAI), which now has vehicle testing capability. Other parts of the state such as Satara, Aurangabad and Solapur have also taken steps that have created headlines.
One OEM that has been making news consistently is the 160-year-old Mumbai-based Greaves Cotton. This diesel engine manufacturer, which is a major supplier to three-wheeler OEMs, is now making a marked shift to electric mobility. Armed with its recent acquisition of the Coimbatore-based Ampere Vehicles (which has an efficient in-house EV powertrain manufacturing setup), the company is looking to be future-fit by developing affordable last-mile EVs and is also looking to set up charging infrastructure across the country. Our cover story reveals all.
Italian OEM Piaggio Vehicles too is bullish on electric mobility and the company has pumped in an additional Rs 300 crore in its three-wheeler business and network expansion to 500 dealers and 1,500 touch-points by 2022. Speaking to Autocar Professional, MD and CEO Diego Graffi reveals the company's aggressive growth plans, its plans to engage in all forms of mobility be it through CNG, fossil fuels or electric.
Global electronic major Harman is keen on making the most of its manufacturing operations in Chakan, Pune. The fact that Maharashtra chief minister Devendra Fadnavis and NITI Aayog CEO Amitabh Kant attended Harman India's inauguration of Phase 2 expansion is proof enough of the company's big-ticket plans to Make in Maharashtra and India.
American components manufacturer Nelson Global Products is also banking on Maharashtra to drive its next phase of growth. The Wisconsin-based Tier supplier recently commissioned its new Pune facility as part of its strategy to be logistically closer to its customers. We speak to company management to glean the full details of the company's growth game-plan.
FCA India, the manufacturer of Jeep vehicles in India, is riding on the brand's legacy and the latest Trailhawk is proof of that. Along with the company's growth strategy, we have the first impressions of a drive of the Trailhawk.
As the automotive industry tackles the ongoing disruptive megatrends, it needs the helping hand of software. As Dr Anup Sable, chief technology officer of the Pune-based KPIT tells us, the company can enable quick deployment of next-generation vehicles that will help mobility leapfrog towards an autonomous, clean, smart and connected future.
To function seamlessly and to ensure quality production, vehicle manufacturers and component makers need top-quality infrastructure. Do you know the Mumbai-based Shapoorji Pallonji Engineering & Construction, a pioneer in building structures, has set up 25 greenfield manufacturing plants for India Auto Inc, spread across a humungous 3,000,000 square metres of built-up area. In an exclusive interview, executive director S C Dixit tells what it takes to build state-of-the-art automobile plants.
We have two more exclusive interviews in this cracker of an issue. Priyank Bharti, joint secretary, Ministry of Road Transport & Highways (MoRTH), government of India, who was the guest of honour at Autocar Professional's BS VI Conclave in New Delhi on June 18, confirms that the much-awaited vehicle scrappage policy is close to rollout and also reveals details on the government's safety roadmap.
Rajendra Petkar, chief technology officer, Tata Motors, in a candid conversation, reveals what it took to achieve BS VI compliance, how the company, a fast mover in the passenger vehicle segment and the commercial vehicle market leader, began aggressively strategising on the emissions upgrade.
The highlights of the past fortnight were two Autocar Professional events held within 10 days of each other: the BS VI Conclave in New Delhi and the Smart Manufacturing Conclave in Chennai on June 28 (full report in the July 15 issue). The riveting BS VI Conclave saw all of 30 industry experts, technologists and industry stakeholders reveal how the challenge of BS VI was fought and surpassed in an extremely tight timeframe. Our comprehensive 11-page report has it all.
With the past fortnight being one which had a lot of new product reveals – Kia Seltos, Renault Triber, MG Hector and the Revolt RV 400 – the News section, not surprisingly, is packed with them all.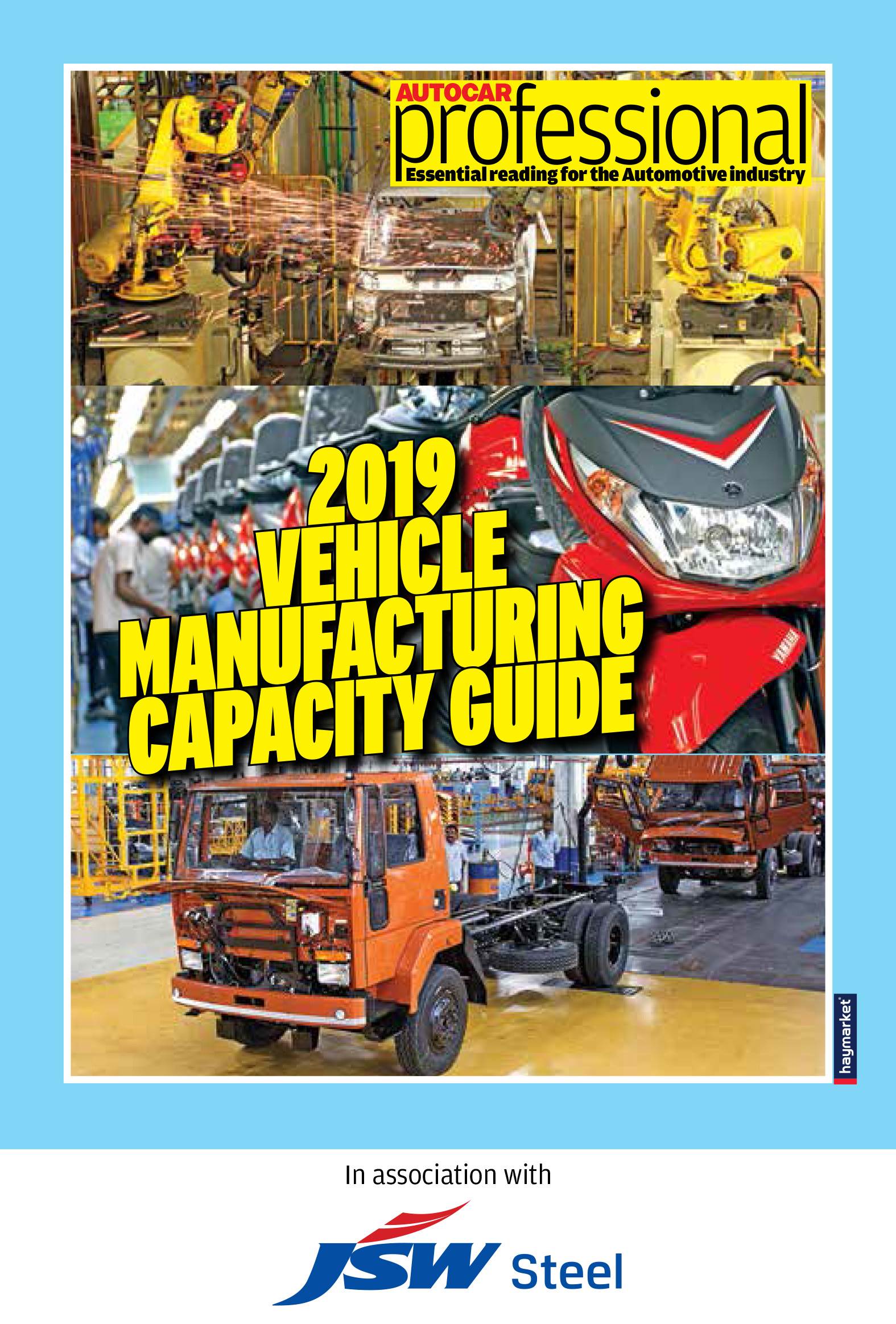 This is the definitive ready reckoner to the Indian automobile industry. Full details of every vehicle plant, the type of vehicles produced, plant locations, OEMs' contact address and contact details and current installed capacity.
Where to buy?
Autocar Professional magazine is available through select newsagents and for digital download from Magzster.

You can also buy one-off copies of Autocar Professional magazine – contact Ganesh at ganesh@haymarketsac.com
RELATED ARTICLES