BS VI: India Auto Inc makes mission possible ahead of deadline
Nearly 30 industry experts, comprising captains of industry from OEMs and suppliers, discuss and debate the challenges and opportunities of the emission upgrade at Autocar Professional's BS VI Conclave in New Delhi on June 18.
L-R: Mercedes-Benz India's Martin Schwenk; Hormazd Sorabjee; iCAT's Dinesh Tyagi; Maruti Suzuki India's Kenichi Ayukawa; Priyank Bharti, Jt Secretary, MoRTH; Henriette Faergemann, EU in India.
The day-long BS VI Conclave saw a huge turnout from the automotive industry fraternity.
Inaugural session (L-R): Priyank Bharti, Jt Secretary, MoRTH; Autocar India's Hormazd Sorabjee; Kenichi Ayukawa, MD & CEO, Maruti Suzuki India; Henriette Faergemann, First Counsellor, EU in India.
Session II was on BS VI and beyond: L-R: TVS Motor's Vinay Harne; Mercedes-Benz India's Martin Schwenk; Hormazd Sorabjee; Maruti Suzuki India's CV Raman; and Renault India's Venkatram Mamillapalle.
Session III: 'Role of the oil and lube industry in BS VI'. L-R: Dr NK Bansal, director, FIPI; Dr YP Rao, CTO, Gulf Oil International Group; and Purshottam Panda, ED (Engineering), Maruti Suzuki India.
Session IV: 'Testing & Validation'. L-R: Naresh Phansalkar, Director Technical APAC, Tenneco Automotive; Hormazd Sorabjee; Dinesh Tyagi, Director, iCAT; and Bosch India's Ashvin Thondavadi.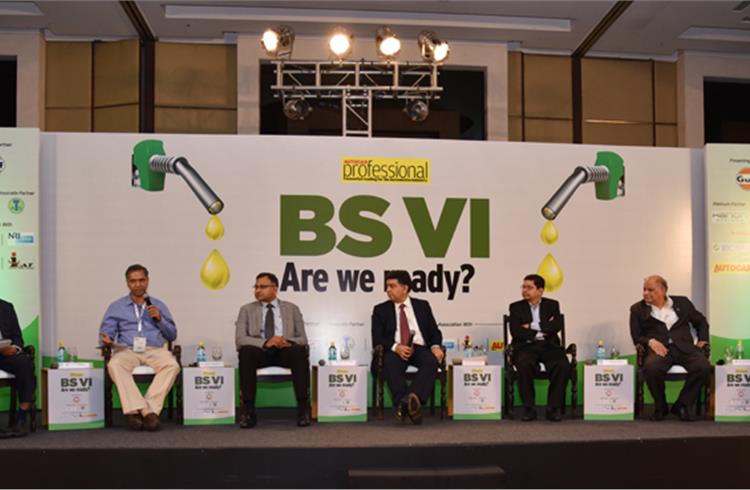 Session V: L-R: TVS' Vinay Harne; Ashok Leyland's Krishnan Sadgopan; Tata Cummins' Ashwath Ram; Hormazd Sorabjee; Tata Motors' Rajendra Petkar; KK Gandhi and Hanon Climate System India's Kunal Ahuja.
Session VI: L-R: John K Paul, past president, FADA; Sudipto Basu, ED, ECMA; Hormazd Sorabjee; Arun Malhotra; Ravi Chawla, MD, Gulf Oil India; and Rakesh Sidana, National Head (Sales), MG Motor India.
Session VII: BS VI Impact on Clean Air. L-R: Centre for Science & Environment's Anumita R Chowdhury ; Nomura Research Institute's Ashim Sharma; Jagdish Khattar and Hormazd Sorabjee.
As the monsoon gradually spreads across India, washing away the grime and dirt collected over many months, there's a new crispness in the air, the skies are blue and the plants and trees look greener too. Something similar and more is expected from Bharat Stage VI emission norms, which kick in from April 1, 2020. But after spending crores of rupees and putting its shoulder to the BS VI engineering wheel, will the Indian auto industry and the country really benefit from clear skies and improved quality air? What will it take for the motoring industry to be cleaner and greener?
To discuss and debate this critical issue and more, the who's who of India Auto Inc, industry stakeholders and government representatives met at Autocar Professional's BS VI Conclave, held at The Grand, in New Delhi, on June 18. The day-long Conclave, spread across seven incisive sessions, proved to be a humdinger of an event, with the audience all ears to what a galaxy of eminent speakers comprising captains of industry and experts had to say .
India, which is home to 14 of the world's top 20 most polluted cities that include its capital New Delhi, has been searching for solutions to improve its air quality quotient and the government viewed the automotive industry, with its tailpipe emissions, as among the prime contributors to air pollution. This even as road and construction dust continues to be the largest contributor to Particulate Matter (PM) emissions.
The missive to BS VI had come cloaked in a tweet from transport minister Nitin Gadkari on January 6, 2016 , taking India Auto Inc – vehicle manufacturers, component suppliers and the entire supply chain – by huge surprise because it meant leapfrogging BS V and that too in a scant three-and-a-half years, something even advanced auto markets with Euro 6 had never attempted. Since then, BS VI has been the buzz word in the industry, inside boardrooms and on the shopfloor, with engineers and technocrats and politicians too.
Sumantra B Barooah, executive editor, Autocar Professional, opened the day's proceedings by lauding the Indian automotive industry for taking up the BS VI challenge in its entirety, what with both vehicle manufacturers and the component industry refusing to buckle down to the enormity of the task at hand and instead carving a new benchmark.
Hormazd Sorabjee, editor, Autocar India, in his welcome address, said: "BS VI is easily the biggest technological leap India has taken. This is clearly a very disruptive time for the Indian automotive industry but the innate sense of frugality has come to the fore." Pointing out that electric mobility in India still has its challenges, particularly on the battery front, he said it's still early days for EVs and "the IC engine still has legs."
Maruti Suzuki CEO calls for fast-tracking scrappage policy
Delivering the keynote address, Kenichi Ayukawa, MD and CEO, Maruti Suzuki India confirmed that all Maruti Suzuki models will be BS VI-compliant ahead of the April 2020 deadline. He, however, urged the government to fast-track a scrappage policy because BS VI-driven clean air gains will be offset by the large number of unfit, unsafe vehicles that continue to ply on Indian roads.
Ayukawa said: "We are witnessing one of the biggest technological disruptions of the decade for the automobile industry – the transition from BS IV to BS VI. This leapfrogging from BS IV to BS VI is also one of the biggest, boldest and fastest moves for any nation. Worldwide, the transition has been in phases first from Euro 4 to Euro 5, and subsequently to Euro 6. In Japan too, we followed a step-by-step approach for such technology changes."
"We are on schedule to meet the tight timeline. We have augmented our capacities and trained our people to meet this tight timeline. I would like to thank all stakeholders like the government and our suppliers who made it possible for us to meet the timelines."
He called for speedy availability of BS VI fuel, saying "The real impact of BS VI, will come only if BS VI fuel is available across India."
Importantly, he urged the fast-tracking of a vehicle scrappage policy, which can get vehicles which do not comply with current emission and safety standards, off the roads. "Sadly, we offset all that we gain with BS VI with older vehicles plying on the roads. Old vehicles including buses, trucks, cars, two wheelers and three-wheelers need to be systematically taken off the road. A proper time-bound scrappage policy is long due from the government. We request fast tracking of a scrappage policy to achieve full benefits of BS VI adoption."
The Maruti Suzuki boss also advocated a reduction in GST (at present 28%) to help bring buyers back into showrooms and give a fillip to sales.
That point was highlighted by the next speaker – Henriette Faegermann, First Counseller & Head of Section, Delegation of the EU in India. She said between the year 2000 and 2016, emissions of NH3 decreased by 9 percent and SO2 by 76 percent. "Europe has been working on emission legislation since 1970. Dieselgate forced us to look at the situation again. Ever since, there has been progress from Euro 1 to Euro 6 for light duty vehicles and Euro 1 to Euro 4 for heavy duty vehicles. We have done a lot but there's more to be done."
The EU kicked off RDE in 2011 and the first on-road test procedures under RDE 1 and 2 were developed in 2016 for light vehicles. 2018 saw progression to stricter RDE 4 and very soon all types of vehicles will need to undergo the RDE test.
Among the measures taken by the EU to reduce pollution include promoting the use of renewable energy, reducing use of coal, fostering low emission mobility, promoting best available technologies, setting standards to improve fuel quality and encouraging sustainable mobility options. On the fiscal front, it means taxing air pollution and aligning fuel taxation while urban solutions include investing in cleaner mobility and public transport. She cited the example of UVAR or Urban Vehicle Access Restrictions. The EU's measure of low emission zones or other types of UVARs limit access for polluting cars. Thus far focussed on PM10 emission, they have been successful.
Faegermann also said that several cities in the EU have achieved NOx emission reductions with new electric buses or retrofitted buses. By adding special filters, there are simple, cost-effective solutions that can be replicated globally.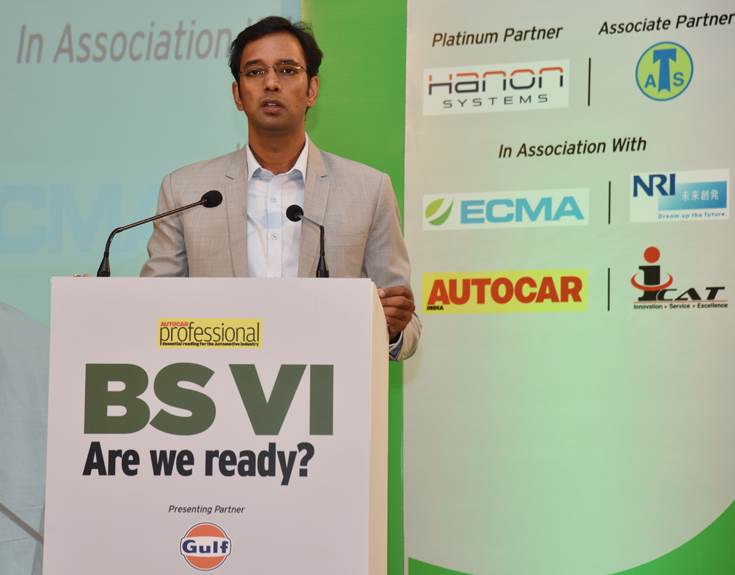 The BS VI Conclave saw strong governmental representation in the form of Priyank Bharti, Joint Secretary, Ministry of Road Transport & Highways (MoRTH), who was the guest of honour. Lauding the domestic auto industry for its progress on the BS VI front, he said: "We are catching up with the developed countries on the emission front and we appreciate the effort of India Auto Inc. The government is keen to help industry. BS VI has a definitive timeframe and will go down as one of the big achievements of the Indian auto industry.
Interestingly, Bharti revealed that the vehicle scrappage policy is in its final stages, news which should gladden OEMs and environmentalists alike as it will accelerate demand and also reduce polluting emissions from unfit vehicles.
Converting a challenge into an opportunity
Dr Pawan Goenka, managing director of Mahindra & Mahindra, who has been spearheading the BS VI compliance programme at the UV maker, joined the Conclave via video conferencing from MRV, Chennai. The BS VI challenge has turned into an opportunity, he pointed out.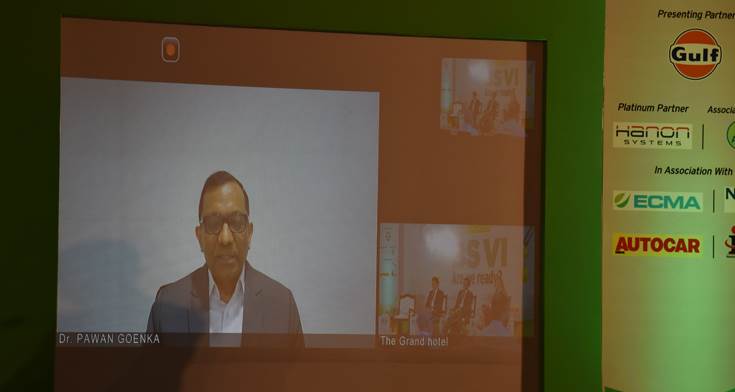 The achievement is also a reflection of Indian ingenuity. M&M says 95 percent of the BS VI development work has been done in-house. Localisation level is as high as 99 percent. The figure stands at 80 percent if the sourcing by M&M's component vendors is also included. A total of 125 vendors and 32 technology providers are part of the BS VI programme. MRV, Mahindra's R&D hub in Chennai, has filed 30 patents in the quest for BS VI-ready engines.
Dr Goenka said, "The past three-and-a-half years have been the most challenging for the auto industry to meet BS VI norms. The Narendra Modi government, in its first four years, took many important decisions and BS VI is among them. Though the industry was up in arms against the decision, transport minister Nitin Gadkari stuck to his guns. In fact, he had more confidence in the Indian auto industry than the industry itself! Mahindra & Mahindra is BS VI-ready. We had to work on 16 engines and 21 vehicles across segments (private and commercial) and we will launch our BS VI-compliant petrol engine before the end of Q2 FY2020.All technological challenges have been negated and we not compromised on NVH, fuel efficiency or performance."
He added, "The local content in our BS VI engines is 95 percent and 2,000 of the 2025 BS VI-relevant components have been developed in-house. We have invested more than Rs 130 crore in our facilities and have managed to achieve BS VI upgradation in just 50 percent of the costs that we had estimated would be incurred in 2016."
In the run-up to the implementation of BS VI from April 2020, Dr Goenka said he foresees four challenges:
- Availability of BS VI fuel. Although the government has confirmed the same by April 2020, OEMs will need it by January 2020 because they need to start selling BS VI vehicles.
- Supply of BS VI components will be a challenge for component makers because they will have to stop making BS IV parts and develop new production lines.
- Inventory levels will also be an issue because OEMs cannot afford to have any BS IV vehicles unsold.
- The unavoidable cost increase in petrol and diesel engines, some of which will have to be passed on to the consumer.
Thanking the domestic component supplier industry, he said the industry's never-say-die approach and frugal approach has helped achieve the BS VI target. He also lauded the government of India, saying: "I thank the government for pushing the industry to achieve the impossible – but don't make it a habit!"
L-R: Vinay Harne, president, NPD, TVS Motor Co; Martin Schwenk, MD & CEO, Mercedes-Benz India; Hormazd Sorabjee (who moderated the session); CV Raman, senior executive director (Engineering), Maruti Suzuki India; and Venkatram Mamillapalle, MD, Renault India.
SESSION 2: BS VI & BEYOND
With the stage set for a day full of incisive debate on the all-encompassing subject of BS VI, who better than Martin Schwenk, MD and CEO of Mercedes-Benz India, to open the second session? As is known, the German carmaker introduced the S350 D as India's first BS VI-certified vehicle in January 2018, a good two years ahead of the government's deadline. Not only was this sedan India's first 'Made-in-India, for-India' BS VI car, but it was also the first BS VI car to run on BS IV fuel.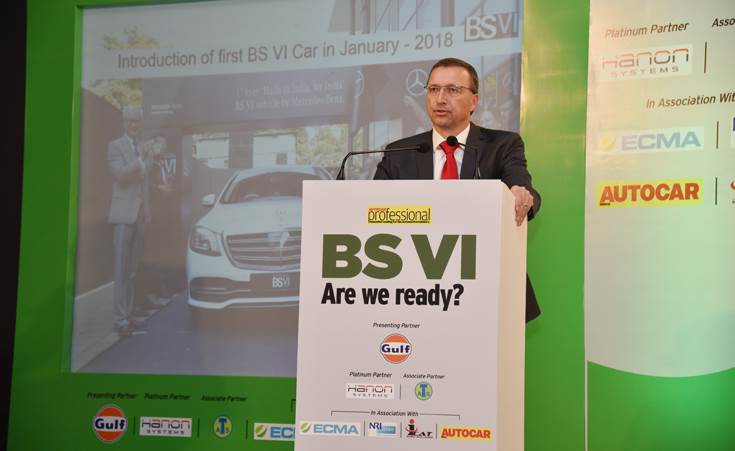 Elaborating on how diesel-engined vehicles turn cleaner under BS VI, Schwenk said: "The regulatory threshold for Particulate Matter in BS VI diesel vehicles is 82 percent lower than that of BS IV diesel vehicles. There is also a drastic 68 percent reduction in the NOx emissions level with the introduction of BS VI diesel vehicles. I can clearly say that we welcome and support the government's commitment to clean air.
Offering an insight into how the luxury carmaker reduced NOx and PM in its cars, he compared the BS IV model against the BS VI E-Class 220 diesel (launched in May 2019). Test results reveal that the new E-Class has achieved a drastic reduction in NOx level, by 81 percent! What's more, the PM level could even be reduced to zero compared to the outgoing BS IV car, pointed out Schwenk.
In his detailed graphical presentation, the Mercedes-Benz India boss elaborated that the company's BS VI diesel variants have lower CO2 value than petrol. On the other hand, PM emission levels for both petrol and diesel are equal at zero. "In India, we face the biggest pollution challenge because of high particulate matter or PM. Whilst BS VI will bring a substantial improvement on PM and NOx, we at Mercedes-Benz believe that the diesel engine has a significant additional advantage: it offers reduced CO2 emissions and hence a superior fuel efficiency."
The company, which has already launched the made-in-India C-, E, S- and V-class, the Mercedes Maybach S650, new AMG G63 and new AMG C43 coupe in BS VI diesel and petrol variants, will power its entire fleet with BS VI-compliant engines before April, 2020.
Schwenk revealed how Mercedes-Benz managed the breakthrough innovation of running a BS VI vehicle on BS IV fuel. "There are two key pillars to the success, namely, an improved engine combustion process and a modern exhaust treatment system. The engine combustion process introduces a new stepped-bowl piston design, two-stage turbocharging and the use of a dynamic multi-way exhaust-gas recirculation (EGR). But the most important pillar is the modern exhaust treatment system, which is designed so robustly that it can run on BS IV fuel (upto 50 ppm sulphur). The excess sulphur in BS IV fuel can harm low tech exhaust treatment systems, and cause so called sulphur poisoning. Use of superior quality material such as copper zeolite or palladium coating in the catalyst helps in overcoming this problem. The exhaust treatment system in our vehicles not only uses this technology, it also contains a new generation DPF, SCR and an AdBlue dosing unit. For the first time in India, we have been using SCR technology, where AdBlue, a water-based urea solution, is injected into the exhaust flow. This releases ammonia, and converts nitrogen oxides into harmless nitrogen and water. These technical measures lead to reduction of the emissions significantly so we can meet the BS VI regulations comfortably.
He added, "According to Mercedes-Benz India, there should be a co-existence of all the technologies for future mobility. The Internal Combustion Engine, Plug-In Hybrid and Electric Vehicles should all exist together. We suggest a staggered approach – further improving internal combustion engines and in parallel, step by step, introduce PHEVs and EVs. We believe that the introduction and harmonization of innovative technologies from around the world will benefit India in order to look beyond BS6. This can be done by collaborating on technical standards, and with the help of a suitable trade policy. Harmonization and standardisation will help in achieving economies of scale, attain highest level of efficiency and customer centric pricing. Additionally, this will also be opening up export opportunities for Indian players like us."
Schwenk closed his presentation with three key pointers. He suggest the cleaner BS VI vehicles be identified separately with the use of different colored stickers. Today, all diesel vehicles are identified with an orange sticker and petrol vehicles by a light blue sticker. BS VI vehicle could have a separate color coded sticker. He also mooted introducing emission-related checks over the lifecycle of vehicles. And lastly, creation of a strategic corridor for emission targets from mid to long term, independent of technologies. Achievers within these targets could be incentivised based on their emission levels.
The two-wheeler industry, which sold all of 21 million units in FY2019, will likely be the most impacted by BS VI given that vehicle prices will rise on every product. Vinay Harne, president, New Product Development, TVS Motor Co, said pricing of BS VI vehicles will be the biggest challenge for two-wheeler OEMs. Given that all products, right from the high-selling 100cc commuters to 125cc and 150cc motorcycles and scooters, will have to shift to fuel injection technology, there will be a hike in the final sticker tag. "A lot of work is underway to reduce costs at the source but we will have to pass on some cost to the consumer. The industry has faced significant cost increases after the CBS/ABS mandate. As customers are not likely to pay significantly higher amounts only because of the tech upgrade to BS VI, we will have to ensure the BS VI vehicles deliver higher fuel efficiency with the same performance, if not better, than before."
Harne also pointed out that in the run up to BS VI implementation, inventory management will be a critical issue both for OEMs and dealers. Also, there will be a need for dissemination of BS VI-specific information and education. "Many two-wheeler garages across the country will not have the capability to handle the complex electronics of a fuel-injected engine." And he signed off with a cautionary advice for industry: "Work on meeting upcoming CAFÉ norms (which kick in from 2023) will have to start now."
Customer education was a theme that Venkatram Mamillapalle, MD, Renault India, also advocates. "After OEMs are ready with BS VI technology, customer education is going to be the most crucial aspect, particularly in rural India," he said, revealing that the Renault Duster SUV is a strong seller in town and country. What would come as good news for Renault vehicle buyers, he added: "We have no intent of passing on the entire cost (of the BS VI upgrade) to the customer. Even though it will have a serious impact on us, we are taking measures to cut costs internally."
What has helped Renault India is the technological connect with its parent company. "Engineering costs, compared to other OEMs, are lesser for us," said Mamillapalle.
The audience was also eager to what C V Raman, senior executive director (Engineering), Maruti Suzuki India, had to say. "BS VI will continue to be a challenge until we are through with all our products. The challenge for Maruti Suzuki involves moving 16 brands and 51 applications to BS VI. We have been working extensively on safety and emission-related issues since the past two years. We had to introduce new platforms, new engine and also rationalise manpower. We have conducted extensive vehicle testing and we are also working to ensure our dealers are not saddled with BS IV stock. Automakers are always running on the technology treadmill – if it is BS VI in 2020, then there's CAFÉ and RDE coming up in the future."
SESSION III: ROLE OF THE OIL & LUBE INDUSTRY IN THE BS VI ERA
Oils and lubricants are the smooth operators in a vehicle and their role in enabling OEM compliance to BS VI norms cannot be understated. Delving deep into the subject, Purshottam Panda, executive director (Engineering), Maruti Suzuki India, spoke about both the opportunities and challenges arising out of BS VI.
He cited an IIT Kanpur study of air pollution in New Delhi, where vehicle emissions account for an average of 20 percent of the PM 2.5 comprising trucks (9.2%), two-wheelers (6.6%), four-wheelers (2%), buses (1%), LCVs (0.8%) and three-wheelers (0.4%). He said BS VI is more than just reduction in Nitrous Oxides (NOx) and Particulate Matter (PM) because it calls for emission system durability (80,000km to 160,000km); more stringent OBD requirement, and RDE monitoring.
Detailing the major changes for meeting BS VI, Panda said the effort calls for making the combustion process more efficient, neutralizing the pollutants generated, and software calibration.
The leapfrogging of technology to BS VI required restrategising and essentially made up for five challenges:
- Availability of BS VI fuel
- Short timeframe to develop BS VI
- Complex development process
- Resource-intensive and high cost
- Simultaneous development for more challenging CAFÉ-II and RDE
He said better fuel management can make BS VI implementation more efficient. However, he said BS VI ideally requires RON 95 grade fuel whereas India gets RON 91, which translates into a 3 percent impact on fuel efficiency. Maruti Suzuki's BS VI drive involved 16 models, over 50 applications, 250-plus homologation test and nearly 60 lakh kilometres of fleet validation.
Dr Y P Rao, Chief Technology Officer, Gulf Oil International Group (pictured above), made a presentation on the theme of 'Is the lubricant industry ready for BS VI?' covering challenges in migration from BS IV to BS VI, impact of new regulations on lubricants, effect of operating conditions on lubricants and the opportunity to move to higher value lubricants.
According to Dr Rao, the Indian operating cycles in CVs puts more strain on the lubricant. Engine oil is subjected to more stress in Indian trucks and hence validation in local operating conditions extremely important. OEMs are keen to extend oil drain-intervals. The on-ground report is that engine oil drain interval has seen a substantial jump in the past: a 5-time jump in the past 15 years and 10 times in the past 30 years. Little wonder fleet operators want a reduction in TCO and OEMs are keen to move to longer drain intervals.
He said there is a mix of truck types and engine platforms – Indian, European and North American – being used in India. Given the severe duty cycles and operating conditions in India, none of the normal SAPS engine oils used in BS IV CVs are suitable for BS VI CVs. Dr Rao said that BS VI CVs need controlled SAPS engine oils but need to be optimised for local geographical and operating conditions.EWhat proved helpful was Gulf Oil's European experience with Euro 6 engine oils. BS VI PVs and two- and three-wheelers require SAPS-optimised engine oils.
How can BS VI challenges provide opportunities to enhance value of a lubricant? Dr Rao said Gulf Oil, which has been the trendsetter in India since 2006 in developing and marketing long-drain lubricants for CVs and motorcycles, is a strong position to design bespoke engine oils for BS VI vehicles. What is fuelling this confidence is the company's extensive field validation database in India with various global and local OEMs, as well as the benefit of European experience on engine oils for Euro 6 vehicles.
Gulf Oil is ready with customised lubricant and fluid solutions for all aggregates of BS VI vehicles in various SAE grades (including FE grades). The company has established the backward compatibility of BS VI engine oils in BS IV CVs and says there is potential for extension of current drain intervals. It has also upgraded PV and two-wheeler engine oils with optimised SAPS that meet latest OEM needs.
Dr Navin Kumar Bansal, director, Federation of Indian Petroleum Industry, said India's primary energy demand outlook will see a shift to renewable resources. While coal will come down from 58 percent today to 48 percent in 2040, renewables including bio-fuels will grow from 3 percent to 16 percent.
The oil industry has spent Rs 90,000 crore to improve the quality of fuel and oil. Waste biomass is going to be the source for bio-fuels such as bio-methane and bio-CNG. On the other hand, production of bio-diesel is not picking up pace of production in the country, which could be used for blending purposes to curtail emissions.
The oil industry is also ready to supply BS VI fuel in batches for R&D and testing purposes and is ready to discuss the logistical challenges. Indian refineries are spending Rs 32,000 crore on various operations to develop BS VI quality fuel. He confirmed that on April 1, 2020, the nozzle tip fuel quality at fuel pumps across the country will be BS VI.
SESSION IV: TESTING & VALIDATION

Session IV: 'Testing & Validation'. L-R: Naresh Phansalkar, Director Technical APAC, Tenneco Automotive; Hormazd Sorabjee; Dinesh Tyagi, Director, iCAT; and Ashvin Thondavadi, Engineering Head, EGT, Sensors & Starting Devices, Bosch India.
If Indian OEMs have to successfully meet BS VI norms, testing and validation is of the utmost importance. Speaking at the Conclave, Dinesh Tyagi, director of iCAT (International Centre for Automotive Technology (iCAT), Manesar, said that iCAT has invested close to Rs 200 crore in its facilities to help industry achieve BS VI compliance. The Manesar facility houses 19 engine test beds including eddy current labs. have increased the number of portable emission measuring systems from two to four, in order to test for RDE regulations.
Tyagi said, "Anticipating demand for our services, in early 2016 itself, we upgraded our equipoment and services to meet OEM BS VI needs. We have nearly doubled our manpower in engine and vehicle test beds and have acquired two additional PEMS (Portable Emission Measurement Systems) to make a total of four units."
He added that with RDE coming into force from 2023, the next big job for the RDE committee is to establish the emission level. Tyagi had a cautionary note on the staffing front: "Getting the requisite trained manpower is a big challenge right now. In fact, industry is poaching our testing and calibration engineers."
iCAT is also ready for EV testing, said Tyagi. "Electrification is on the anvil and we are investing close to Rs 45 crore to increase our EV testing infrastructure. This upgradation will be completed by October this year."
According to Ashvin Thondavadi, engineering head, EGT, Sensors and Starting Devices, Bosch India, the regenerative efficiency of DPF would have been less than 60 percent with existing technology abroad as India has low average speeds which don't ignite the particulate trapped, thus clogging the filter frequently. After the 2016 BS VI announcement, Bosch decided to adapt DPF to the Indian Driving Cycle.
"We are logging a tremendous amount of data from each test vehicle in the range of 10-13TB. This will help in doing final optimisation or calibrations before the actual homologation."
Having a glocal approach will help in the Indian marketplace, said Naresh Phansalkar, director technical – APAC, Tenneco Automotive. "We realised it is not useful to get imported solutions. We will use our European solutions and tweak them."
Phansalkar revealed that the company has leveraged its learnings from the China market due to a lot of commonalities between the two countries. "Urea has high content of calcium and chlorine and this was never captured in European applications and thus, we had to take care of such parameters in design of the exhaust can system. High ambient temperature was another area which was specific to the Indian environment."
SESSION V: TRANSITION FROM BS IV TO BS VI
This session was all about powertrains and the upgrade to BS VI, an exchange of views between true-blue engineers, who have put their shoulder to the wheel of innovation to come up with solutions for cleaner and greener motoring.
Session V: Transition from BS IV to BS VI. L-R: TVS Motor's Vinay Harne; Ashok Leyland's Krishnan Sadgopan; Tata Cummins' Ashwath Ram; Hormazd Sorabjee; Tata Motors' Rajendra Petkar; KK Gandhi and Hanon Climate System India's Kunal Ahuja.
Tata Motors, the CV market leader and driving a growth path in PVs, has been a forerunner in the BS VI programme in India. Rajendra Petkar, chief technology officer, Tata Motors, said: "We don't question the wisdom of the government. We took the (BS VI) bull by the horns in 2016 itself. Small CVs are unique to India and there is no global solution to rely on or to adopt. Hence, companies had to look at new technologies and tailor-make solutions to meet BS VI norms. From BS IV to BS VI, on an average, there is three times more effort involved at the developmental level, including that at the testbed validation stage.
He said that with Tata Motors having a multi-fuel vehicle portfolio – diesel, petrol and CNG – the company had to take decisive action to make the entire fleet switch to BS VI in the stipulated time. "We had to take a lot of hard calls in order to rationalise the portfolio and strike a balance between diesel and gasoline in lieu of cost increment. Tata Motors held over 100 workshops with consultants and suppliers in 2016 to arrive at a BS VI roadmap."
There were a number of challenges to overcome. For instance, preparing the service network to handle new technology or improvement in prototype building capability – "We have built thousands of prototypes and planned our capacities well in advance. Now the development and certification activity is currently in progress."
He had some cautionary advice too: "The job is not done and we will need to worry about a few things including urea infrastructure as there is going to be a three- to five-fold increase in urea consumption. BS VI fuel availability will also be crucial thing to streamline BS VI introduction in the market. This is something we are strictly monitoring and we need to flush out BS IV fuel completely out of the system for BS VI vehicles to roll out smoothly. We cannot be sitting on huge inventory – BS IV or BS VI. It's a dynamic situation that we are grappling with."
Like Tata Motors, Chennai-based CV manufacturer Ashok Leyland has also made gains in BS VI. Speaking on behalf of the company, Krishnan Sadgopan, senior vice-president, Ashok Leyland, said: "We saw BS VI as a big opportunity. Our group companies like Albonair Engineering and Gulf Oil helped us in this drive, with the focus on aftertreatment. In fact, we want to start a separate BS VI assembly line for a minimum quantity right now."
While complimenting the Tier 1 suppliers in the country, he called upon the industry to transfer skills to Tier 2 and 3 players. He said Ashok Leyland is doing its bit to educate people about BS VI. "We have 120,000 workshops in our 'Service Mandi' and we are digitally educating them."
Aswath Ram, MD, Tata Cummins and vice-president of the Engine Business , Cummins India, said the company is a forerunner in the field. "Cummins launched the Euro 6 equivalent engines as early as 2007. Innovation lies in adapting technology for different markets. We have over 450,000 SCR tech BS IV engine running in India. And, for the BS VI programme, we have clocked 58 million kilometres with 200 SCR-equipped vehicles."
Ram highlighted that BS VI gives India a global opportunity – it can export its vehicles to all developed markets. "With BS IV products, we could not cater to key markets. Now with BS VI, India is no longer a laggard but a leader."
TVS Motor Co's Vinay Harne said in a bid to make the service personnel future-ready, the two-wheeler manufacturer has undertaken training activities at over 2,000 garages / workshops and that too in multiple languages. While certification and calibration is being done with BS VI fuel, endurance testing is being conducted with BS IV fuel.
KK Gandhi, convener, Centre for Auto Policy & Resarch; and executive advisor to TVS Motor Co, said: "Technology has never been a challenge for the industry. However, looking at the overall market situation, the CV sector will have a big challenge on its hands as it will have to phase out models. The auto industry has been submitting vehicle scrappage proposals since a very long time essentially to limit the age of commercial vehicles but in vain."
Kunal Ahuja, deputy MD, Hanon Climate Systems India, said: "It's not going to be a financial return straightaway but BS VI transition is a gift from the industry to the society which will start seeing immediate benefits. How we can retrofit or re-use the older vehicles to run efficient systems needs more research and development in the present day. We need to think from both the supplier and consumer point of view."
We had to take a lot of hard calls in order to rationalise the portfolio and so as to take a right call between diesel and gasoline in lieu of cost increment. Tata Motors held over 100 workshops with consultants and suppliers in 2016 to arrive at a BS VI roadmap.
SESSION VI: ASSESSING THE COST & MARKET IMPACT
Along with the technological demands of BS VI, what's keeping OEMs worried is the increased cost per vehicle and whether the typically price-sensitive consumer in India is going to accept it. Like all the sessions at the BS VI Conclave, the panelists for this session were a good fit. Sudipto Basu, executive director of the Emissions Control Manufacturers Association (ECMA); Ravi Chawla, managing director of Gulf Oil India; John Paul, immediate past president, FADA, and Rakesh Sidana, national head - Sales, MG Motor India.
L-R: John Paul, immediate past president, FADA; Sudipto Basu, executive director, ECMA; Hormazd Sorabjee, editor, Autocar India; Arun Malhotra (who moderated the panel discussion); Ravi Chawla, MD, Gulf Oil India, and Rakesh Sidana, national head - Sales, MG Motor India.
The panel discussion was moderated by Arun Malhotra, former MD of Nissan India. Known for his fondness for cricket and with the ICC World Cricket Championship underway, Malhotra in his inimitable style opened the debate with, "India had to leapfrog from BS IV to BS VI. Chauke ke baad, chakka hee ata hai! (after a four, there can only be a sixer)."
Automobile dealers are the eyes and ears of OEMs and John Paul, immediate past president, FADA and the hugely successful proprietor of Popular Automobiles, which is one of India's largest dealerships, opened up the debate with a call for reducing GST to revive sales. As is known, auto sales across segments have hit new lows in the past couple of months and it looks to be a long haul before double-digit growth can be seen to be sustainable. Paul cited high insurance premiums and flagging consumer sentiment as reasons for the slowdown but ironically he said purchase enquiries continue to be high. Paul said even three straight months of a sales decline can impact dealers adversely, which is why FADA is telling OEMs to cut inventory levels as much as possible.
Sudipto Basu, executive director of ECMA, said that with the imperative shift to fuel injection, two-wheelers are set to become dearer by Rs 7,000 to Rs 17,000, which could have an impact on the commuter segment. He emphasised the need to handhold Tier 2 and 3 suppliers because at present their preparedness for BS VI is very weak. "While the Tier 1 suppliers are offering full support to OEMs, I do not see the involvement of small players in the BS VI upgrade," he said.
SESSION VII: BS VI IMPACT ON CLEAN AIR
The final panel discussion, moderated by Hormazd Sorabjee, had Anumita Roychowdhury, executive director - Research & Advisory, Centre for Science and Environment; Ashim Sharma, partner and Group Head, Business Performance Improvement (Auto, Engineering & Logistics), Nomura Research Institute; and Jagdish Khattar, the former MD of Maruti Suzuki India as panellists.
Anumita Roychowdhury, who is known for her strident views on vehicular pollution, seemed to be pleased with the country's fix on BS VI. "These are very exciting times because the leapfrogging of emission norms means all new BS VI vehicles will be cleaner. We are happy because there will be a narrowing of petrol and diesel emissions, the focus will then shift to RDE and, importantly, the two-wheeler segment, which constitutes the largest vehicle parc, will benefit from technological advances," she said.
She added that understanding the government's post-2020 agenda is vital. Dieselgate has showed that Euro 6 is not enough and now Europe has further tightened emission standards. She had a pertinent query too: "How are we going to prevent cheating in terms of devices?"
Nomura Research Institute's Ashim Sharma made an expansive presentation on how industry can tap the opportunities arising from BS VI and also overcome challenges. With BS VI, he said the Indian auto industry and its regulatory framework is coming at par with global standards. Detailing the industry's technology readiness, he said India Auto Inc will incur Rs 100,000 crore in investments to implement a set of measures to meet BS VI norms.
Putting a finger on the increased costs of BS VI vehicles, he remarked that changes in exhaust aftertreatment systems are likely to increase prices of petrol cars by Rs 10,000 to Rs 20,000 while diesel cars will become dearer by Rs 65,000 to Rs 90,000. The biggest increase though will be in commercial vehicles which will see a hike between Rs 175,000 to Rs 225,000. And, two-wheelers, the most affordable form of motorised mobility, will see their sticker price increase by Rs 3,500 to Rs 6,000.
Sharma made a very pertinent point that BS VI will only serve to reduce the contribution of transport to the overall pollution levels. Road and construction dust is the largest contributor to PM emissions and unless these issues are addressed, an increase in their volume of pollution will only serve to negate the advances made by BS VI. In an effort to accelerate emission reduction, he called for introduction of the much-awaited vehicle scrappage policy and stringent implementation of pollution checks.
BS VI can also bring in the bucks for OEMs because with standards getting harmonised and maturing technology, automakers and suppliers have the opportunity to increase their export business substantially in a level-playing field.
Concurrently with BS VI, to meet the newly introduced CAFE targets, OEMs will need to find efficient and clean powertrain options. In Phase 1 (2017-2022), CAFE norms require average corporate CO2 emissions to be less than 130 gm/km by 2022. In Phase II (2022 onwards), this stands reduced to less than 113 gm/km and could be further tightened to 108 or 104 gm/km.
According to Sharma, if OEMs are to achieve a smooth transition to new emission and safety standards, they will need to necessarily adopt cost management strategies.
Jagdish Khattar, who is renowned for his energised stint at the helm of affairs at Maruti Suzuki India not very long ago, said that a vehicle scrappage policy is the immediate priority because there are far too many unfit and polluting vehicles still on Indian roads.
All in all, the day-long BS VI Conclave proved to be a truly engaging event, a top-notch quality dialogue between nearly 30 industry experts on a varied range of topics designed to make motoring greener and cleaner.
Autocar Professional thanks all the panellists, presenting partner Gulf Oil, platinum partner Hanon Systems, associate partner Automotive Test Systems, and partners ECMA, Nomura Research Institute, iCAT and Autocar India for making the BS VI Conclave a very successful event.
Interview: Tata Motors' Rajendra Petkar | "We took the BS VI bull by the horns in 2016 itself."
RELATED ARTICLES