Autocar Professional's South India Special – a microcosm of India Auto Inc
The South India Special is simply unputdownable with its riveting mix of inside stories, exclusive interviews and some snappy features. A must-read even if you are busy.
Of all of India's automotive hubs, South India, particularly Tamil Nadu, remains a standout region. A stronghold of component and commercial vehicle manufacturing, it has etched its name in the evolution story of India Auto Inc. Once the country saw economic liberalisation in the early 1990s, a number of global industry players – vehicle OEMs and suppliers – entered India in droves, many preferring to set up shop in South India.
The region, which encompasses Tamil Nadu, Karnataka, Kerala, Andhra Pradesh and now Telangana, is a thriving hub of vehicle and component manufacturing. Be it cars, two-wheelers, commercial vehicles or the automotive component supply chain that caters to their manufacturers, South India has it all – Autocar Professional's August 1 issue is a microcosm of the region which is now seen making a shift to the needs of new-age mobility, vital if industry is to stay relevant in an era of disruption.
Proof of that change is revealed in an exclusive interview with industry veteran N Venkataramani, Director of the Amalgamations Group and also Chairman and Managing Director of India Pistons. The 52-company Group, which essentially manufactures an expansive range of products for internal combustion engines, is now readying for the industry shift to electric mobility even as it collaborates with OEMs to produce BS VI components, and develops Tier 2 components with Tier 1 engineering expertise, among other things. Mr Venkataramani also speaks about the measures being taken to enhance synergies between Group companies, ensure top-notch quality production and staff training and R&D effort.
Automotive R&D is what Mahindra Research Valley, near Chennai, is actively engaged in. We speak to Dr Aravind Bharadwaj, CTO – Farm Equipment Sector and R Velusamy, Senior VP – Automotive Sector, Mahindra & Mahindra, to learn how engineers and R&D are helping the OEM drive ahead in these disruptive times.
The August 1 issue's lead story is on Nexteer Automotive. This US-based steering and driveline parts supplier remains strongly bullish on its make-in-India operations. Not surprisingly since it has a full order book, despite tepid market conditions, and is targeting a three-fold growth in its India business to $200 million by 2025. In line with this strategy, it has set up a global software development centre in Bangalore, plans to expand manufacturing capacity and will likely build a greenfield plant by 2021. It is all set to supply EPS to a French carmaker in India but for that you will have to read the cover story.
Global players are increasingly deploying Indian talent to run their R&D operations and lots more. Vehicle cockpit electronics major Visteon has its 1,100-strong army of engineers not only supporting Indian OEMs with their projects but is also working on several global projects in autonomous, shared and connected mobility. Essentially a supplier to the PV industry, we can reveal that the company is now eyeing traction in the Indian two-wheeler and CV markets.
At a time when India Auto Inc is experiencing a continued slowdown, OEMs are putting their shoulder to the wheel to ride over the challenges and emerge triumphant. In an comprehensive interview, N Raja, Toyota Kirloskar Motor's Deputy Managing Director, tells us how the carmaker, with its sharp focus on safety and technology, plans to achieve firmer footing, what is its new product strategy in alliance with Suzuki and why does India should be technology agnostic in its drive to reduce pollution levels.
Driving sustainability in manufacturing is Tata Motors' plant in Dharwad, Karnataka, which rolls out the Tata Ace Gold small CV, LCVs and electric buses. As Ajoy Lall, Head – Manufacturing, CV Business Unit, tells us, "Lean, clean and green is our motto in manufacturing. This is the only way for sustainable manufacturing plants — to become more productive with the least harm to the environment."
On our visit to the plant, located in a verdant site that has plenty of green cover spread across 456,450 square metres, we find out just what the Dharwad plant does to make manufacturing less of a polluting activity.
Chennai-based Ashok Leyland, now in 24th position globally, is keen to enter the Top 10. What will it take to achieve this ambitious goal? We speak to Nitin Seth, chief operating officer – LCVs and Anuj Kathuria, COO – M&HCVs, to learn more about the dynamic growth strategy.
Do you know Ashok Leyland has 10 truck driver training institutes across the country, which are 'growing' a new generation of safe drivers and helping bridge the huge supply-demand gap? We visit the first DTI at Namakkal in Tamil Nadu to bring you a first-hand report.
It's the promise of the India CV market that has drawn global majors. Daimler India Commercial Vehicles, whose heavy-duty 5528TT recently became the first BharatBenz model to receive BS VI certification, is accelerating its emission upgrade programme covering the product portfolio as well as aggressively training its personnel on vehicle maintenance. Find out just how.
Scania is not giving up on India. The premium truck maker, which exited the bus body building in India last year, has introduced its all-new Next Truck Generation series targeted at the mining industry. We speak to managing director Petr Novotny, who speaks at length about the company's revised India strategy, opportunities and challenges.
On two wheels only
Think electric mobility and Ather Energy plugs into one's mind. The six-year-old Bangalore-based start-up, which has launched the first made-in-India smart electric scooter, is introducing electric mobility to motorists through its own EV eco-system of manufacturing, charging and sale. Chief Business Officer Ravneet Phokela reveals Ather's retail strategy that has a softer approach.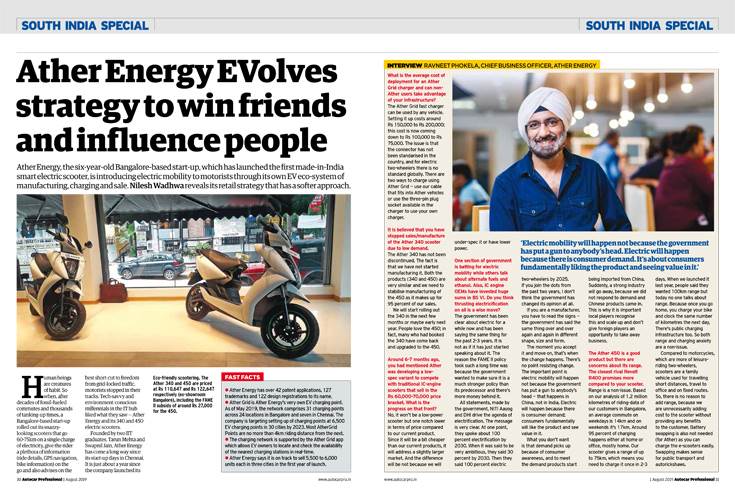 The Coimbatore-headquartered Ampere Vehicles, recently acquired by Greaves Cotton, is undertaking a green ride towards becoming a national player. We speak to founder and CEO Hemalatha Annamalai who reveals there are a number of new electric scooters in the new product pipeline.
From Formula 1 to rally car racing to two-wheeled action, motorsport has many spin-offs for production vehicles. That's just what TVS Motor Co has achieved with its Apache series of racy motorcycles. We speak to R Babu, vice-president – R&D, TVS Motor Co.
Think South India on two wheels and Royal Enfield thunders in. The company, which aims to lead the global midsized motorcycle market, is bullish on the export market, particularly Asia. Vimal Sumbly, Head of Business – APAC Region, reveals the bikemakers' global growth strategy.
Start-ups as an EV innovation factory
Neither fettered by conventional wisdom nor restricted by capability, a clutch of start-ups in South India – Altigreen Propulsion Labs and Lithium Urban Technologies from Bangalore, & EMF Innovations and Srivaru Motors from Coimbatore – are going places with their innovation. We'd love to tell you more but it's best if you plug into the August 1 issue.
What a newsy fortnight!
The second half of July, particularly the last week, was packed with news. The biggest of them all was the slashing of GST on electric vehicles and EV charging systems to just 5 percent, the lowest GST slab.
That move will prove beneficial to Tier 1 supplier Sandhar Technologies which has inked a JV agreement with Hanshin Corporation of Korea to manufacture high-end data cables for use in PVs and EVs.
On July 29, in what clearly is a farsighted move, the PSA Group, which will launch the Citroen brand in India with the Aircross C5 SUV after two years, opened its India Tech Centre in Chennai. This facility
Where to buy?
Autocar Professional magazine is available through select newsagents and for digital download from Magzster.

You can also buy one-off copies of Autocar Professional magazine – contact Ganesh at ganesh@haymarketsac.com
RELATED ARTICLES