Auto sales revive in Q1 but pricey fuel, chip woes could play spoilsport
April-June 2021 numbers, albeit on a low pandemic-impacted year-ago base, indicate return of market sentiment.
The Indian automotive industry has clocked a cumulative 1,296,807 units in June 2021 across the passenger vehicle (231,633), two-wheeler (1,055,777) and three-wheeler (9,397) segments. The monthly sales numbers for commercial vehicles (CVs)were not disclosed by the Society of Indian Automobile Manufacturers (SIAM).
Since June also marks the closure of the first quarter of the fiscal year, SIAM has revealed data for Q1 FY2022, and whilethe numbers indicate that a recovery of sorts is underway compared with the year-ago industry sales volumes, it has to be placed into perspective that Q1 FY2020 was marred by the onset of the Covid pandemic.
Let's have a segment-wise look at the sales numbers:
Passenger vehicles: (646,272 / +320%)
The PV segment registered sales of 646,272 units (Q1 FY2021: 153,734) are a resultant of the continuous boom in the utility vehicle (UV) segment, wherein SUVs have moved from accountingonly aboutone fourth of the total PV market, to now tilting the volumes in their favour with up to 40 percent contribution in Q1 FY2022 to 286,092 units.
Passenger cars, on the other hand, stood at 3,37,191 units and vans comprised 22,989 units in the last quarter.
While there are green shoots, an analysis over four financial years until Q1 FY2019 shows that the PV segment has de-grown by 9.6 percent on a CAGR basis, primarily aggravated by the pandemic which has unsettled disposable incomes especially at the lower end of the market.
Commercial Vehicles: (105,800 / +234%)
The CV segment which also acts as the barometer of the general economyis finally picking up steam after getting severely impacted through most of the last year due to a substantial decrease in infrastructure and transportation activities spurredby the first bout of lockdowns.
Q1 FY2022 numbers have registered good growth compared to 31,636 units clocked in the Q1 of last fiscal, thanks to the lockdowns being lifted, and growing demand for inter-state transportation as well as pent-up demand, which have led to a decent uptick in sales of both the critical M&HCVs as well as LCVs.
While M&HCVs sold 29,158 units (Q1 FY2021: 4,403 / +562%), LCVs clocked 76,642 units (27,233 / +181%). SIAM has still advised caution as the segment has de-grown by almost 23 percent on a CAGR basis from Q1 FY2019.
Three-wheelers: (24,376 / +91%)
Essentially the modes of last-mile transportation – both goods and public - three-wheelers have also shown a 91 percent uptick in sales compared to 12,760 units in Q1 FY2021, as lockdown-related restrictions eased off in most cities across the country.
While passenger carriers stood at 15,769 units (6,919 / +128%), goods carriers ranged 8,607 units (5,841 / +47.35%). Still, with a negative CAGR of 46.8 percent since Q1 FY2019 and registering lowest sales in over two decades in the last quarter, the segment continues to be deeply hit and is limping towards recovery.
Two-wheelers: (2,403,591 / +85.67%)
The total two-wheeler sales were just 3,591 units above the 2.4 million mark and while motorcycles were the bulk contributors at 1,740,198 units (901,743 / +93%), there was more expectation from the scooter segment.
With schools and colleges remaining shut and most urban centres still functioning with a work-from-home regime, scooter sales at 592,445 units (339,008 / +74.75%) were lower than industry expectation. Overall, two-wheeler sales in the last quarter were lowest in 12 years and reported a negative CAGR of 25 percent from Q1 FY2019.
But the fact that the rural India is getting back to its feet, there is an uptick in the overall segment, particularly driven by commuter motorcycles. Moreover, new EV Policy rollouts by several states are also pushing e-two-wheeler sales, which registered cumulative volumes of 1,939 units in Q1 FY2022, a remarkable 3,778 percent year-on-year growth.
Growth outlook
While the wheels of the economy as well as automotive sector have started to turn again, the fear of a third-Covid wave still continues to loom large. "Many big challenges stand in front of the automotive industry, including significant increase in raw material prices, along with global shortage of semiconductors," said Kenichi Ayukawa, president, SIAM.
The commodity prices have seen a major increase, wherein HR Steel has registered an 87 percent hike in June 2021 compared to June 2020. Moreover, CR Steel too has shot up by almost 88 percent.
SIAM believes that such high increments, especially in case of a crucial raw material like steel could have an inflationary impact on the overall economy. Furthermore, there has been an uptick in the prices of precious metals too with Rhodium (+149%), Palladium (+33%) and Platinum (+29%) registering significant hikes in June 2021, compared to year-ago prices. The advent of BS VI norms last year has made the amount of these elements grow in the exhaust system of vehicles to meet the stringent emission standards.
While rising fuel prices is also a burning issue that might detest people from buying cars, Ayukawa believes prices to settle to reasonable levels in the near future. However, "we have to carefully watch the demand in context of the rising fuel prices," he said.
"There is also the fear of a third-Covid wave. With such uncertainty in the supply chain, it is very difficult to predict the future, but the industry is working hard to manage what is under its control," Ayukawa signed off on a cautionary note.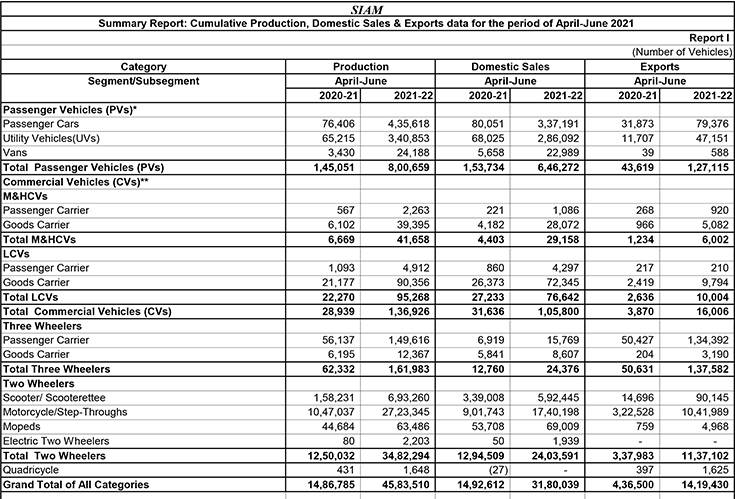 RELATED ARTICLES